PENGARUH EVA DAN RASIO PROFITABILITAS TERHADAP RETURN SAHAM PERUSAHAAN PROPERTI PADA BEI
I Wayan Diva Arisudana

Universitas Hindu Indonesia
Keywords:
EVA, ROA, ROE, EPS, RS
Abstract
The motive of this studies is to analyze the impact of economic value added (EVA) and
Profitability Ratios on inventory Returns in belongings corporations listed at the Indonesia
inventory trade. This examine's population of this study consists of 77 assets area
corporations indexed at the Indonesia inventory change round 2017 and 2020. The pattern
for this study consisted of 27 actual estate agencies from 2017 to 2020. Purposive sampling
became used in this examine. The statistics evaluation technique used in this examine is a
couple of linear regression analysis, the coefficient of dedication, and the t and f exams the
usage of SPSS software program to test the speculation. based totally at the findings of the
research and dialogue, it's far feasible to conclude that simplest one of the 4 variables
discussed above has an impact on inventory go back, that is go back On belongings
variable. at some point of the duration 2017 to 2020, economic fee brought, profits in
keeping with percentage, and go back on equity don't have any large effect on the inventory
return of Indonesian real property businesses indexed at the Indonesia stock alternate.
during the length 2017 to 2020, go back on assets has a extensive impact on the stock
returns of assets corporations listed at the Indonesia inventory alternate.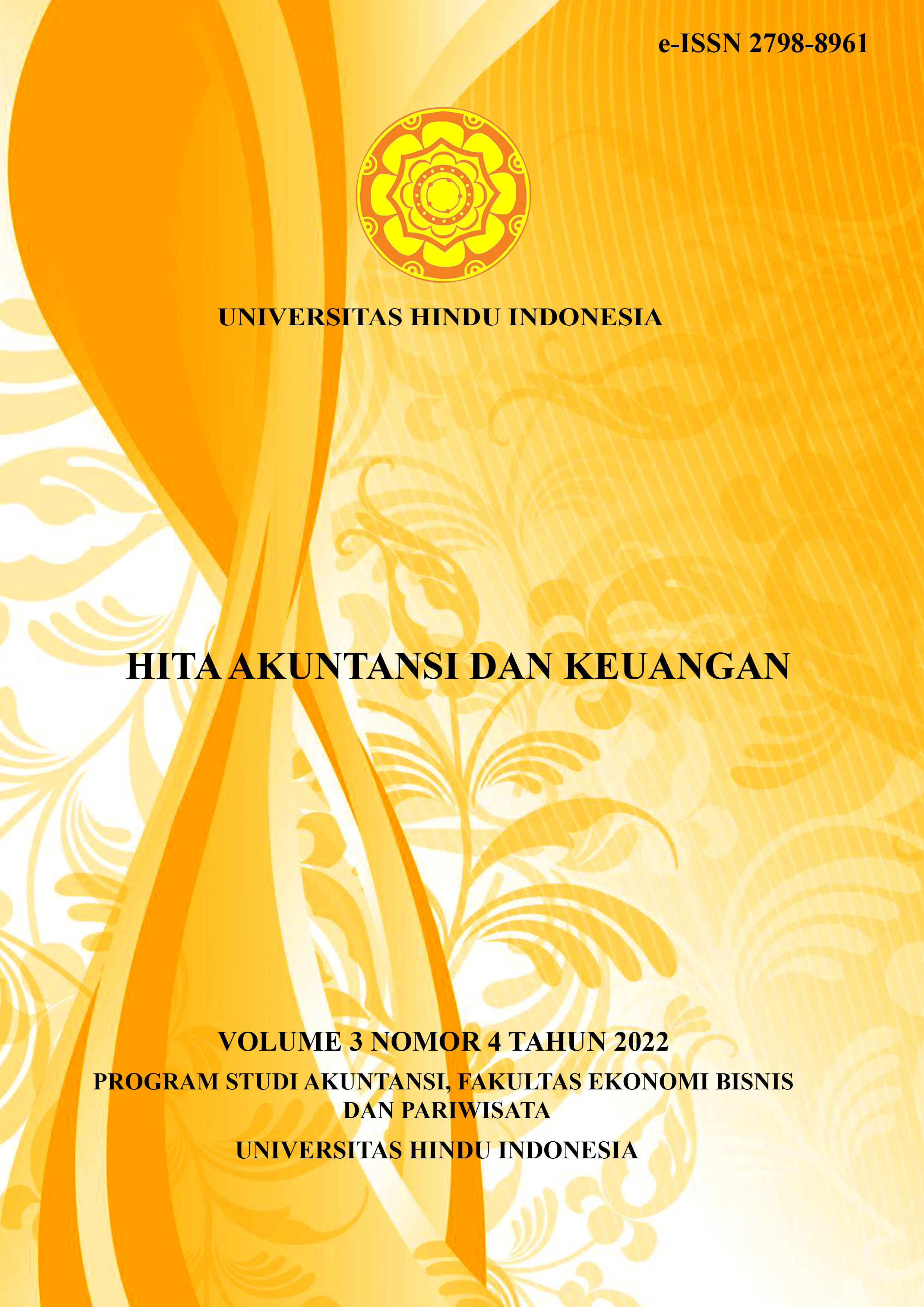 How to Cite
Arisudana, I. W. D. (2022). PENGARUH EVA DAN RASIO PROFITABILITAS TERHADAP RETURN SAHAM PERUSAHAAN PROPERTI PADA BEI. Hita Akuntansi Dan Keuangan, 3(4), 297-311. Retrieved from https://ejournal.unhi.ac.id/index.php/HAK/article/view/3476