NILAI PENDIDIKAN AGAMA HINDU DALAM GEGURITAN DUKUH KAWI
Ida Ayu Putu Sari

Universitas Hindu Indonesia Denpasar

Ni Komang Ayu Irma Dewi

Universitas Hindu Indonesia Denpasar
Abstract
Artikel ini ingin membahas tentang nilai pendidikan agama hindu dalam Geguritan Dukuh Kawi. Geguritan Dukuh Kawi memiliki struktur yang meliputi alur lurus yaitu peristiwa disampaikan melalui urutan awal, tengah, dan akhir. Aspek latar terbagi menjadi dua bagian, yaitu unsur tempat dan unsur waktu. Penokohan dalam Geguritan Dukuh Kawi diliputi tokoh utama yaitu Dukuh Kawi, tokoh sampingan Dukuh Sekar, i Gunatama, Manik Toya, Manik Sekar, Dewi Adnyani. tema yang melandasi adalah dharma, swadharma (kewajiban sendiri) dan kesetiaan serta memiliki amanat mengenai berbuat yang baik sesuai ajaran dharma dan swadharma. Geguritan Dukuh Kawimengandung ajaran-ajaran Panca sraddha meliputi: (1) Ajaran Widhi Sraddha; (2) Ajaran Atma Sraddha, (3) Ajaran KarmaphalaSraddha; (4) Ajaran Moksa Sraddha. Geguritan Dukuh Kawi dan mengandung nilai-nilai agama hindu yang meliputi : (1) Nilai Pendidikan Ketuhanan/Sraddha; (2) Nilai Kesetiaan; (3) Nilai Cinta Kasih.
Downloads
Download data is not yet available.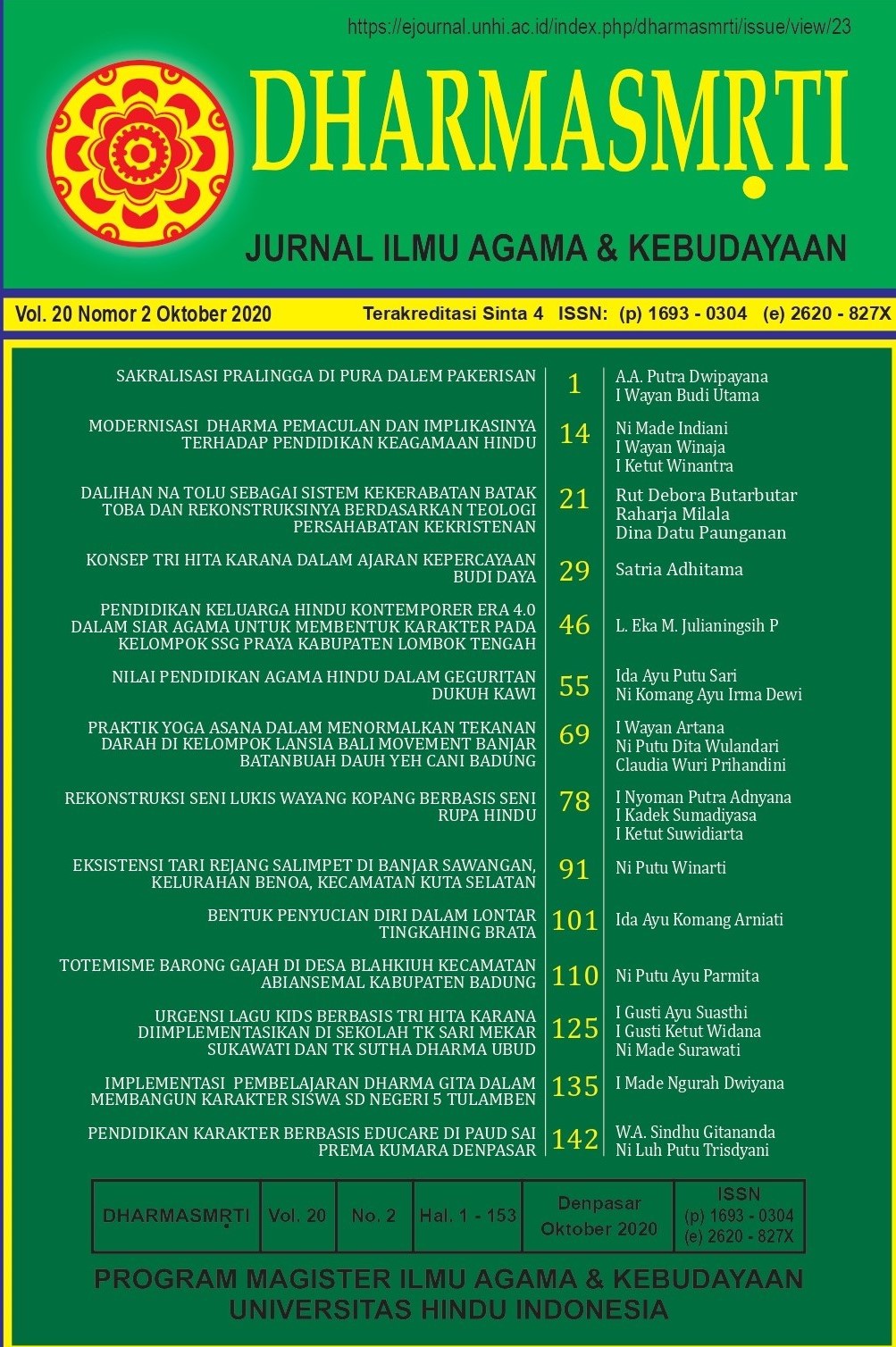 How to Cite
[1]
I. A. P. Sari and N. K. A. I. Dewi, "NILAI PENDIDIKAN AGAMA HINDU DALAM GEGURITAN DUKUH KAWI", ds, vol. 20, no. 2, pp. 55-68, Oct. 2020.