KONSEP KETUHANAN DAN KEMANUSIAAN DALAM HINDU
IBG Yudha Triguna

Pascasarjana Universitas Hindu Indonesia Denpasar
Keywords:
Theology, Humanity, Hindu
Abstract
 This article discusses the concept of theology and humanity in Hinduism of its implications for human relationships. Hindus believe in one God personified into many names, attributes, and functions. The belief in the personification of God in many varieties is based on the idea of the Saguna Brahman. The belief in God with His plural manifestations has inspired the whole series of ceremonies in Hinduism, both in relation to the life of the individual, the ceremony of preserving nature, the salvation and the happiness. The consistency of mind, speech, and deed determines man to hell, heaven and moksa as the world after death, as well as the measure of salvation in life.
Downloads
Download data is not yet available.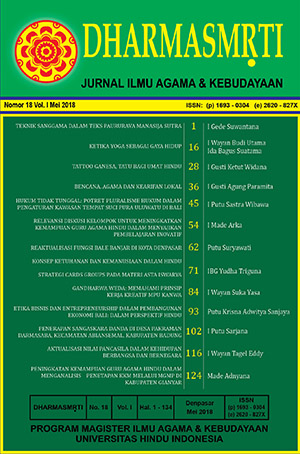 How to Cite
[1]
I. Triguna, "KONSEP KETUHANAN DAN KEMANUSIAAN DALAM HINDU", ds, vol. 18, no. 1, pp. 71-83, May 2018.