Karakterisasi Merida di Disney Brave 2012
Kadek Rossinta Dewi

Universitas Pendidikan Ganesha

Ni Komang Arie Suwastini

Universitas Pendidikan Ganesha

I Ketut Supir

Universitas Pendidikan Ganesha

Ida Ayu Made Istri Utami

Universitas Pendidikan Ganesha
Keywords:
karakterisasi, putri Disney, film, tokoh utama
Abstract
Pengungkapan kepribadian karakter utama dalam sebuah narasi mempengaruhi alur cerita dan bagaimana karakter utama mencapai tujuannya. Penelitian ini bertujuan untuk mendeskripsikan penokohan Merida sebagai pemeran utama wanita dalam film Disney Brave (2012). Dengan menerapkan analisis tekstual dari McKee (2003), penelitian ini menggunakan pembacaan dekat untuk mengidentifikasi penokohan Merida, sedangkan segmentasi plot dari Bordwell, Thompson & Smith (2017) digunakan untuk memecah narasi menjadi unit analisis untuk memudahkan pengumpulan data dan analisis data. Studi tersebut mengungkapkan bahwa Merida adalah seorang putri yang ceroboh, pemberontak namun pemberani. Dia kemudian belajar untuk bertanggung jawab sesuai dengan posisinya sebagai seorang putri dan cita-citanya sebagai pribadi. Jadi, sementara kecerobohan dan karakter pemberontak membawa masalah, ketika dia berani belajar untuk bertanggung jawab, dia bisa bangkit dari masalahnya dan menjadi orang yang lebih dewasa.
Downloads
Download data is not yet available.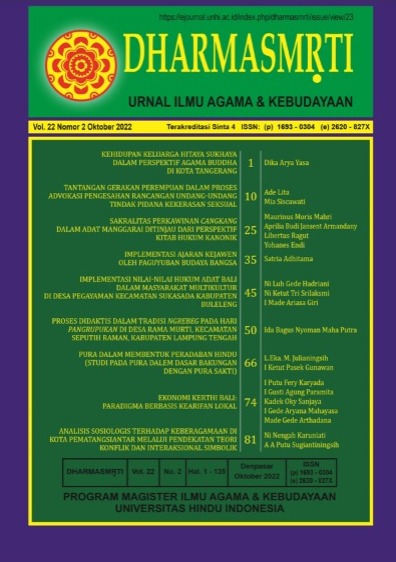 How to Cite
[1]
K. Rossinta Dewi, N. K. Arie Suwastini, I. K. Supir, and I. A. M. Istri Utami, "Karakterisasi Merida di Disney Brave 2012", ds, vol. 22, no. 2, pp. 136-145, Oct. 2022.