MAKNA PENCERAHAN DALAM ZEN BUDDHISME
Keywords:
Zen Budhisme, Pencerahan
Abstract
Within the Zen Buddhism, there is satori, a term used to designate the essence of the Zen's teachings. According to the Japanese, the term satori is taken as the teaching concerned about illumination or enlightenment. The enlightenment is the achievement as what spiritually discerned by the Gautama Buddhist. It is an experience that implies meaning beyond the common sense where words are not enough to explain. The human being that afford to climb until this satori state after particular Zen's exercises may only experience some inner changes. Hence, he/ she would view the world and the sur- rounding in a wider horizon, as it is, and able to feel like he has going through a rebirth with a new personality.
Downloads
Download data is not yet available.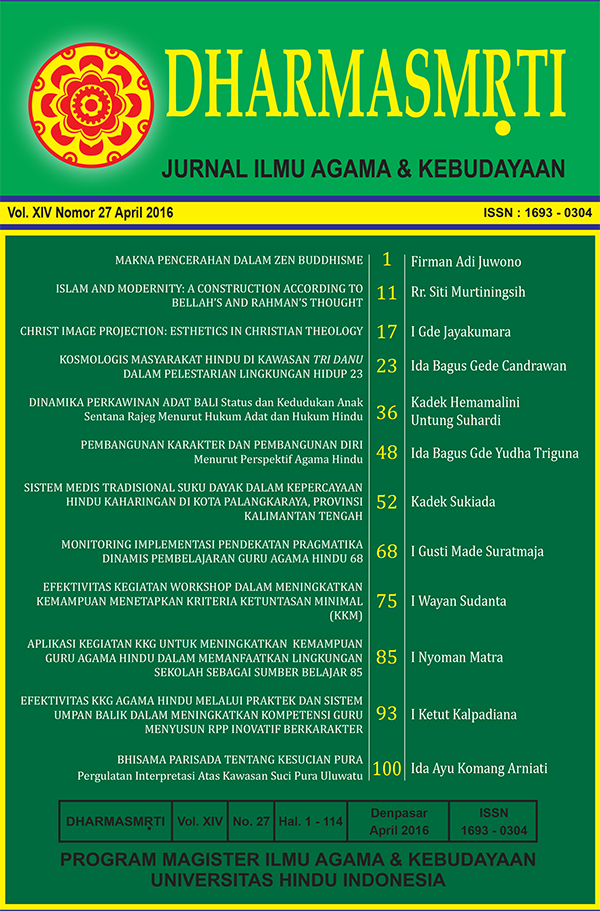 How to Cite
[1]
F. Juwono, "MAKNA PENCERAHAN DALAM ZEN BUDDHISME", ds, vol. 14, no. 27, pp. 1-10, Oct. 2015.