ISLAM AND MODERNITY: A CONSTRUCTION ACCORDING TO BELLAH'S AND RAHMAN'S THOUGHT
Rr. Siti Murtiningsih

Universitas Gajah Mada, Yogyakarta
Keywords:
Islam, Modernitas
Abstract
Dua orang sarjana telah mengembangkan pemahaman dengan dua metode berbeda. Bellah menggunakan suatu pendekatan komparatif-historis-sosiologis yang menempatkan Islam dalam konteks dan membandingkannya dengan keberadaan agama Abraham, yang hadir lebih dulu sebelum Islam, khususnya berdasarkan sistem sosial yang melingkunginya. Sedangkan Rahman menggunakan metode hermeneutik, khususnya dalam memahami al-Qur'an. Metode yang diterapkan Rahman adalah hermeneutika gerak rangkap. Bellah menerapkan gaya pikir induktif dalam formulasi singkat, sedangkan Rahman menerapkan gaya pikir deduktif.
Downloads
Download data is not yet available.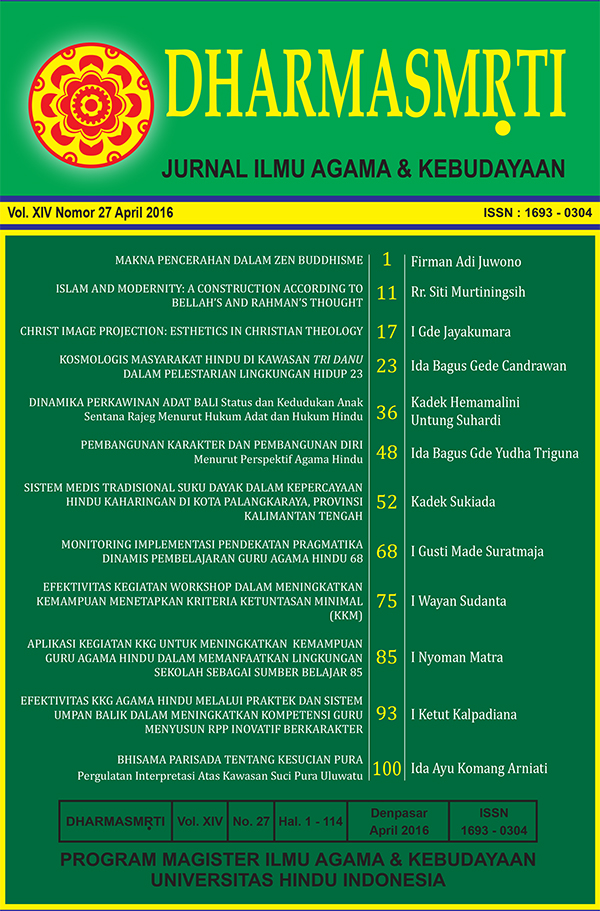 How to Cite
[1]
R. Murtiningsih, "ISLAM AND MODERNITY: A CONSTRUCTION ACCORDING TO BELLAH'S AND RAHMAN'S THOUGHT", ds, vol. 14, no. 27, pp. 11-16, Oct. 2015.