SISTEM MEDIS TRADISIONAL SUKU DAYAK DALAM KEPERCAYAAN HINDU KAHARINGAN DI KOTA PALANGKARAYA, PROVINSI KALIMANTAN TENGAH
Kadek Sukiada

STAHN-TP Palangkaraya
Abstract
The advancement of the technology has globally influenced various fields including the social healthy system. This phenomenon has motivated the government of Indonesia to take a participation in promoting the development of the healthy field, especially regarding the modern healthy equipment and infrastructure in Indonesia, including in Central Kalimantan (Borneo). The Palangkaraya is the capital city of the Central Kalimantan Province which gives also a serious concern with this field. However, this situation has not made any effect on the traditional medical system applied by the Dayak ethnic group within the Hindu Kaharingan belief inherited from the prior generation.
Downloads
Download data is not yet available.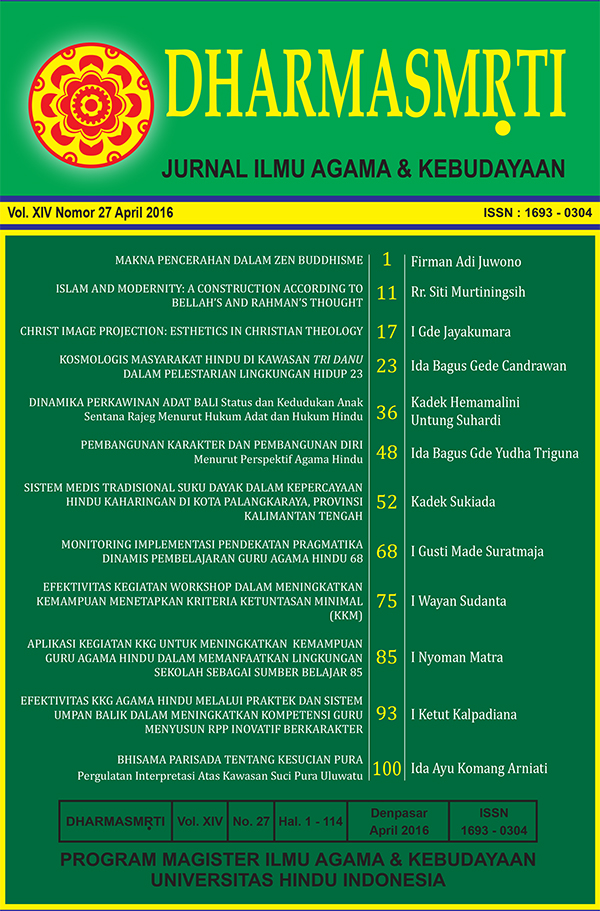 How to Cite
[1]
K. Sukiada, "SISTEM MEDIS TRADISIONAL SUKU DAYAK DALAM KEPERCAYAAN HINDU KAHARINGAN DI KOTA PALANGKARAYA, PROVINSI KALIMANTAN TENGAH", ds, vol. 14, no. 27, pp. 52-67, Oct. 2018.