APLIKASI KEGIATAN KKG UNTUK MENINGKATKAN KEMAMPUAN GURU AGAMA HINDU DALAM MEMANFAATKAN LINGKUNGAN SEKOLAH SEBAGAI SUMBER BELAJAR
Studi Kasus di Sekolah Dasar Gugus I Kec. Ubud, Kab. Gianyar 2013/2014
I Nyoman Matra

Kementerian Agama Kabupaten Gianyar Jalan Kepundung Nomor 8
Keywords:
Diskusi Kelompok KKG, Pemanfaatan Lingkungan Sekolah
Abstract
This research was designed to be a School Action Research planned to be conducted in two cycles; every cycle was conducted in two or three meetings. The subjects of the research were the Hinduism teachers of the elementary schools included in cluster 1 in Ubud district, Gianyar regency, consisting of 9 Hinduism teachers. Through the research conducted it can be concluded that from the cycle 1 and cycle 2, there has been an increase of the value mean obtained from each the observed as well as the assessed component. This means that the development and the guidance through the teacher working group discussion approach can improve the teacher competence in utilizing the school environment as the learning source.
Downloads
Download data is not yet available.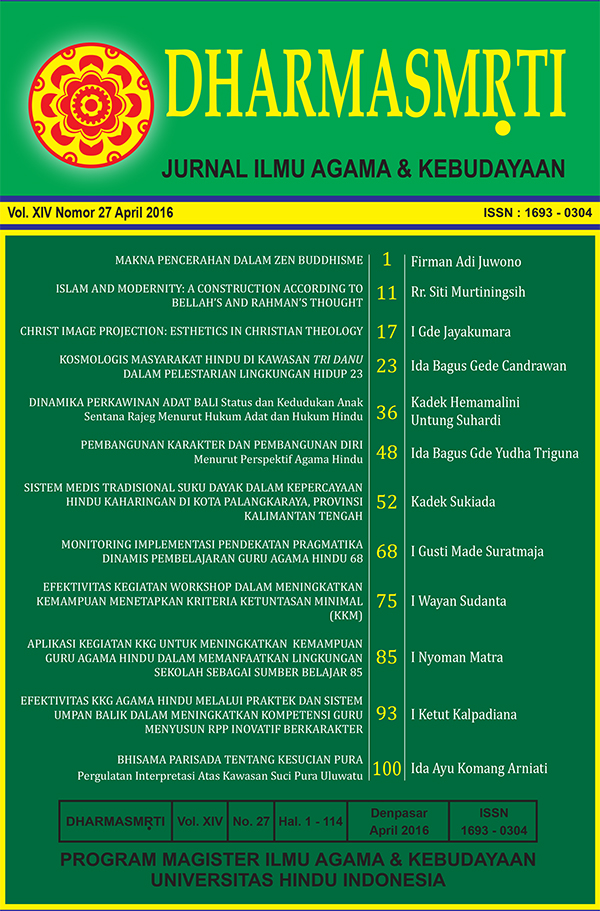 How to Cite
[1]
I. Matra, "APLIKASI KEGIATAN KKG UNTUK MENINGKATKAN KEMAMPUAN GURU AGAMA HINDU DALAM MEMANFAATKAN LINGKUNGAN SEKOLAH SEBAGAI SUMBER BELAJAR", ds, vol. 14, no. 27, pp. 85-92, Oct. 2015.