BHISAMA PARISADA TENTANG KESUCIAN PURA
Pergulatan Interpretasi Atas Kawasan Suci Pura Uluwatu
Ida Ayu Komang Arniati

Universitas Hindu Indonesia, Denpasar
Keywords:
Bhisama Parisada, Pura Uluwatu
Abstract
Two regulations have concerned the sacred site of Uluwatu Temple, namely, first, the Bali provincial government regulation number 16 of 2009 about the space arrangement plan of the Bali provincial area in the year of 2009-2029 which accommodates the Bhisama (consensus) about the sacredness of the temple. Second, the traditional law by Desa Adat Pecatu has also regulated alas kekeran or karang kekeran. There seems to be a contradiction between these two regulations. While, the earlier, the provincial government regulation of Bali 2009-2029, regulates the radius of the sacred area for about apeleneng agung 'five kilometers', the later, the traditional law issued by Desa Adat Pecatu, regulates the alas kekeran or the karang kekeran with the radius of less than one kilometers.
Downloads
Download data is not yet available.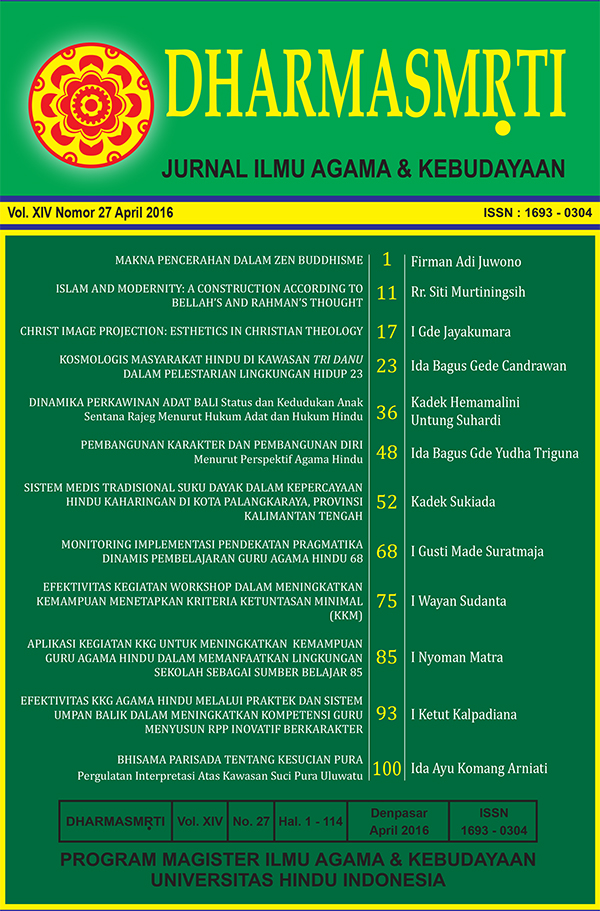 How to Cite
[1]
I. A. Arniati, "BHISAMA PARISADA TENTANG KESUCIAN PURA", ds, vol. 14, no. 27, pp. 100-112, Oct. 2015.