EFEKTIVITAS KKG AGAMA HINDU MELALUI PRAKTEK DAN SISTEM UMPAN BALIK DALAM MENINGKATKAN KOMPETENSI GURU MENYUSUN RPP INOVATIF BERKARAKTER
Studi Pada Jenjang Sekolah Dasar Gugus 1 Kec. Blahbatuh, Kab. Gianyar 2012/2013
I Ketut Kalpadiana

Kementerian Agama Kabupaten Gianyar Jalan Kepundung Nomor 8
Keywords:
kemampuan, kerja praktek, umpan balik
Abstract
The training strategy with the feed-back technique was designed to be applied in three cycles. The
result of the KKG activity through the training with feed-back technique has been proven to have effect in increasing the commitment of the Hinduism teachers within the elementary schools included in cluster 1 in Blahbatuh district around the school year of 2012/2013 in completing the Learning Plan (RPP) with innovative and characterized ideals. The work indicators: at least 90% of the number of the teachers has indicated the good commitment in deciding the assessment instrument (the mean value of 4,00-5,00) within the scale of 1-5 which was achieved during the cycle 3 with the accomplishment of 100%. Besides, the teacher competence in deciding the assessment instrument that conformed to the 2013 curriculum reached 100% as well.
Downloads
Download data is not yet available.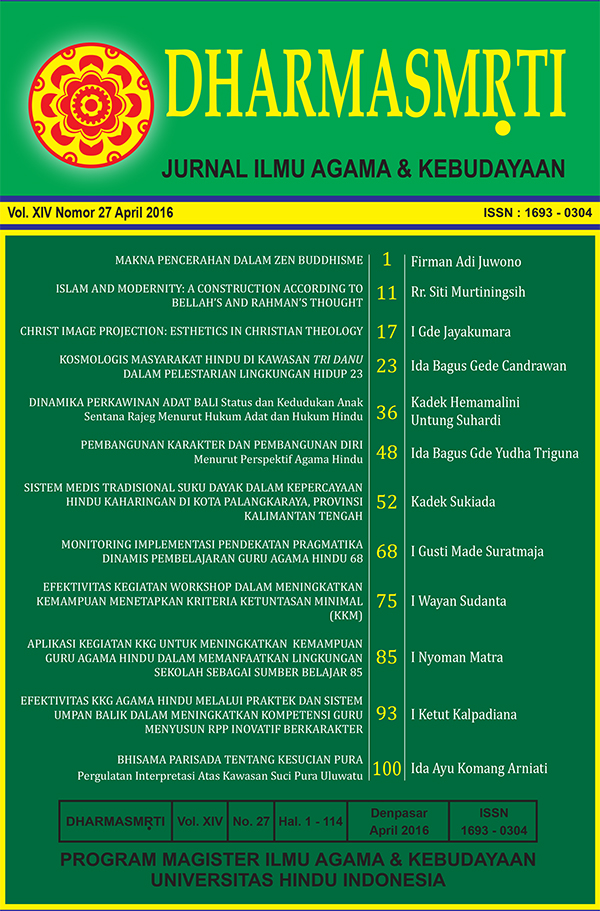 How to Cite
[1]
I. Kalpadiana, "EFEKTIVITAS KKG AGAMA HINDU MELALUI PRAKTEK DAN SISTEM UMPAN BALIK DALAM MENINGKATKAN KOMPETENSI GURU MENYUSUN RPP INOVATIF BERKARAKTER", ds, vol. 14, no. 27, pp. 93-99, Oct. 2015.