KONSEP SURGA, NERAKA DAN MOKSA DALAM KAKAWIN CANDRA BAIRAWA
Ida Ayu Gde Apsari Saraswati

Universitas Hindu Indonesia, Denpasar

I Gusti Agung Paramita

Harian Umum Fajar Bali, DENPASAR
Keywords:
Kakawin Candra Bairawa, Surga, Neraka
Abstract
The core teaching of Candra Bairawa is Catur Yoga Marga implementation in its entirety which cannot be treated separately. From the concept of catur yoga marga there raises the teaching of karma sanyasa that includes karma marga, bhakti marga, jnana marga, and yoga marga while those who only take the jnana marga and the yoga marga will give rise to the concept of yoga sanyasa teaching. These two concepts are depicted by the main character, Candra Bairawa as the sanyasa yoga, and Yudhistira as the character of karma sanyasa. Both are equally reaching the realm of moksha by releasing their spirit; Yudhistira to the realm of Shiva, whereas Candra Bairawa takes the jnana yoga marga to reach the same realm. Essencially, both are equally regarded to have Samyajnana or having the right knowledge.
Downloads
Download data is not yet available.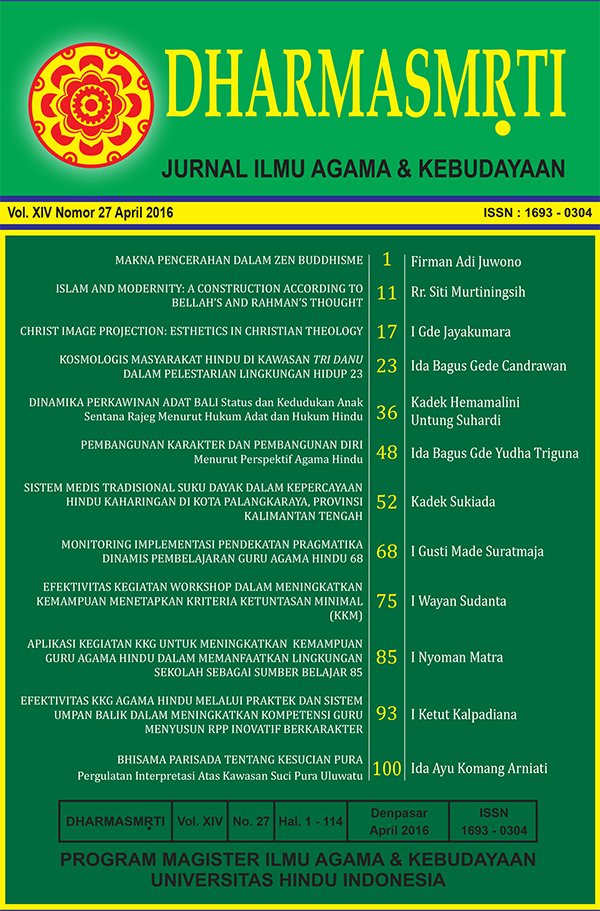 How to Cite
[1]
I. A. G. Saraswati and I. G. Paramita, "KONSEP SURGA, NERAKA DAN MOKSA DALAM KAKAWIN CANDRA BAIRAWA", ds, vol. 15, no. 28, pp. 29-44, Oct. 2016.