PENDAMPINGAN PEMASARAN PRODUK DAN PELATIHAN PENYUSUNAN PEMBUKUAN PADA UMKM KERAJINAN BATOK KEPALA DI DESA TIMPAG KERAMBITAN TABANAN
Kadek Dewi Padnyawati

Universitas Hindu Indonesia Denpasar

Ni Putu Ayu Kusumawati

Universitas Hindu Indonesia Denpasar

Mirah Ayu Putri Trarintya

Universitas Hindu Indonesia Denpasar

Ni Made Wisni Arie Pramukiwisn

Universitas Hindu Indonesia Denpasar

Ni Wayan Alit Erlinawati

Universitas Hindu Indonesia Denpasar

Cokorda Gde Bayu Putra

Universitas Hindu Indonesia Denpasar
Keywords:
Mentoring, Training, Crafts, Coconut Shell
Abstract
Most of the people in Timpag Village, Kerambitan District, Tabanan, rely
on agriculture, plantations and livestock. The majority of plantation products in
Timpag Village are head producers. The community in Timpag Village processes
coconut into various kinds of preparations such as food and crafts. MSME coconut
shell crafts Mr. Si Made Merta has been running for 7 years by processing coconut
shells into extraordinary handicrafts such as soap holders, ashtrays, buckles,
incense holders and other shell crafts with various unique and interesting shapes.
The problem faced by MSME Mr. Si Made Merta in running his business is a lack
of understanding of marketing and preparation of financial reports so that the
business he is running has not been able to develop properly. Marketing techniques
have a very important role in running a business because customer satisfaction is
the final goal in marketing techniques, it is necessary to understand and understand
proper marketing management. Financial reporting in a business is the final
process of the accounting process. This report serves as information material and
decision-making material for users in running their business. Based on these
problems, we provide assistance and training in simple Marketing Techniques and
Financial Statement Preparation Training so that in the future the business can be
more advanced and compete in the midst of the current rapid economic growth.
With this community service, it is hoped that MSMEs Mr. Si Made Merta will be
able to carry out marketing techniques properly and also in preparing correct
financial reports.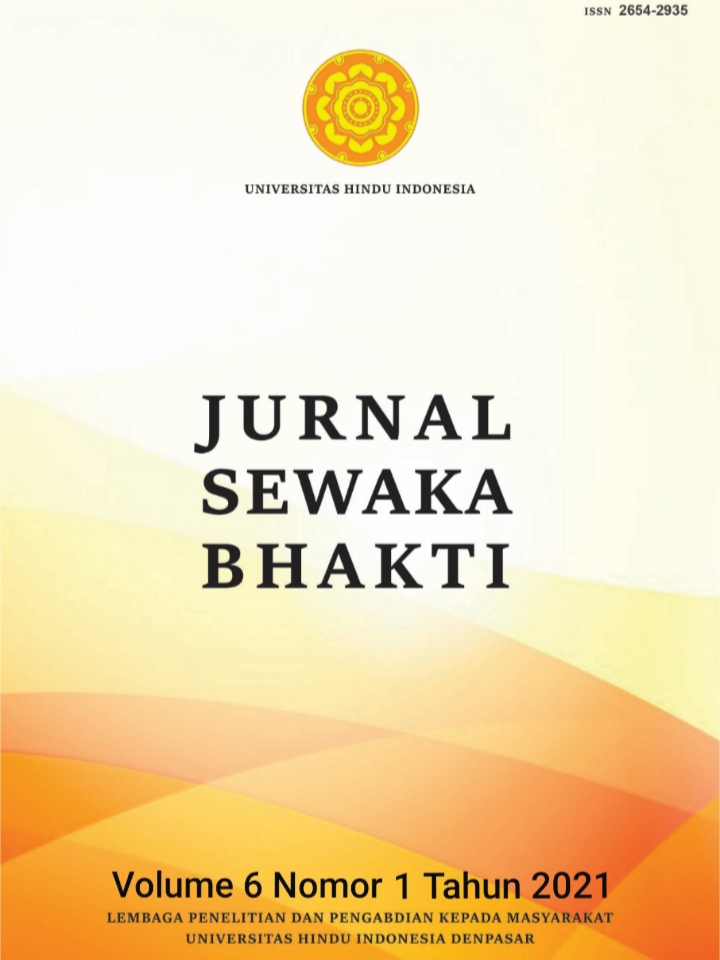 How to Cite
Dewi Padnyawati, K., Ayu Kusumawati, N. P., Trarintya, M. A. P., Pramukiwisn, N. M. W. A., Alit Erlinawati, N. W., & Gde Bayu Putra, C. (2021). PENDAMPINGAN PEMASARAN PRODUK DAN PELATIHAN PENYUSUNAN PEMBUKUAN PADA UMKM KERAJINAN BATOK KEPALA DI DESA TIMPAG KERAMBITAN TABANAN. JURNAL SEWAKA BHAKTI, 6(1), 1-11. Retrieved from https://ejournal.unhi.ac.id/index.php/sewakabhakti/article/view/1588