PEMBERDAYAAN MASYARAKAT DI MASA PANDEMI MELALUI PELATIHAN USAHA PEMBUATAN KUE (UKM) DAN PENYUSUNAN BUKU LAPORAN KEUANGAN DI DESA PELIATAN, UBUD, BALI
Made Dian Putri Agustina

Universitas Hindu Indonesia Denpasar

Ni Kadek Sukerni

Universitas Hindu Indonesia Denpasar
Keywords:
UKM, Community Development, Marketing, Accounting
Abstract
The spread of Covid-19 not only shook the world of health (health shock) but also
provided a shock to the economy (economic shock), namely almost no economic activities
carried out by economic actors, be it households and company (firm). With the existence
of restrictions on the mobility of the community and economic activities, in an effort to
prevent the spread of this virus, which is increasingly widespread, it has an impact on
consumption and production and investment activities to decrease (economy
contraction). Mrs. Ayu is one of the communities affected by Covid-19. Mrs. Ayu had to
be sent home due to the limited activities carried out by the company where Mrs. Ayu
previously worked. Mrs Ayu also tries to find alternative businesses that can make money
and can be done at home during this pandemic. Mrs Ayu also started a small business
(UKM) to make gabin cakes. The problems faced are: 1) Unattractive product packaging
and lack of product variation.2) Don't have a marketing system like social media. 3) Do
not have a financial books and report or records related to income, expenses, production
costs and profit and loss. The solutions offered for this problem are: 1) Training on
production and marketing strategies which helps partners in making more attractive
packaging so that they can increase marketing and make alternative gabin cakes that are
more varied in taste or shape that are more contemporary; 2) Assisting partners in
making social media that can assist in the product marketing process and introduce
products not only to consumers in Peliatan Ubud but also marketed in the surrounding
areas; 3) Assisting in making simple financial books and reports.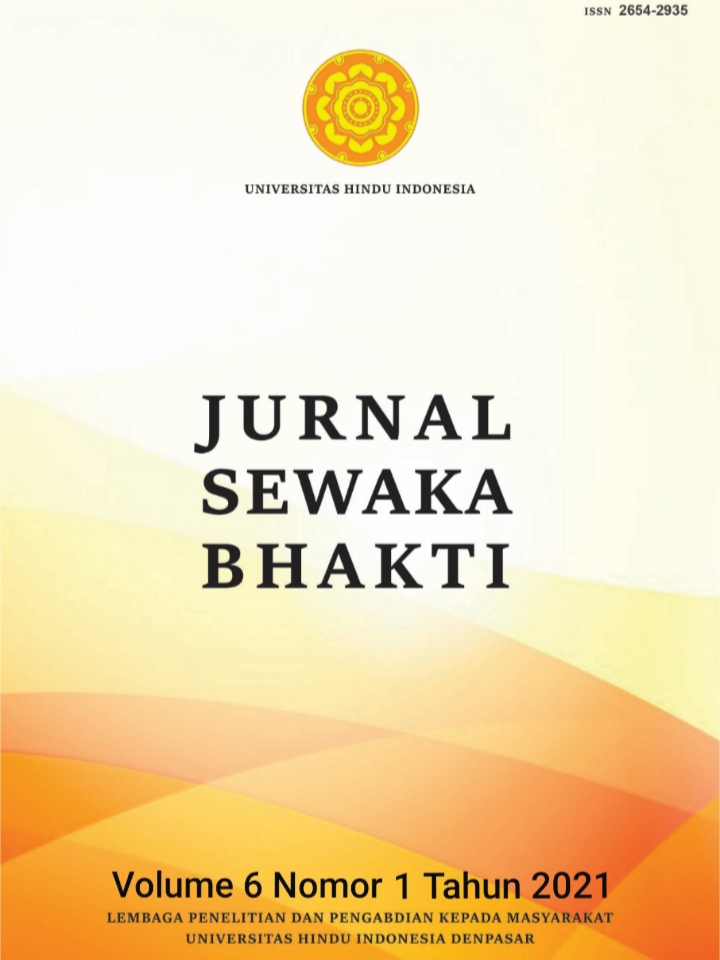 How to Cite
Dian Putri Agustina, M., & Sukerni, N. K. (2021). PEMBERDAYAAN MASYARAKAT DI MASA PANDEMI MELALUI PELATIHAN USAHA PEMBUATAN KUE (UKM) DAN PENYUSUNAN BUKU LAPORAN KEUANGAN DI DESA PELIATAN, UBUD, BALI. JURNAL SEWAKA BHAKTI, 6(1), 22-29. Retrieved from https://ejournal.unhi.ac.id/index.php/sewakabhakti/article/view/1591