PENDAMPINGAN PEMASARAN PRODUK UKM ASRI JEWELLERY DALAM MENJAGA EKSISTENSINYA DI MASA PANDEMI COVID-19
Ida Ayu Nyoman Yuliastuti

Universitas Mahasaraswati

Putu Kepramareni

Universitas Mahasaraswati

Anak Agung Putu Wiwik Sugiantari

Universitas Mahasaraswati

I Ketut Sudipta Giri

Universitas Mahasaraswati
Keywords:
Business Sustainability, Msmes, Online Marketing
Abstract
Competition between MSMEs is getting tighter amidst the large number of
workers or employees who have been dismissed until they are laid off, which
causes competition to come from various parts, both domestic, regional and
global. To be able to compete in the midst of the Covid-19 pandemic
conditions, the right marketing strategy is needed to be able to maintain
product sales from Asri Jewelery. So far, the marketing method of Asri
Jewelery is still very simple, namely word of mouth for foreign tourists who
have purchased products in its showrooms. To solve this problem, the
community service team conducted observations, socialization, training and
assistance in online marketing. Online marketing for Asri Jewelery products
is carried out using Instagram, Facebook and selling through the
marketplace. In carrying out this service activity, the participation of partners
is very large in providing space and time to participate in all service activities
carried out by the service team. From online marketing activities through
Instagram, Facebook and this marketplace, the domestic market share of Asri
Jewelery products is getting wider, so that Asri Jewelery can still maintain
its business sustainability amid the current Covid-19 pandemic.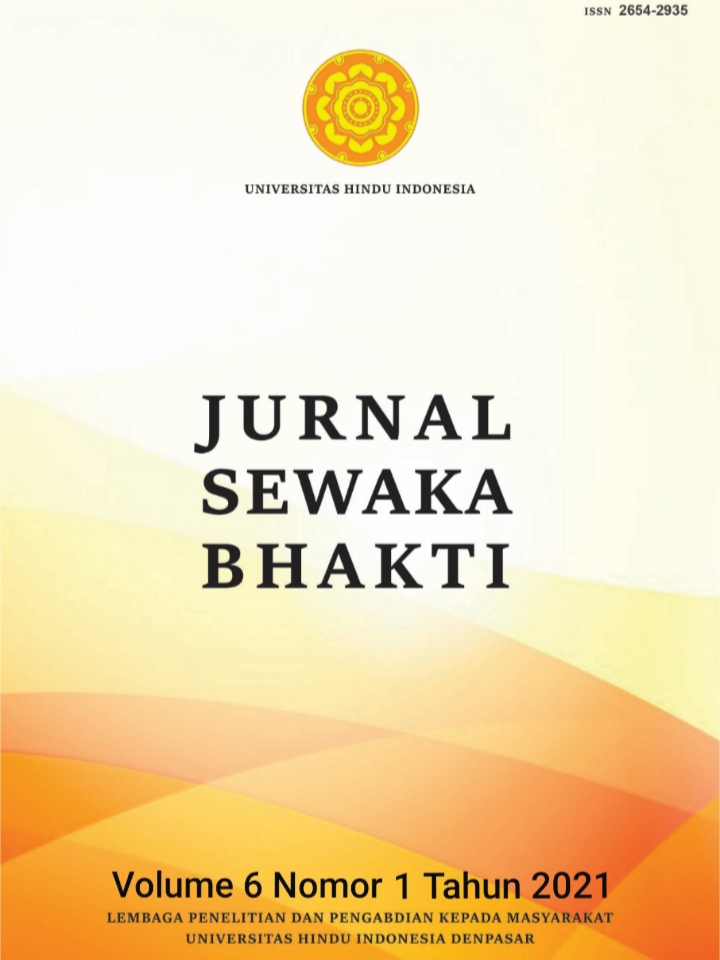 How to Cite
Ayu Nyoman Yuliastuti, I., Kepramareni, P., Putu Wiwik Sugiantari, A. A., & Sudipta Giri, I. K. (2021). PENDAMPINGAN PEMASARAN PRODUK UKM ASRI JEWELLERY DALAM MENJAGA EKSISTENSINYA DI MASA PANDEMI COVID-19. JURNAL SEWAKA BHAKTI, 6(1), 52-62. Retrieved from https://ejournal.unhi.ac.id/index.php/sewakabhakti/article/view/1594