Pemberdayaan Kader Posyandu dalam Pencegahan Stunting pada Masa Pandemi Covid-19 di Banjar Baturiti Tengah, Desa Baturiti, Kerambitan, Tabanan
Asri Lestarini

Faculty of Medicine and Health Sciences, Warmadewa University

Ni Wayan Rusni

Faculty of Medicine and Health Sciences, Warmadewa University
Keywords:
Kader Posyandu, stunting, Banjar Baturiti Tengah
Abstract
The prevalence of stunting in Tabanan Regency, Bali Province in 2018 was 16.2%. One of the villages from Tabanan Regency that has stunting cases is Baturiti village, and one of the toddlers is from Banjar Baturiti Tengah. The risk factors for stunting found in the Banjar Baturiti Tengah community are the lack of knowledge, attitudes and behavior regarding good parenting for children and the difficulty of Posyandu cadres to carry out Posyandu activities for Toddlers due to the COVID-19 pandemic. These are the basis for counseling and assistance to Posyandu cadres in Banjar Baturiti Tengah regarding good parenting for children and providing health support equipment so that it supports Posyandu activities and can prevent stunting. The counseling activities will be carried out at the Banjar Baturiti Tengah Hall by involving about 6 participants who are cadres of Posyandu of the Banjar Baturiti Tengah. The result of this program is an increase in knowledge of posyandu cadres as indicated by an increase in posttest results (average 95) compared to pretest (mean 61.67). Posyandu cadres' skills appear to have improved from the results of observations in providing stunting prevention so that education can build community behavior in preventing stunting.
References
Badan Pusat Statistik Indonesia (2017) Kecamatan Kerambitan dalam Angka. 2017. Accessed: 17 Maret 2021.
Cahyawati, P. N., Lestarini, A., & Saniathi, N. K. E. (2021). Konsultasi Online Dan Pendampingan Masyarakat Dalam Rangka Pencegahan Penularan Covid-19. Buletin Udayana Mengabdi, 20(2), 123–128. https://ojs.unud.ac.id/index.php/jum/article/download/68089/41117
Cahyawati, P. N., Pradnyawati, L. G., & Lestarini, A. (2019). Empowering Students as Health Ambassadors in SMA Negeri 1 Kuta Utara. Warmadewa Medical Journal, 4(1), 1–5.
Witari, N., Aryastuti, A., & Rusni, N. (2020). Pemberdayaan Kelompok Ibu yang Memiliki Balita Berisiko Stunting di Banjar Triwangsa-Payangan Gianyar Bali. Sewaka Bhakti, 5(2). https://ejournal.unhi.ac.id/index.php/sewakabhakti/article/view/1108
Kementerian Kesehatan RI. (2018). Cegah Stunting Dengan Perbaikan Pola Makan, Pola Asuh Dan Sanitasi Yang Sehat. https://www.kemkes.go.id/article/view/18040700001/cegah-stunting-dengan-perbaikan-pola-makan-pola-asuh-dan-sanitasi-1-.html
Accessed: 17 Maret 2021.
Pantau Bali. (2020). Selama Pandemi, Program Kesehatan Keluarga dan Gizi Balita Terhambat di Tabanan.. https://www.pantaubali.com/selama-pandemi-program-kesehatan-keluarga-dan-gizi-balita-terhambat-di-tabanan/. Accessed: 17 Maret 2021.
Witari, N., Aryastuti, A., & Rusni, N. (2020). Pemberdayaan Kelompok Ibu yang Memiliki Balita Berisiko Stunting di Banjar Triwangsa-Payangan Gianyar Bali. Sewaka Bhakti, 5(2). https://ejournal.unhi.ac.id/index.php/sewakabhakti/article/view/1108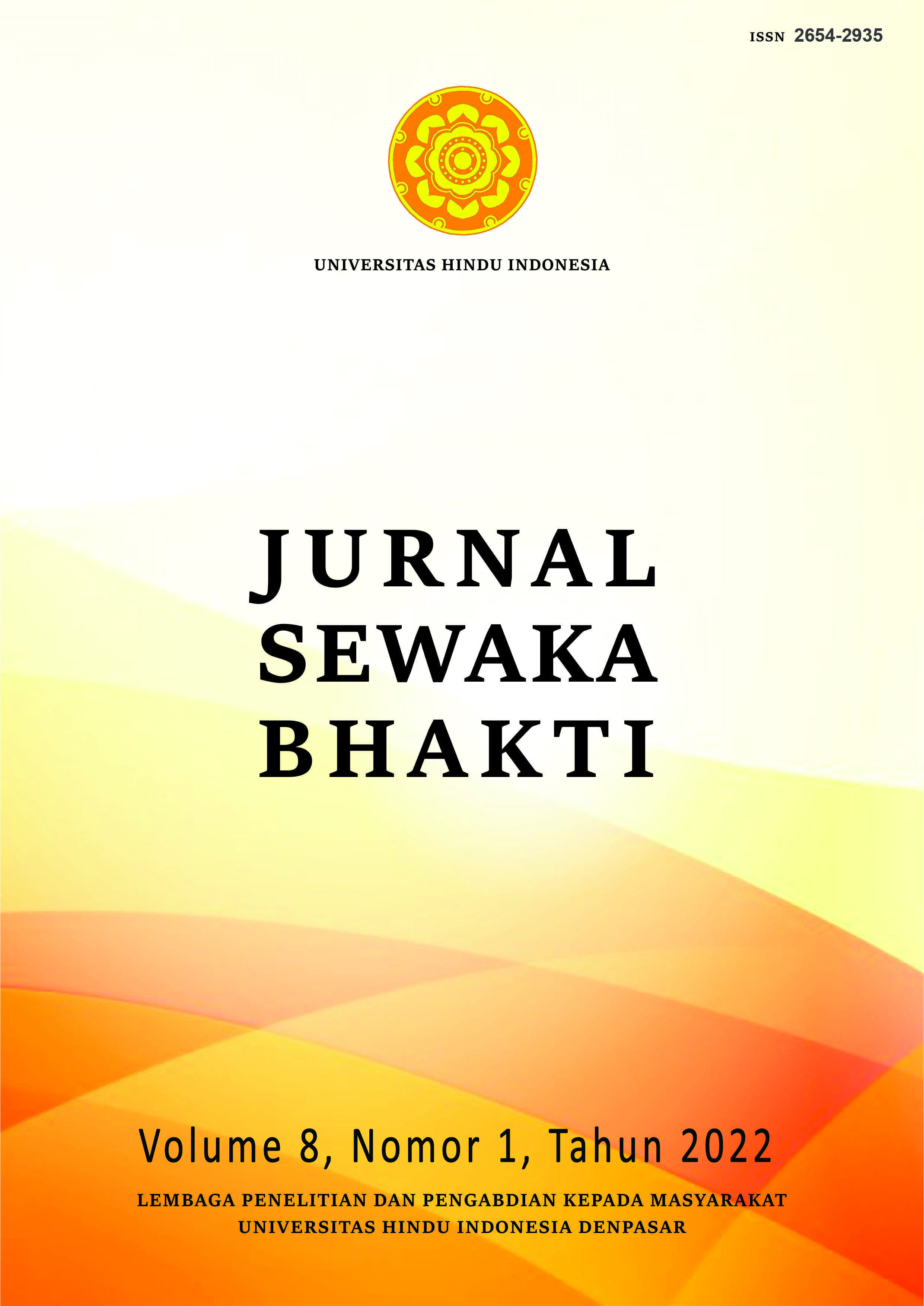 How to Cite
Lestarini, A., & Rusni, N. (2022). Pemberdayaan Kader Posyandu dalam Pencegahan Stunting pada Masa Pandemi Covid-19 di Banjar Baturiti Tengah, Desa Baturiti, Kerambitan, Tabanan. JURNAL SEWAKA BHAKTI, 8(1), 79-86. https://doi.org/10.32795/jsb.v8i1.2166