SOSIALISASI PENGGUNAAN LITERASI DIGITAL PADA MASYARAKAT DALAM PEKERJAAN PEMELIHARAAN KONSTRUKSI JALAN SERTA BANGUNAN PELENGKAP
Made Novia Indriani

Fakultas Teknik, Universitas Hindu Indonesia Denpasar, Indonesia

Ida Bagus Wirahaji

Fakultas Teknik, Universitas Hindu Indonesia Denpasar, Indonesia

Ida Ayu Putu Sri Mahapatni

Fakultas Teknik, Universitas Hindu Indonesia Denpasar, Indonesia

A.A.A Made Cahaya Wardani

Fakultas Teknik, Universitas Hindu Indonesia Denpasar, Indonesia
Keywords:
Community empowerment, digital literacy, road construction, complementary buildings
Abstract
This community service aims to further enrich insight into the condition of road pavement construction and complementary buildings (road drainage and culverts) on environmental roads in Sibanggede Traditional Village, Abiansemal District, Badung Regency. non-governmental activities in maintaining the condition of road pavement construction as access in carrying out various activities, through the activity "Socialization of the Use of Digital Literacy in the Community in Maintenance Works of Road Construction and Complementary Buildings". Data was collected using the methods of interview, observation, and documentation. The stages of service activities include: initial survey and data inventory, location measurement, calculation of RAB and design drawings, video content creation activities related to community service activities for the use of digital literacy in road construction maintenance work and complementary buildings.
References
Ariyono, S. (1985) Kamus Antropologi. Jakarta: Akademi Persindo.
Goslin, D. A. (2004) Bunga Rampai Sosiologi Keluarga. Jakarta: Yayasan Obor Indonesia.
Soekanto, S. (1993) Kamus Sosiologi. Jakarta: PT. Raja Grafindo Persada.
Suharto (1991) Teknologi Pengawetan Pangan. Jakarta: Rineka Cipta.
Peraturan Menteri Pekerjaan Umum Nomor : 19/Prt/M/2011 Tentang Persyaratan Teknis Jalan Dan Kriteria Perencanaan Teknis Jalan'.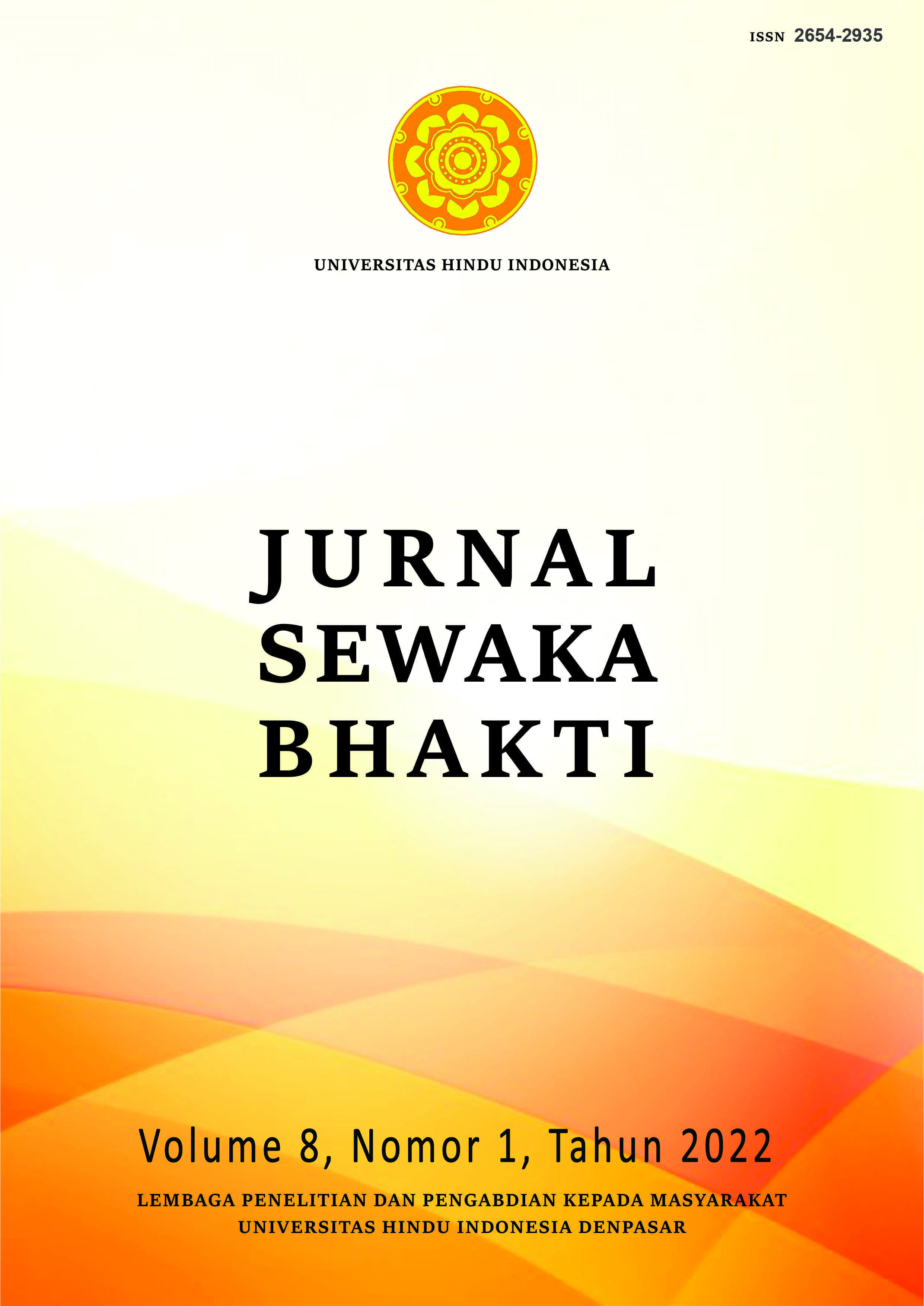 How to Cite
Indriani, M. N., Wirahaji, I. B., Mahapatni, I. A. P. S., & Wardani, A. M. C. (2022). SOSIALISASI PENGGUNAAN LITERASI DIGITAL PADA MASYARAKAT DALAM PEKERJAAN PEMELIHARAAN KONSTRUKSI JALAN SERTA BANGUNAN PELENGKAP. JURNAL SEWAKA BHAKTI, 8(1), 29-38. https://doi.org/10.32795/jsb.v8i1.2220