Edukasi Pasien dan Pendamping Pasien Glaukoma Tentang Mengenal Sejak Dini "Glaukoma Si Pencuri Penglihatan" di RSUD Sanjiwani Gianyar
Ni Nyoman Sunariasih

KSM Mata RSUD Sanjiwani, Gianyar/Fakultas Kedokteran dan Ilmu Kesehatan Universitas Warmadewa

I Wayan Agus Frengky Prabowo

KSM Mata RSUD Sanjiwani, Gianyar/Fakultas Kedokteran dan Ilmu Kesehatan Universitas Warmadewa

I Wayan Nadi Artha

KSM Mata RSUD Sanjiwani, Gianyar/Fakultas Kedokteran dan Ilmu Kesehatan Universitas Warmadewa
Keywords:
Glaucoma Education, Glaucoma Screening
Abstract
Glaucoma is a group of diseases characterized by chronic and progressive optic neuropathy as a result of changes in the morphology of the optic nerve and the fibers of the retinal nerve characterized by increased intraocular pressure (IOP). Currently, knowledge about glaucoma is still low so that the rate of blindness due to glaucoma is still high. Education starts from glaucoma patients and their companions. Partners are patients and patient companions. The patient's companion is the family of a glaucoma patient who has a higher risk of developing glaucoma than other people in the community. The purpose of this activity is  to provide education to patients and their companions about glaucoma and its prevention, screening eye pressure on the patient's companion to detect glaucoma early. The results of this activity is increasing the knowledge of patients and their companions about glaucoma and its prevention were proven by an increase in post-test results after education for partners and the results of measuring eye pressure on glaucoma patients companion who were more than 40 years old. The activity was carried out at the Eye Clinic of the Sanjiwani Hospital.
References
Salmon JF. Kanski's Clinical Ophthalmology A Systematic Approach. 9th ed. China: Elsevier; 2020. 346-412 p.
Deva GAP, Suryathi NMA, Kusumadjaja IMA. Prevalensi Glaukoma Sudut Terbuka Primer Di RSUP Sanglah Periode Juni 2017 – Juni 2018. Jurnal Medika Udayana. 2020; 9(4).
American Academy of Ophthalmology Staff. Glaucoma. United State of America: American Academy of Ophthalmology; 2018-2019. 11-14 p.
Netland PA, Tanna AP. Glaucoma Medical Therapy: principle and Management. 3rd ed. Amsterdam: Kugler; 2021. 171-186 p.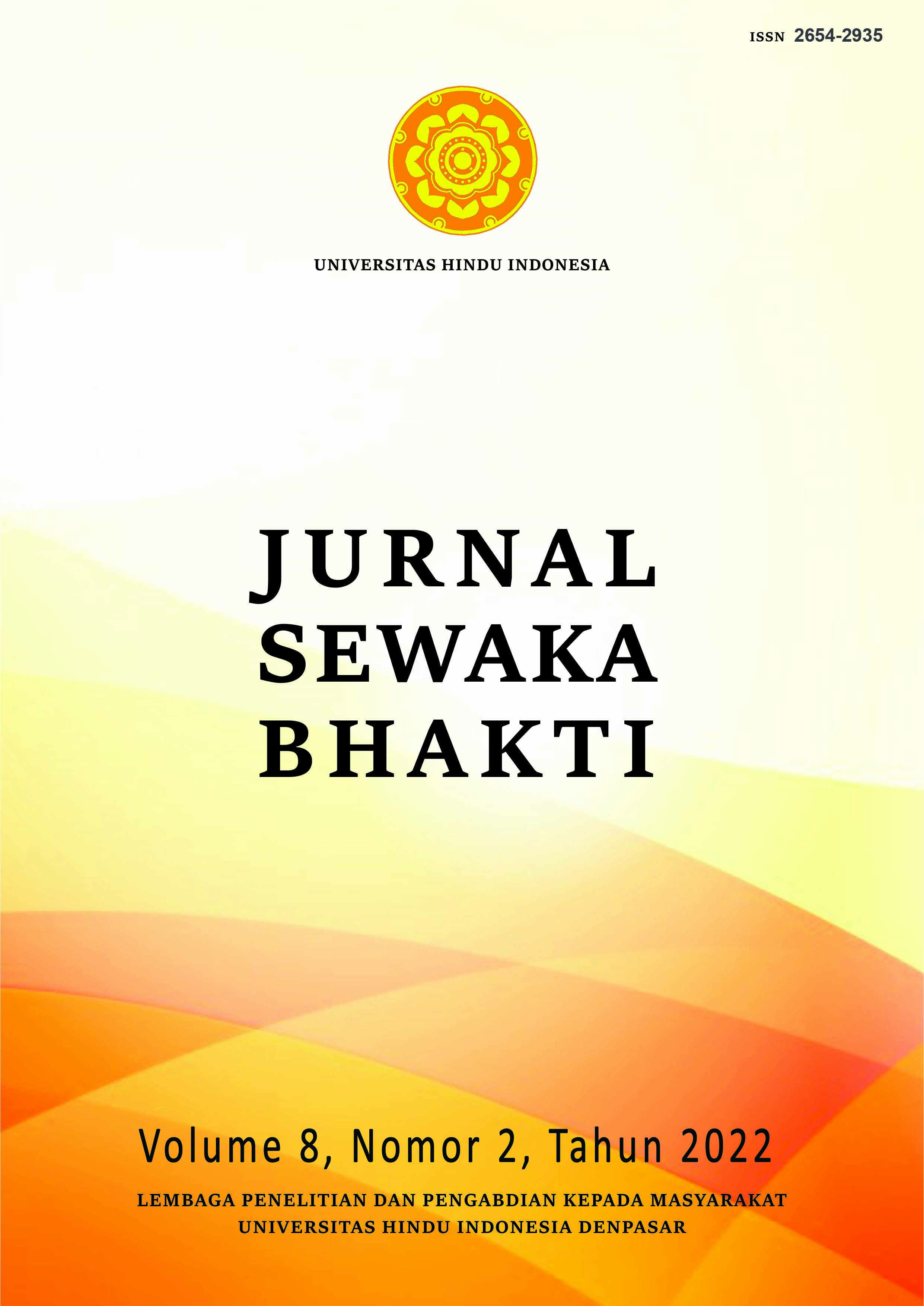 How to Cite
Sunariasih, N. N., Prabowo, I. W. A. F., & Artha, I. W. N. (2022). Edukasi Pasien dan Pendamping Pasien Glaukoma Tentang Mengenal Sejak Dini "Glaukoma Si Pencuri Penglihatan" di RSUD Sanjiwani Gianyar. JURNAL SEWAKA BHAKTI, 8(2), 104-110. https://doi.org/10.32795/jsb.v8i2.2240