PELATIHAN DAN PENDAMPINGAN KEWIRAUSAHAAN: PRODUKSI JAJE BEGINA DI KECAMATAN BLAHBATUH
Luh Gede Kusuma Dewi

Program Studi S1 Akuntansi, Fakultas Ekonomi, Universitas Pendidikan Ganesha

Nyoman Ayu Wulan Trisna Dewi

Program Studi S1 Akuntansi, Fakultas Ekonomi, Universitas Pendidikan Ganesha

Made Arie Wahyuni

Program Studi S1 Akuntansi, Fakultas Ekonomi, Universitas Pendidikan Ganesha
Keywords:
entrepreneur, production, traditional snacks
Abstract
Based on the results of observations and interviews, the majority of youth in Blahbatuh District are still students, who will soon complete their studies and will return to the community as part of the economic driver. This is where their concern is to look for other job opportunities, for example good entrepreneurship. Bali is an area with a strong cultural heritage. So far, it can be seen that the influence of the times has made people forget their own culture. At that time, every family helped each other to make jaje gine as a piodalan preparation. but nowadays, jaje gine can be bought easily in the market. Therefore, the cultural tradition of producing jaje upakara is revived through community service programs. The activity was carried out for two days, attended by 15 participants. The results showed that the participants participated enthusiastically and understood the material that had been given.
References
bps.go.id. (2021). Banyaknya Wisatawan Mancanegara Bulanan ke Bali Menurut Pintu Masuk (Orang), 2021. 2021. https://bali.bps.go.id/indicator/16/106/1/banyaknya-wisatawan-mancanegara-bulanan-ke-bali-menurut-pintu-masuk.html
Cahyani, D. R. (2020). Dampak Corona, 3,05 Juta Orang Terkena PHK Hingga Juni. 8 Juni 2020. https://bisnis.tempo.co/read/1350955/dampak-corona-305-juta-orang-terkena-phk-hingga-juni
Dewi, L. G. K., & Dewi, N. A. W. T. (2022). Edukasi dan Praktikum Enterpreneurship Untuk Teruna-Teruni Terdampak Covid-19 Di Desa Padangkeling. Jati Emas (Jurnal Aplikasi Teknik Dan Pengabdian Masyarakat), 6(1), 1–4.
Hanoatubun, S. (2020). Dampak Pandemi COVID-19 terhadap Perekonomian Indonesia. Journal of Education, Psycology and Counseling, 2(1), 146–153. https://doi.org/10.22216/jbe.v5i2.5313
Kanal Bali. (2021). Erick Thohir : Pariwisata Bali Perlu Improvement Agar Tak Ditinggalkan. Kumparan.Com.https://kumparan.com/kanalbali/erick-thohir-pariwisata-bali-perlu-improvement-agar-tak-ditinggalkan-1xBwYuPzruV/full
Pakpahan, A. K. (2020). COVID-19 DAN IMPLIKASI BAGI USAHA MIKRO, KECIL, DAN MENENGAH. Jurnal Ilmiah Hubungan Internasional. https://doi.org/10.26593/jihi.v0i0. 3870.59-64
Stella, E. (2021). Selain Hapus Premium Pertalite , Erick Thohir Sebut Bali Terlalu Tua Sebagai Daerah Pariwisata. Sekilasmedia.Com. https://sekilasmedia.com/2021/12/28/selain-hapus-premium-pertalite-erick-thohir-sebut-bali-terlalu-tua-sebagai-daerah-pariwisata/
Suadnyana, S. (2021). Koster: Pariwisata Tak Banyak Manfaatnya ke Warga Bali, Dinikmati Pemodal. Detiknews.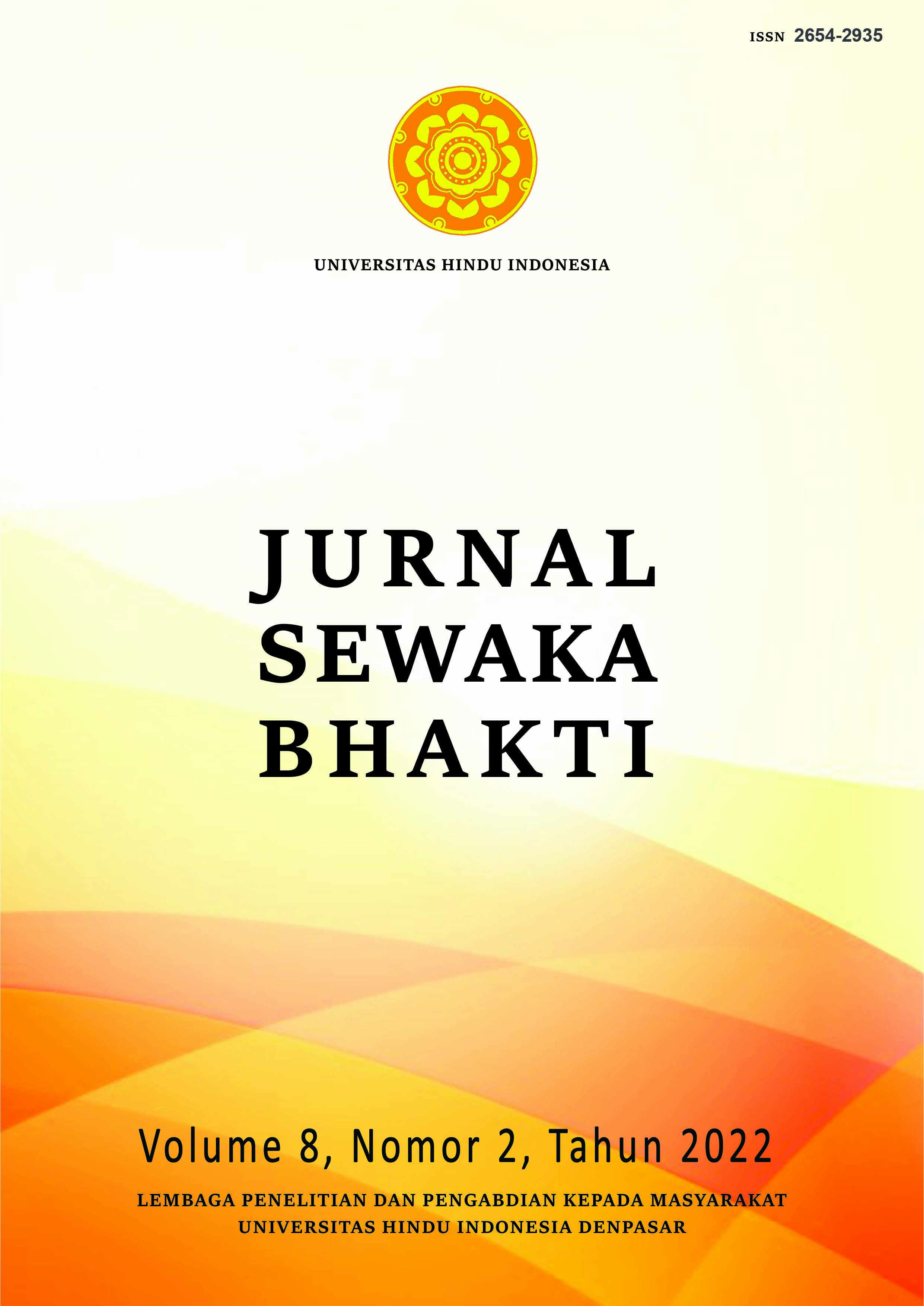 How to Cite
Dewi, L. G. K., Dewi, N. A. W. T., & Wahyuni, M. A. (2022). PELATIHAN DAN PENDAMPINGAN KEWIRAUSAHAAN: PRODUKSI JAJE BEGINA DI KECAMATAN BLAHBATUH. JURNAL SEWAKA BHAKTI, 8(2), 122-130. https://doi.org/10.32795/jsb.v8i2.2897