PENDAMPINGAN PENGELOLAAN LEARNING MANAGEMENT SYSTEM BERBASIS MOODLE UNTUK GURU DAN SISWA DI SMA NEGERI 1 SUKAWATI
A. A. Istri Ita Paramitha

Program Studi Sistem Informasi, STMIK Primakara

Eka Grana Aristyana Dewi

Program Studi Sistem Informasi Akuntansi, STMIK Primakara

I Nyoman Yudi Anggara Wijaya

Program Studi Sistem Informasi, STMIK Primakara

Kadek Oki Sanjaya

Program Studi Sistem Informasi, Universitas Hindu Indonesia
Keywords:
LMS, Moodle, SUKSMA
Abstract
SMA Negeri 1 Sukawati is a higher school located on Jl. Lettu Wayan Sutha, Batuan Village, Kec. Sukawati, Gianyar. SMA Negeri 1 Sukawati, commonly known as SUKSMA, is one of the favourite schools which is popular in the society. SUKSMA has 129 teachers from various fields of study. The information technology facilities for the students are quite good. It has four computer laboratory rooms, which has 150 computers in total. Besides, they have 5 IT staffs in charge of assisting activities related to information technology at SUKSMA. However, the use of these IT facilities is inefficient due to the teacher skill using technology to manage their e-learning. This is the background for researchers to carry out community service activities in the form of mentoring the management of the Moodle-based Learning Management System (LMS) at SMA Negeri 1 Sukawati. This activity is conducted to help the teacher and the student so that they could manage the Moodle-based LMS at SMA Negeri 1 Sukawati.
References
Dewi, Ni Luh Aristya, A. A. Istri Ita Paramitha, dan Eka Grana Aristyana Dewi. 2022. Analisis Dan Perancangan Sistem Informasi E-Learning Berbasis Learning Management System (LMS) Moodle Di SMA Negeri 1 Sukawati." JTKSI (Jurnal Teknologi Komputer Dan Sistem Informasi) Vol 5, No.
Maryono, Y., 2008. dan B. P. Istiana, Teknologi Informasi & Komunikasi 1, Denpasar: Quadra.
Simanihuruk, L., J. Simarmata, A. Sudirman, M. S. Hasibuan, M. Safitri, O. K. Sulaiman, R. Ramadhani and S. H. Sahir. 2019. ELearning: Implementasi, Strategi dan Inovasinya, Medan: Yayasan Kita Menulis.
Sugianto, T. 2020 E-Learning Berbasis Schoology Tingkatkan Hasil Belajar Fisika, Sidorejo: CV. MINE.
Yaumi, Y. 2018. Media dan Teknologi Pembelajaran, Jakarta: PRENADAMEDIA GRUP.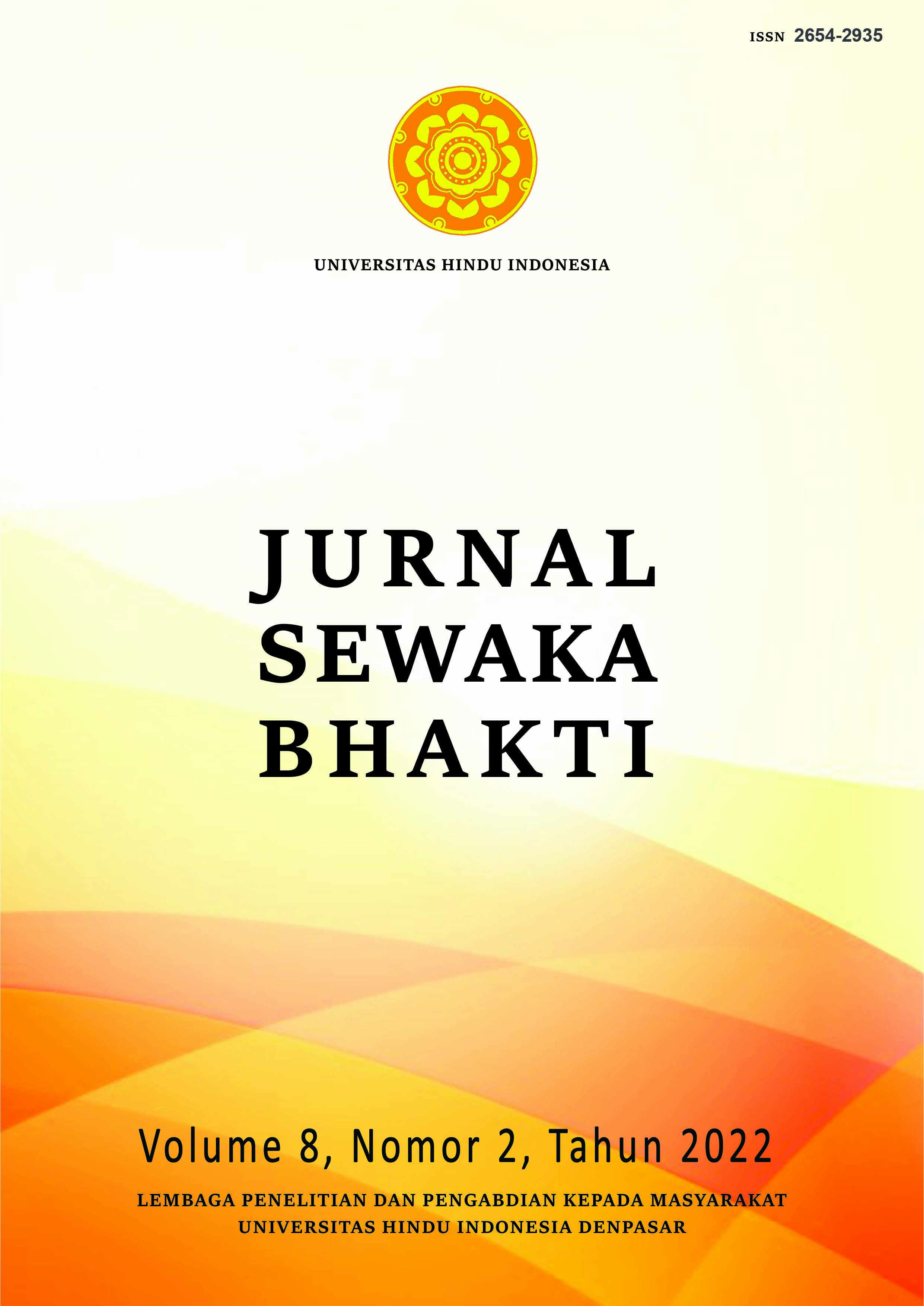 How to Cite
Paramitha, A. A. I. I., Dewi, E. G. A., Wijaya, I. N. Y. A., & Sanjaya, K. O. (2022). PENDAMPINGAN PENGELOLAAN LEARNING MANAGEMENT SYSTEM BERBASIS MOODLE UNTUK GURU DAN SISWA DI SMA NEGERI 1 SUKAWATI. JURNAL SEWAKA BHAKTI, 8(2), 131-137. https://doi.org/10.32795/jsb.v8i2.2960