PENGUATAN ORIENTASI KEWIRAUSAHAAN UMAT HINDU MELALUI KEUNGGULAN BERSAING BERBASIS LOCAL WISDOM PADA KELOMPOK TANI SARI KELA CEMPAKA DI DESA PEJENG KANGIN, TAMPAKSIRING, GIANYAR
Ni Luh Adisti Abiyoga Wulandari

Fakultas Ekonomi Bisnis dan Pariwisata, Universitas Hindu Indonesia

Ni Komang Sumadi

Fakultas Ekonomi Bisnis dan Pariwisata, Universitas Hindu Indonesia

I Gede Aryana Mahayasa

Fakultas Ekonomi Bisnis dan Pariwisata, Universitas Hindu Indonesia

Cokorda Gde Bayu Putra

Fakultas Ekonomi Bisnis dan Pariwisata, Universitas Hindu Indonesia

Ida Bagus Gede Parandita

Fakultas Ekonomi Bisnis dan Pariwisata, Universitas Hindu Indonesia

Ni Kadek Sintha Rila Cahyani

Fakultas Ekonomi Bisnis dan Pariwisata, Universitas Hindu Indonesia
Keywords:
orientasi kewirausahaan, keunggulan bersaing, lebah madu kele, entrepreneurial orientation, competitive advantage
Abstract
The Sari Kela Cempaka farmer group was formed as an alternative activity due to the impact of the Covid-19 pandemic which destroyed the tourism industry in Tampaksiring District. This farmer group was formed as a forum for approximately 20 honey bee farmers. This farmer group has a problem with the lack of facilities and infrastructure in developing this farmer group so that it can become a good center for kele honey bee farmers in Pejeng Kangin village. Lack of sufficient knowledge about good honey bee cultivation, and the arrangement of cultivation sites, including harvesting bee honey products and marketing the products that have been produced. Currently, everything is still done conventionally and still on a very small scale. The farmers who are members of this farmer group have realized the potential of the products they produce and their marketing potential is very good. Based on the partners' problems, community service activities were carried out in the form of 1) procurement of kele honey bee colonies and a Honey Refractometer to increase the quantity and quality of production of kele honey produced, 2) assistance in modern honey bee cultivation, 3) counseling on the use of social media in activities product marketing, 4) training in the preparation of simple financial reports. This community service activity has positive implications for partners so that they can improve their current entrepreneurial orientation through competitive advantage based on local resources.
References
Elpawati, Hudaya, U. M. D. A., & Habibie, F. M. (2019). Paddy rice farming diversification with Trigona sp. in Pandeglang regency, Banten province (Case study: diversification income analysis of paddy rice business with bee cultivation). IOP Conference Series: Earth and Environmental Science, 383(1). https://doi.org/10.1088/1755-1315/383/1/012019
Haryono, S. (2018). Pengaruh penggunaan website terhadap penjualan produk pengusaha UMKM pada asosiasi industri kreatif Depok. Sosio E-Kons, 10(1), 39–46
Kerisna, V., Diba, F., & Wulandari, R. S. (2019). Identifikasi jenis lebah trigona spp. pada zona pemanfaatan hutan Desa Menua Sadap Kecamatan Embaloh Hulu Kabupaten Kapuas Hulu. Jurnal Tengkawang, 9(2), 82–91
Marianti, A., & others. (2012). Efek Madu Randu dan Kelengkeng dalam Menurunkan Kolesterol pada Tikus Putih Hiperkolesterolemik. Life Science, 1(1).
Mirza, M., Amanah, S., & Sadono, D. (2017). Tingkat Kedinamisan Kelompok Wanita Tani dalam Mendukung Keberlanjutan Usaha Tanaman Obat Keluarga di Kabupaten Bogor, Jawa Barat. Jurnal Penyuluhan, 13(2), 181–193
Putra, P. A. H., Watiniasih, N. L., & Suartini, N. M. (2014). Struktur dan Produksi Lebah Trigona spp. pada Sarang Berbentuk Tabung dan Bola. Jurnal Biologi, 18(2), 60–64
Pribadi, A. (2020). Produktivitas panen propolis mentah lebah Trigona itama cockerell (Hymenoptera: Apidae) menggunakan propolis trap dan manipulasi lingkungan di Riau. A Scientific Journal, 37(2), 60–68. https://doi.org/10.20884/1.mib.2020.37.2.1045
Surata, I.K. 2017. Budidaya Lebah Madu Kele-Kele (Trigona spp.). Buku saku Pedoman Praktis
Syaifudin, S. M. (2020). Budidaya pakan lebah Trigona sp. dengan apiculture agroforestry system di Kelurahan Anjungan Melancar, Kecamatan Anjungan Kabupaten Mempawah. Jurnal Ilmiah Pangabdhi, 6(1), 17–24. https://doi.org/10.21107/pangabdhi.v6i1.6932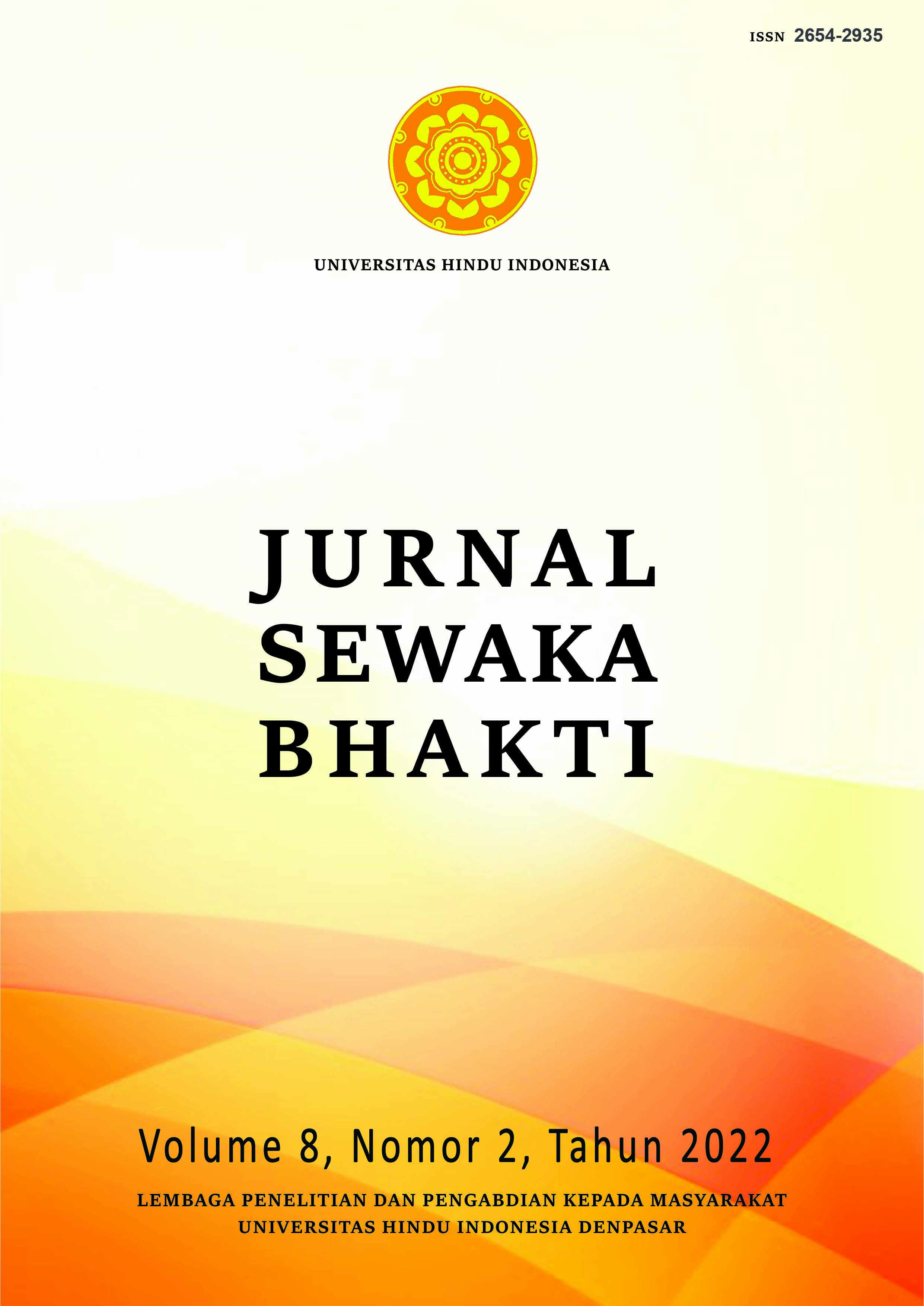 How to Cite
Adisti Abiyoga Wulandari, N., Sumadi, N. K., Mahayasa, I. G. A., Putra, C. G. B., Parandita, I. B. G., & Cahyani, N. K. S. R. (2022). PENGUATAN ORIENTASI KEWIRAUSAHAAN UMAT HINDU MELALUI KEUNGGULAN BERSAING BERBASIS LOCAL WISDOM PADA KELOMPOK TANI SARI KELA CEMPAKA DI DESA PEJENG KANGIN, TAMPAKSIRING, GIANYAR. JURNAL SEWAKA BHAKTI, 8(2), 154-163. https://doi.org/10.32795/jsb.v8i2.3114