PEMBERDAYAAN MANAJEMEN USAHA BERKELANJUTAN PENYANDANG DISABILITAS DI YAYASAN BHAKTI SENANG HATI, GIANYAR
Ita Sylvia Azita Azis

Program Studi Ilmu Ekonomi, Fakultas Ekonomi dan Bisnis, Universitas Warmadewa

I Made Jamin Yasa

Program Studi Ilmu Manajemen, Fakultas Ekonomi dan Bisnis, Universitas Warmadewa

Anak Agung Bagus Amlayasa

Program Studi Ilmu Akuntansi, Fakultas Ekonomi dan Bisnis, Universitas Warmadewa
Keywords:
Disability, Business Management, Financial Planning
Abstract
Persons with disabilities have the same position, rights and obligations as non-disabled people. For the sustainability and safeguarding of the future of people with disabilities, it is necessary to improve life skills as a breakthrough. Life skills as a provision for treading independent life are very much needed in the community, especially people with disabilities.In this Community Partnership Program (PKM), the team collaborated with one of the foundations for persons with disabilities, Bhakti Senang Hati in Siangan Village, Gianyar-Bali, who needed various trainings to improve life skills and independence of persons with disabilities. One of the strategies that can be implemented is through empowerment of sustainable management where people with disabilities are given knowledge related to how to manage a business to survive, financial planning, and applying the concepts that the research team has provided in the form of training to make peanut brittle and cake laklak. The results of this PKM activity include increasing the ability of people with disabilities to make snacks that they can sell as an effort to foster the entrepreneurial spirit of people with disabilities at the Bhakti Senang Hati Foundation.
References
Lembaran Negara Republik Indonesia. (2016). Undang-Undang Nomor 8 Tahun 2016 Tentang Penyandang Disabilitas. In Sekretariat Jendral DPR RI.
Ndaumanu, F. (2020). Hak Penyandang Disabilitas: Antara Tanggung Jawab dan Pelaksanaan oleh Pemerintah Daerah. Jurnal HAM, 11(1). https://doi.org/10.30641/ham.2020.11.131-150
Nur Santoso, P. (2020). Lingkungan Kerja Ergonomis dalam Perspektif Disabilitas (Literature Review). Journal of Industrial and Engineering System, 1(2). https://doi.org/10.31599/jies.v1i2.296
Setyaningsih, R., & Gutama, T. A. (2016). Pengembangan Kemandirian Bagi Kaum Difabel. Sosiologi DILEMA, 31(1).
Shaleh, I. (2018). Implementasi Pemenuhan Hak bagi Penyandang Disabilitas Ketenagakerjaan di Semarang. Kanun Jurnal Ilmu Hukum, 20(1). https://doi.org/10.24815/kanun.v20i1.9829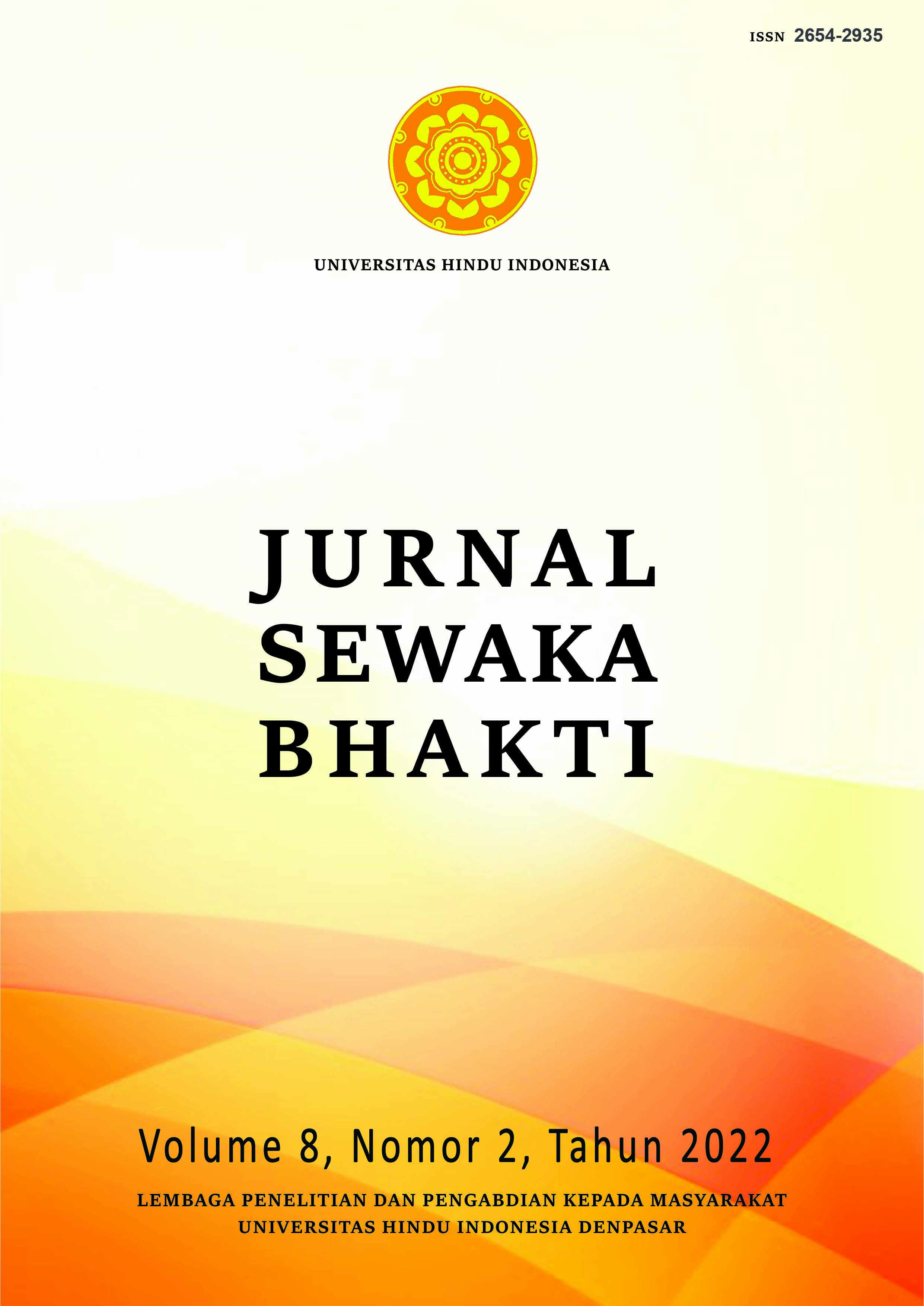 How to Cite
Azis, I. S., Yasa, I. M., & Amlayasa, A. A. (2022). PEMBERDAYAAN MANAJEMEN USAHA BERKELANJUTAN PENYANDANG DISABILITAS DI YAYASAN BHAKTI SENANG HATI, GIANYAR. JURNAL SEWAKA BHAKTI, 8(2), 146-153. https://doi.org/10.32795/jsb.v8i2.3268