PELATIHAN KELEMBAGAAN DAN DINAMIKA KELOMPOK PADA KELOMPOK TANI DAN USAHA PERDAGANGAN DI DESA SIDAN, KABUPATEN GIANYAR
I Gede Aryana Mahayasa

Fakultas Ekonomi Bisnis dan Pariwisata, Universitas Hindu Indonesia

Ida Ayu Putu Widani Sugianingrat

Fakultas Ekonomi Bisnis dan Pariwisata, Universitas Hindu Indonesia

Pande Nyoman Santi Ardani

Fakultas Ekonomi Bisnis dan Pariwisata, Universitas Hindu Indonesia

Wayan Andhika Putrayasa

Fakultas Ekonomi Bisnis dan Pariwisata, Universitas Hindu Indonesia
Keywords:
institutions, group dynamics, farmer groups, training, community service, dinamika kelompok
Abstract
The institutional aspect emphasizes the order of moral values, patterns of human relations, and the regulations that apply in society. Organizational or institutional structure is defined as how a job has been divided, grouped or formally coordinated. Group dynamics as a method and process, is one of the management tools to produce optimal group collaboration, so that organizational management becomes more effective, efficient and productive. Group dynamics seeks to create situations in such a way that all group members feel actively involved in each stage of group development or growth, so that everyone feels part of the group and not a stranger. This community service activity is carried out in order to help the community, especially farmer groups, a combination of farmer groups and trading business groups in Sidan village, Gianyar to be able to understand more about the organization, institutional or organizational structure and group dynamics within the organization. After attending this training, it is hoped that these business groups will be better able to organize and manage their organizations and could manage the dynamics that occur in their organizations, so that they can be optimized to achieve their organizational goals.
References
Amam, A., Jadmiko, M. W., Harsita, P. A., Widodo, N., & Poerwoko, M. S. (2019). Sumber daya internal peternak sapi perah dan pengaruhnya terhadap dinamika kelompok dan konteks kerentanan. Jurnal Ilmiah Peternakan Terpadu, 7(1), 192-200.
Amir, A. M. (2009). Penerapan Dinamika Kelompok. Academica, Vol. 1(No. 1).
Damanik, I. P. (2013). Faktor-faktor yang mempengaruhi dinamika kelompok dan hubungannya dengan kelas kemampuan kelompok tani di desa Pulokencana kabupaten Serang. Jurnal Penyuluhan, Vol. 9(No. 1).
Ernan, et al. 2009. Perencanaan dan Pengembangan Wilayah. Yayasan Obor Indonesia.
Juwari, A., Bawie, P. P., & Ferdiansyah, R. (2021). Evaluasi Kelembagaan. Civil Service Journal, 15(2 November), 9-17.
Manggala Rimbawati, D. E., Fatchiya, A., & Sugihen, B. G. (2018). Dinamika kelompok tani hutan agroforestry di Kabupaten Bandung. Jurnal Penyuluhan, 14(1), 92-103.
Saptana, S., Wahyuni, S., & Pasaribu, S. M. (2013). Strategi percepatan transformasi kelembagaan gapoktan dan lembaga keuangan mikro agribisnis dalam memperkuat ekonomi di perdesaan. Jurnal Manajemen & Agribisnis, 10(1), 60-70.
Suwarno, E., Yanti, R. N., & Supeno, B. (2022). Pendampingan Penyusunan Organisasi dan Kelembagaan Pengelola Obyek Wisata Alam Pulau Semut. Dinamisia: Jurnal Pengabdian Kepada Masyarakat, 6(3), 725-735.
Syofian, S., Sujianto, S., & Handoko, T. (2020). Modal Sosial Kelembagaan Petani Karet di Kabupaten Kuantan Singingi. Gulawentah: Jurnal Studi Sosial, 5(1), 52-59.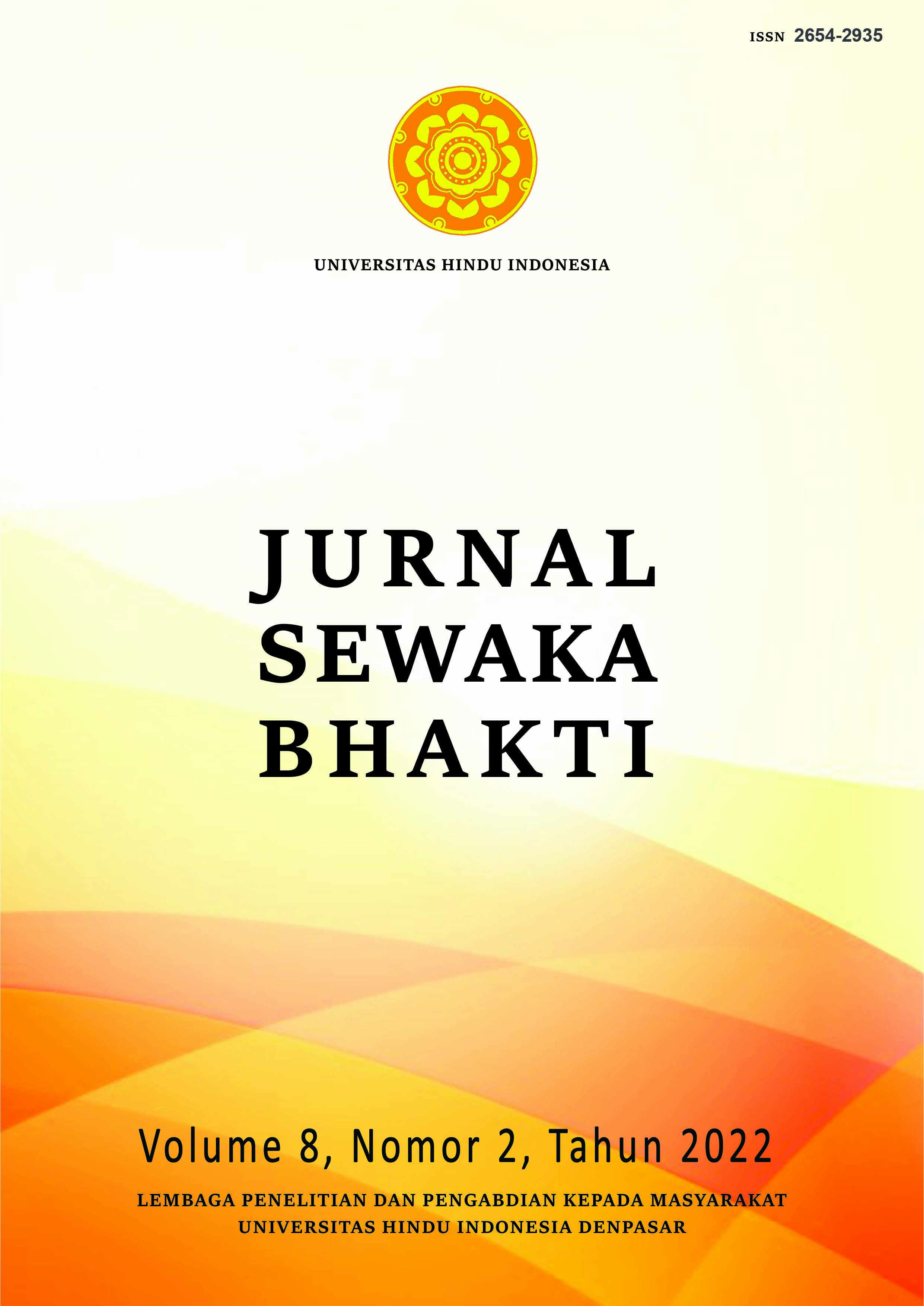 How to Cite
Mahayasa, I. G. A., Sugianingrat, I. A. P. W., Ardani, P. N. S., & Putrayasa, W. A. (2022). PELATIHAN KELEMBAGAAN DAN DINAMIKA KELOMPOK PADA KELOMPOK TANI DAN USAHA PERDAGANGAN DI DESA SIDAN, KABUPATEN GIANYAR. JURNAL SEWAKA BHAKTI, 8(2), 176-182. https://doi.org/10.32795/jsb.v8i2.3413