Pengaruh Brand Perceived Value dan Brand Experience Terhadap Customer Satisfaction
Ni Putu Asti Widari

Prodi Manajemen, Fakultas Ekonomi, Bisnis dan Pariwisata Universitas Hindu Indonesia

I Wayan Suartina

Prodi Manajemen, Fakultas Ekonomi, Bisnis dan Pariwisata Universitas Hindu Indonesia

Komang Ary Pratiwi

Prodi Manajemen, Fakultas Ekonomi, Bisnis dan Pariwisata Universitas Hindu Indonesia
Keywords:
brand perceived value, brand experience, customer satisfaction
Abstract
Online transportation services in Indonesia are growing very rapidly and rapidly. Advances in technology in the field of transportation have become a socio-cultural reality that occurs in society, that currently the internet is very influential on citizens in living their lives. The purpose of this research is to determine the relationship and influence between Brand Perceived Value and Brand Experience on Customer Satisfaction among Gojek Transportation Service Users in Denpasar City. The method of analysis in this study is multiple linear regression analysis. The number of samples used in this study were 50 respondents, namely Gojek consumers in Denpasar City. Based on the research results, it can be seen that: (1) Brand perceived value has a positive and significant effect on customer satisfaction (2) Brand experience has a positive and significant effect on customer satisfaction (3) Brand perceived value and brand experience have a positive and significant effect on customer satisfaction. The amount of influence of the independent variables on customer satisfaction is 57.5%. In the future, Gojek transportation services in Denpasar City need to improve the quality of their services, by increasing the performance of their applications so that consumers find it easier to access them.
References
(Mediasi & Bisnis, 2019)(Ekonomi et al., n.d.)Dan, P., Pada, D., & Intention, R. (2016). PENGARUH BRAND EXPERIENCE TERHADAP KEPUASAN PELANGGAN DAN DAMPAKNYA PADA REPURCHASE INTENTION (Survei. 1402413.
Ekonomi, F., Brawijaya, U., Mt, J., Malang, H., & Yulianti, I. (n.d.). Pengaruh Service Quality dan Brand Experience Terhadap Kepuasan Pelanggan ( Studi Pada Pelanggan Hotel Atria , Kota Malang ).
Mediasi, V., & Bisnis, P. (2019). PENGARUH E-SERVICE QUALITY DAN PERCEIVED VALUE TERHADAP REPURCHASE INTENTION DENGAN CUSTOMER SATISFACTION SEBAGAI VARIABEL MEDIASI PADA BISNIS E-COMMERCE. 217–223.
Studi, P., Fakultas, M., Universitas, E., & Riyadi, S. (2015). Pengaruh Perceived Value Terhadap Kepuasan Konsumen pada Jasa Tata Rias Pengantin Tunjung Seto Dengan Kualitas Pelayanan Sebagai Variabel Mediasi. 15(1), 64–72.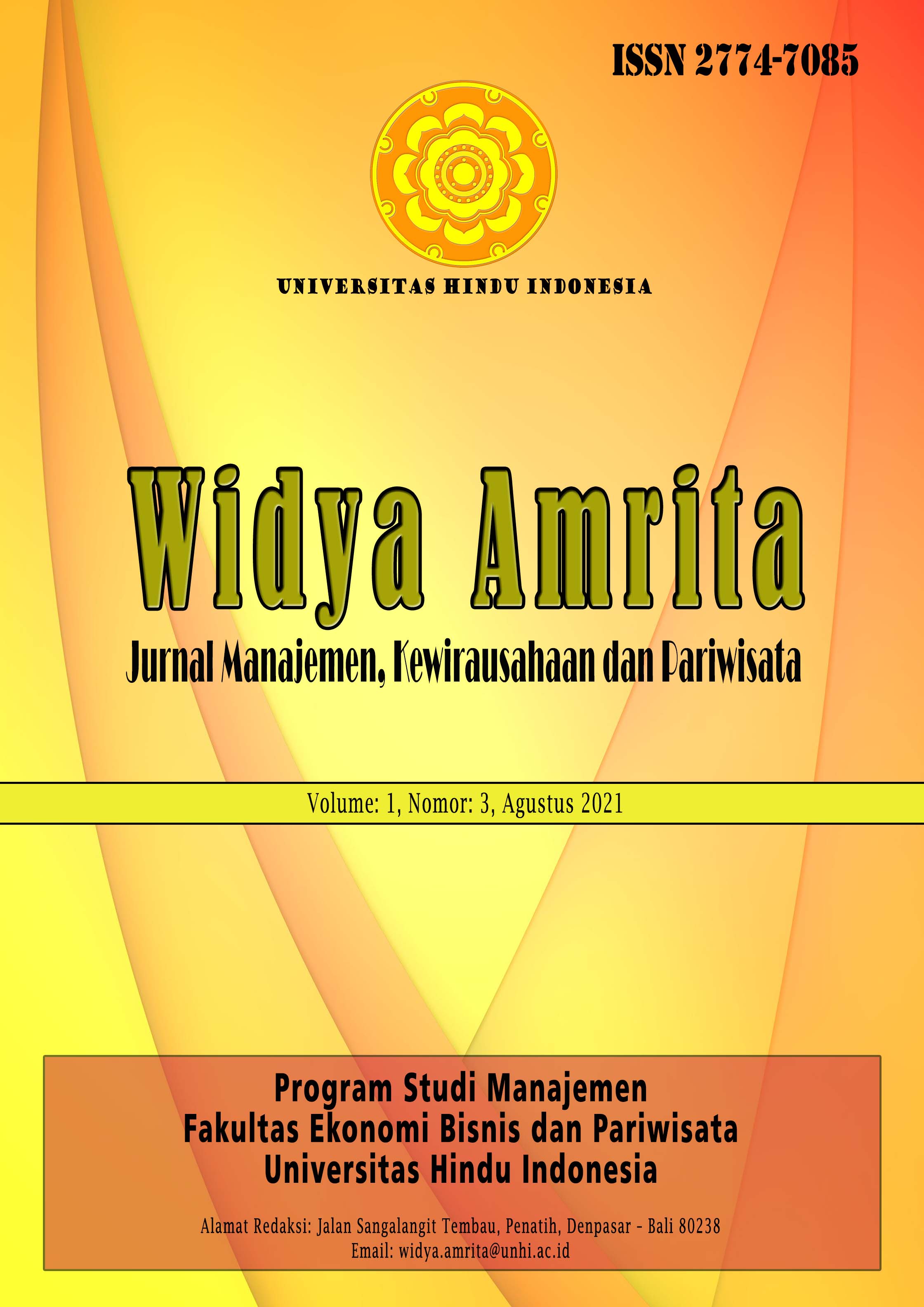 How to Cite
Widari, N. P., Suartina, I., & Pratiwi, K. (2021). Pengaruh Brand Perceived Value dan Brand Experience Terhadap Customer Satisfaction. Widya Amrita: Jurnal Manajemen, Kewirausahaan Dan Parwisata, 1(3), 998-1006. https://doi.org/10.32795/widyaamrita.v1i3.1394