PENGARUH IMPLEMENTASI CORPORATE SOCIAL RESPONSIBILITY (CSR) DAN SALES GROWTH TERHADAP NILAI PERUSAHAAN
(STUDI EMPIRIS PADA PERUSAHAAN SEKTOR BARANG KONSUMSI YANG TERDAFTAR DI BURSA EFEK INDONESIA TAHUN 2017 – 2019)
Ni Kadek Arta Fani

Universitas Hindu Indonesia

Ni Wayan Yuniasih

Universitas Hindu Indonesia
Keywords:
Keywords: corporate social responsibility, sales growth, firm value
Abstract
Firm value is the value possessed by a company which becomes an illustration for investors
regarding the company's success rate in managing its resources. This study aims to analyze
the effect of implementing corporate social responsibility and sales growth on firm value.
CSR disclosure is measured by the CSRDI proxy, sales growth is proxied by comparing
sales in year t after deducting the sales of the previous period against sales in the previous
period, and company value is measured by the PBV proxy. The research was conducted in
the consumer goods industry sector listed on the Indonesia Stock Exchange for the period
2017 to 2019. A sample of 21 companies were selected by purposive sampling. The data
analysis technique used is multiple linear regression analysis. The results showed 1)
corporate social responsibility has a significant positive effect on firm value. 2) sales
growth has a significant positive effect on firm value.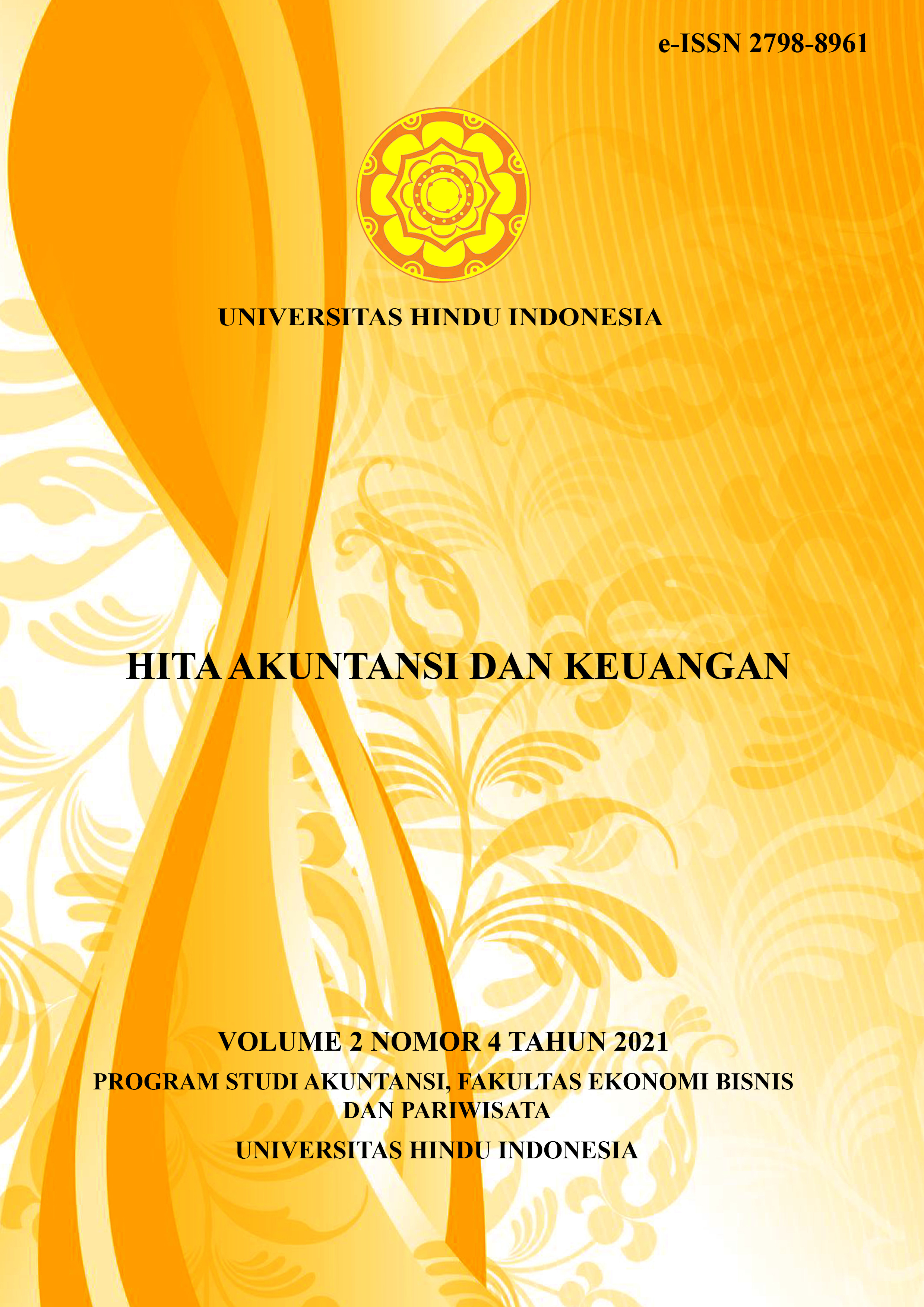 How to Cite
Fani, N. K., & Yuniasih, N. W. (2021). PENGARUH IMPLEMENTASI CORPORATE SOCIAL RESPONSIBILITY (CSR) DAN SALES GROWTH TERHADAP NILAI PERUSAHAAN. Hita Akuntansi Dan Keuangan, 2(4), 20-35. Retrieved from https://ejournal.unhi.ac.id/index.php/HAK/article/view/1994