PENGARUH PAJAK, MEKANISME BONUS, PROFITABILITAS DAN EXCHANGE RATE TERHADAP KEPUTUSAN TRANSFER PRICING
(STUDI PADA PERUSAHAAN MANUFAKTUR YANG TERDAFTAR DI BURSA EFEK INDONESIA TAHUN 2017-2019)
Ni Ketut Sari Arik Suastini

Universitas Hindu Indonesia

Ni Wayan Yuniasih

Universitas Hindu Indonesia
Keywords:
Bonus Mechanism, Tax, Profitability, Exchange Rate, Transfer Pricing
Abstract
Transfer Pricing policy by company to determine the transactions price among division
members inside one company also among divisions member of two companies both abroad
also domestical. The research has a purposes to determine whether Taxes, Bonus
Mechanisms, Profitability and Exchange Rates affect the decision making o the company
to take Transfer Pricing actions on Manufacturing companies inside the list of Bursa Efek
Indonesia (BEI) at 2017 to 2019. The research's population are companies of manufacture
listed on the Bursa Efek Indonesia (BEI) at 2017 to 2019, which amount to 154 companies.
The researcher are using non-probability sampling and purposive sampling as the
sampling methods. Through the specified criteria, 27 sample companies were obtained.
The researcher used secondary data, namely the annual financial report archive of
company from 2016 to 2019 gathered from BEI website. Researcher are using logistic
regression analysis to analyze the research data.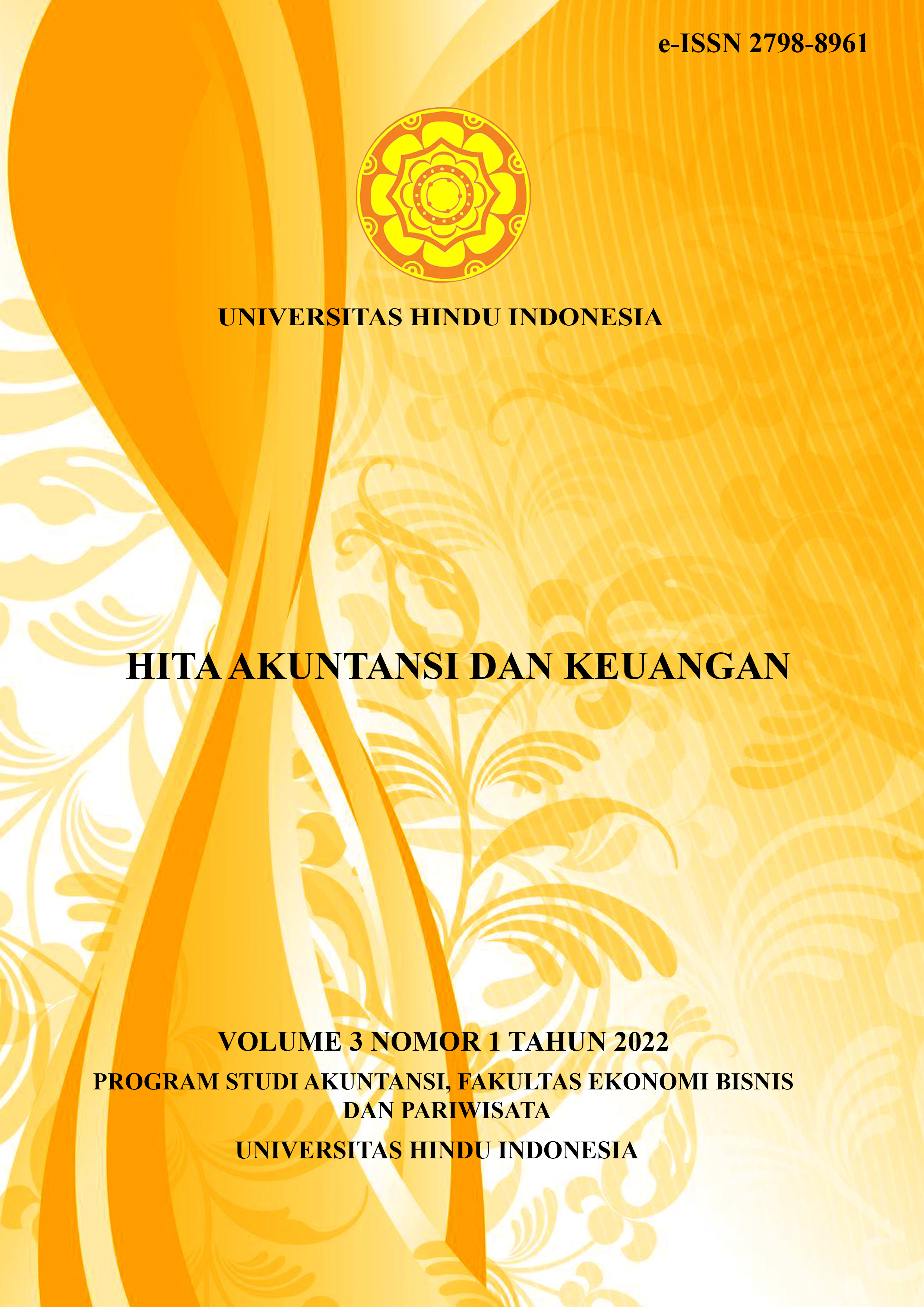 How to Cite
Suastini, N. K., & Yuniasih, N. W. (2022). PENGARUH PAJAK, MEKANISME BONUS, PROFITABILITAS DAN EXCHANGE RATE TERHADAP KEPUTUSAN TRANSFER PRICING. Hita Akuntansi Dan Keuangan, 3(1), 75-81. https://doi.org/10.32795/hak.v3i1.2284