URGENSI LAGU KIDS BERBASIS TRI HITA KARANADIIMPLEMENTASIKAN DI SEKOLAH TK SARI MEKAR SUKAWATI DAN TK SUTHA DHARMA UBUD
I Gusti Ayu Suasthi

Universitas Hindu Indonesia Denpasar

I Gusti Ketut Widana

Universitas Hindu Indonesia Denpasar

Ni Made Surawati

Universitas Hindu Indonesia Denpasar
Keywords:
lagu kids, Tri Hita Karana, Implementasi
Abstract
Artikel ini membahasUrgensi Lagu Kids Berbasis Tri Hita Karana Diimplementasikan di sekolah tk sari Mekar sukawati dan tk sutha Dharma Ubud. Di samping studi dokumen, data penelitian ini diperoleh melalui observasi dan wawancara dengan para guru di sekolah tK sari Mekar sukawati dan tK sutha Dharma Ubud. Data yang terkumpul kemudian diolah dan disajikan dalam bentuk deskriptif-kualitatif. hasil kajian menunjukkan bahwa: pertama, mengenalkan konsep-konsep ajaran agama hindu khususnya ajaran tri hita karana akan lebih mudah bila diintegrasikan dalam kegiatan bernyanyi sambil belajar. Kedua, membangun kecerdasan emosi anak sejak usia dini akan membantu anak lebih mudah memahami pesan-pesan yang ada dalam lagu. lirik pada lagu anak-anak banyak mengandung pesan untuk mencerdaskan akal pikiran dan kecerdasan iman. sebagai contoh lagu Pelangi-pelangi menanamkan anak-anak untuk percaya akan kebesaran dan kemahakuasaan ida Sang Hyang Widhi/t uhan dalam konsep tri hita karana termasuk dalam aspekparhyangan.lagu satu-satu Aku sayang Ibu mengandung makna saling menyayangi antar sesama, hal ini bagian dari ajaran pawongan. serta lagu lihat Kebunku mengajarkan pada anak-anak untuk merawat tumbuhan, hal ini mencerminkan sikap menyayangi tumbuhan/alam sebagai bagian dari ajaran palemahan
Downloads
Download data is not yet available.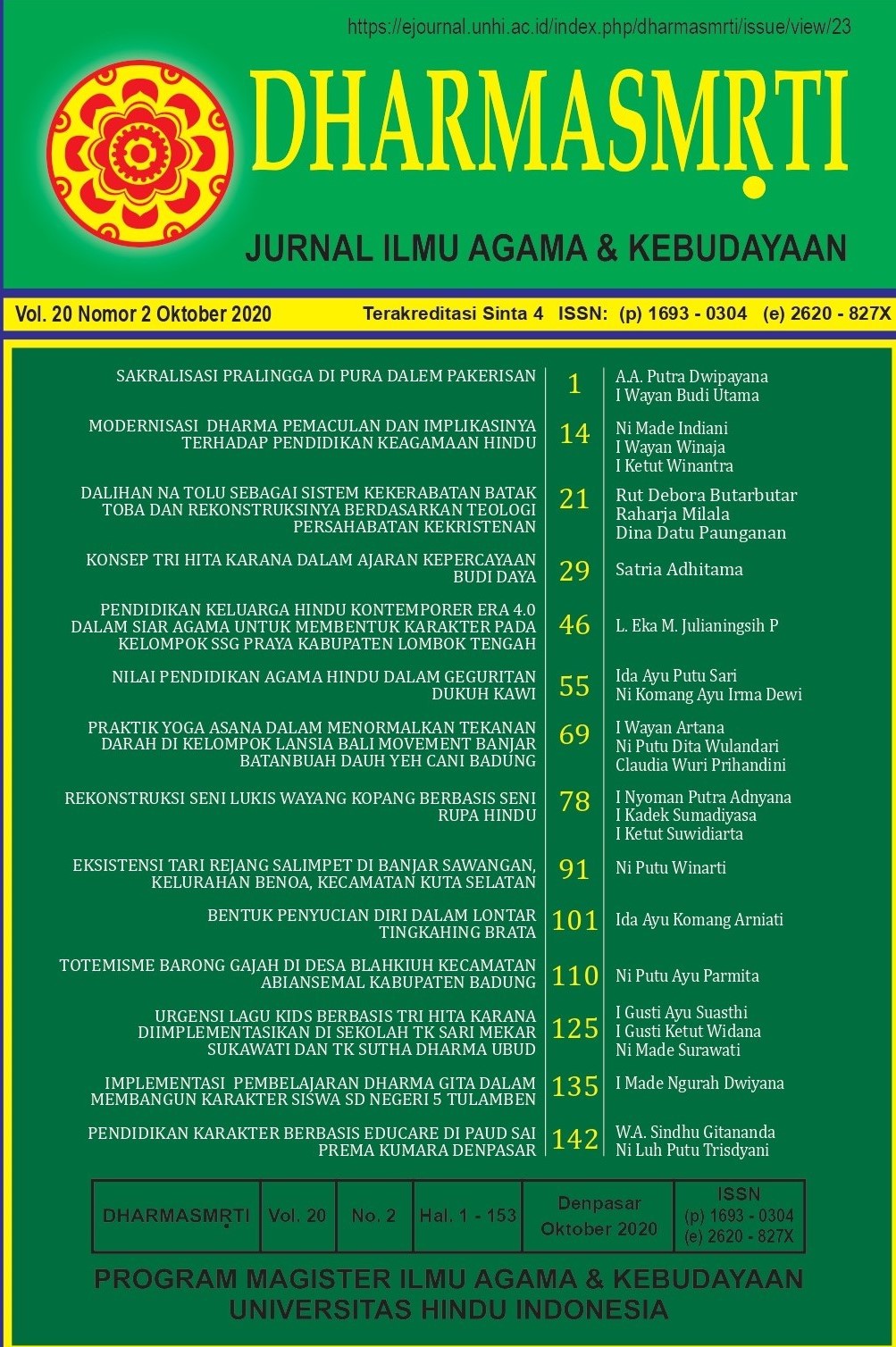 How to Cite
[1]
I. G. A. Suasthi, I. G. K. Widana, and N. M. Surawati, "URGENSI LAGU KIDS BERBASIS TRI HITA KARANADIIMPLEMENTASIKAN DI SEKOLAH TK SARI MEKAR SUKAWATI DAN TK SUTHA DHARMA UBUD", ds, vol. 20, no. 2, pp. 125-134, Oct. 2020.