Current Issue
Vol 5 No 2 (2022): International Journal of Interreligious and Intercultural Studies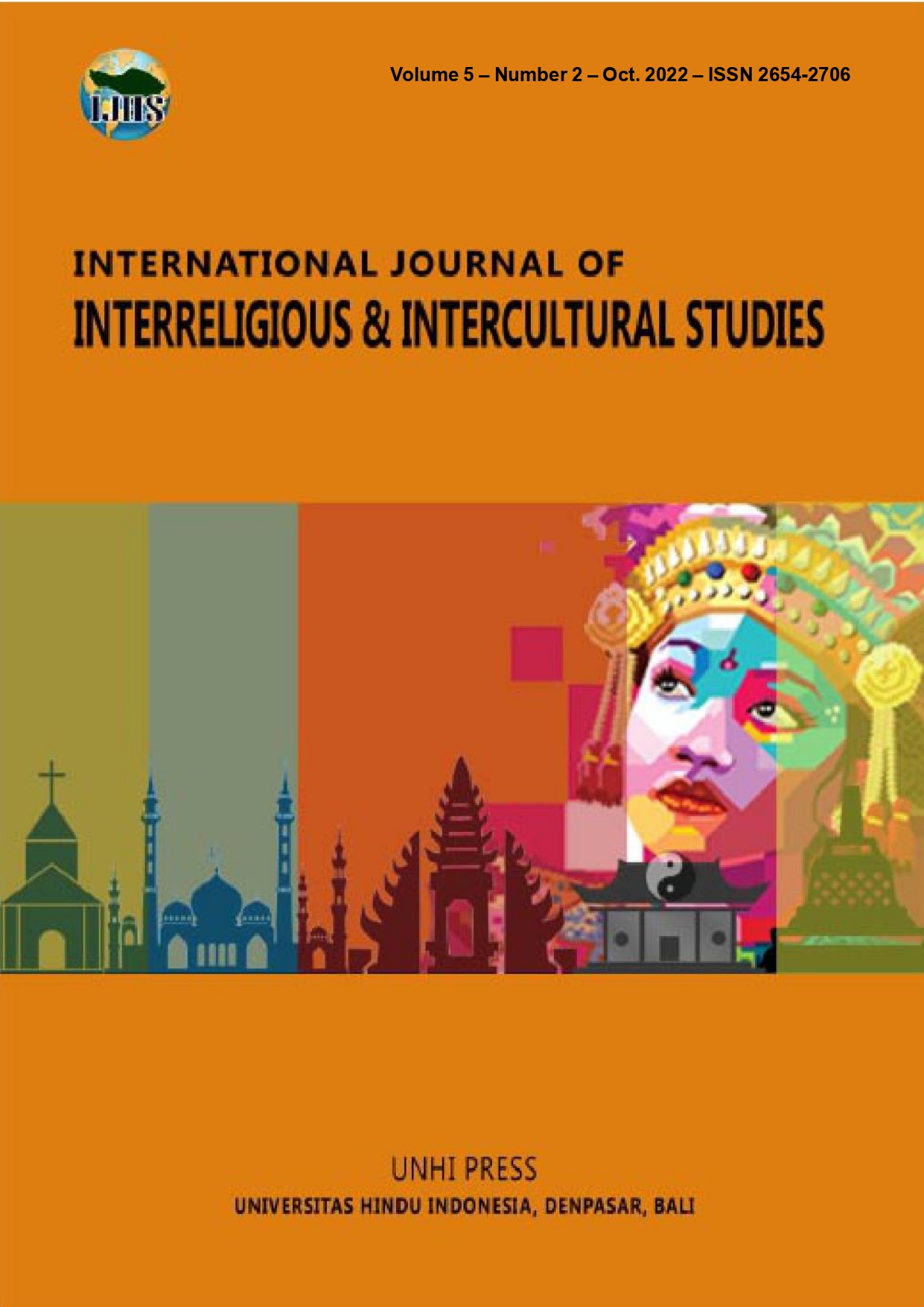 Editor's Foreword
It gives me great pleasure to publish the ninth edition of the International Journal on Interreligious and Intercultural Studies (IJIIS). As we enter the fifth year of our journal publication, I would just like to say how it has been a true honor for me to serve as its Editor in Chief. While burdensome and challenging, the work is fruitful, invigorating and refreshing, as it provides me with a good impression of where the field is heading to and what scholars are currently focusing their research on.   I am also not embarrassed to say that IJIIS has been one of the fruits of the good leadership of UNHI and the Widya Kerthi Hindu Educational Foundation, which have committed themselves to high level of research and publication. This had been emphasized since the beginning of the leadership in late 2017 and early 2018. With IJIIS, and the International Conference on Interreligious and Intercultural Studies (ICIIS), UNHI has been at the forefront of publications and scholarly exchange in the fields of interreligious and intercultural studies. The fact that UNHI is based in Bali also says something about the nature and milieu in which the IJIIS and ICIIS operate in. It is also with great pleasure that I report that the ICIIS held on 30 September 2022 was successfully conducted, wherein the committee received more than 90 abstracts. UNHI and its partners such as ICRS and LIPI/BRIN held the 9th ICIIS with a somewhat intriguing theme of "Sacred Language, Magic and Mysticism". As usual, the Conference invited many distinguished scholars from around the world. While the keynote speakers in the Conference included scholars from China and the United States of America, the invited speakers came from Turkey, the Philippines and others.
Finally, I would like to thank the editorial team members for their commitment and hard work. I would like to especially thank Ms. Iyak Abiyoga, who has been taking charge of the publication process in UNHI. I sincerely do hope that IJIIS will continue to be read by scholars and academics alike, and that contributors around will continue to want to publish their research in this journal.[]
Dicky Sofjan
Editor in Chief
View All Issues
The International Journal on Interreligious & Intercultural Studies (IJIIS) is a world-wide, peer-reviewed publication for scientists, academics, researchers and observers on topics surrounding religion, culture and all their interaction with social, political and economic realities, globalization, industry and other phenomena that significantly affect human lives in various parts of the world.