PENGARUH STRUKTUR KEPEMILIKAN DAN PERTUMBUHAN PERUSAHAAN TERHADAP KEPUTUSAN PENDANAAN DAN NILAI PERUSAHAAN
I Gede Surya Pratama

Fakultas Ekonomi, Universitas Warmadewa, Bali, Indonesia

Ida Ayu Agung Idawati

Fakultas Ekonomi, Universitas Warmadewa, Bali, Indonesia

Ade Ruly Sumartini

Fakultas Ekonomi, Universitas Warmadewa, Bali, Indonesia
Keywords:
Company Ownership Structure, Company Value, Funding Decision, Company Growth
Abstract
The aim of the company is to maximize the value of the company through the implementation of financial decisions consisting of investment decisions, funding and dividend policies. Companies tend to use debt in order to increase the value of their company. If a manager is able to increase the value of the company, the manager has shown good performance for the company. To increase corporate value, a good funding and investment decision is needed. The purpose of this study was to determine the effect of institutional ownership and company growth on funding decisions and the value of manufacturing companies. The population of this study was 152 and was selected by purposive sampling so that 129 samples were obtained. Data Analysis Techniques use Path Analysis. Hypothesis test results show that the level of debt held by the company is influenced by institutional ownership and growth of the company. While the high and low values ​​of the company are influenced by institutional ownership, the level of corporate debt and company growth.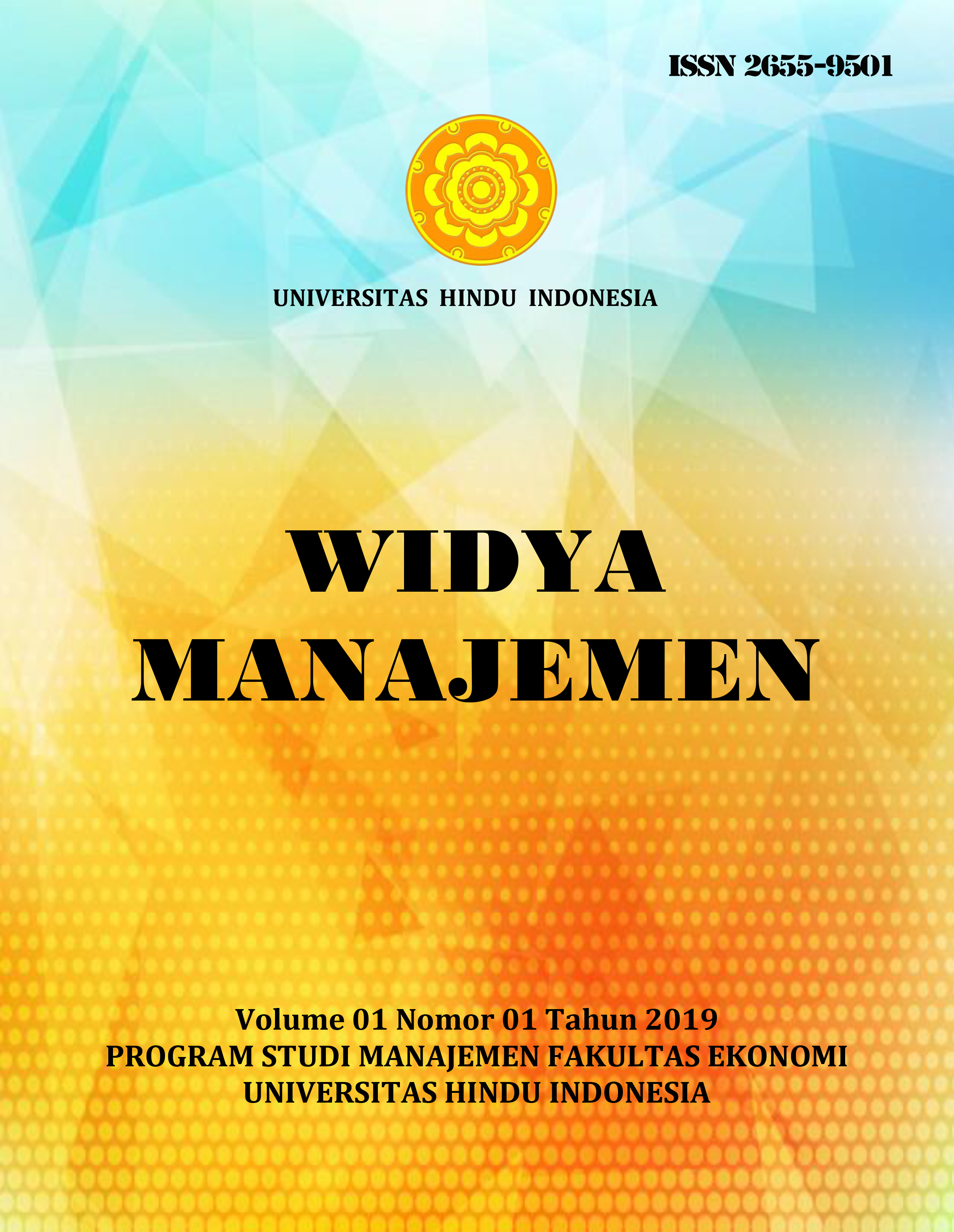 How to Cite
Pratama, I. G. S., Idawati, I. A. A., & Sumartini, A. R. (2018). PENGARUH STRUKTUR KEPEMILIKAN DAN PERTUMBUHAN PERUSAHAAN TERHADAP KEPUTUSAN PENDANAAN DAN NILAI PERUSAHAAN. Widya Manajemen, 1(1), 60-79. https://doi.org/10.32795/widyamanajemen.v1i1.207
Reproduction Policy
Every author submitting articles to Widya Manajemen must make a statement that the manuscript is free from plagiarism and is not being considered and published in other journals.
Articles that have been published are copyrighted by the Program Studi Manajemen FEBP UNHI. For educational purposes, the contents of the article may be duplicated or reproduced as long as the source of the article is mentioned. Written requests must be submitted to the editor to obtain permission to republish the contents of the article for purposes other than educational purposes.
-----------------------------------------------------------------------------------------------------
Kebijakan Reproduksi
Setiap penulis yang menyerahkan artikel ke Widya Manajemen harus membuat surat pernyataan bahwa naskahnya bebas dari plagiarisme dan tidak sedang dipertimbangkan dan dimuat dalam jurnal lain.
Artikel yang telah dipublikasi menjadi hak cipta Program Studi Manajemen FEBP UNHI. Untuk tujuan edukatif, isi dari artikel dapat digandakan atau direpublikasi selama menyebutkan sumber dari artikel tersebut. Permintaan tertulis harus diajukan kepada editor untuk memperoleh ijin merepublikasi isi dari artikel untuk tujuan lainnya selain tujuan edukatif.