Pengaruh Word Of Mouth dan Kualitas Pelayanan Kredit Terhadap Profit Koperasi Serba Usaha Mitra Rakyat Kantor Cabang Betro Juanda
Erlinda Yulia Damayanti

Prodi Manajemen, Fakultas Ekonomi dan Bisnis, UPN Veteran Jawa Timur, Surabaya

Hery Pudjoprastyono

Prodi Manajemen, Fakultas Ekonomi dan Bisnis, UPN Veteran Jawa Timur, Surabaya
Keywords:
Word of Mouth, Credit Service Quality, Profit
Abstract
The economy is an important thing for human survival, because basically the economy is the main spear of human activity. In carrying out economic activities, humans also need activities that support these economic activities, including services from financial institutions and financial institutions such as banking services and cooperatives. In this study, it uses Explanative Quantitative Research where in this explanative quantitative research it produces accurate data from the right calculations. The data collection method in this study was carried out by distributing questionnaires to 94 customers of KSU Mitra Rakyat who became customers in 2016-2020. In this study to analyze the data, the author uses the PLS technique. Word of mouth can have a significant positive effect on increasing profits at KSU Mitra Rakyat. This proves that Word of Mouth affects the increase. Quality of Credit Services has a significant positive effect on increasing profits at KSU Mitra Rakyat. The better the quality of credit services used, the higher the profit at KSU Mitra Rakyat. From the results of the research that has been done, the company must maintain recommendations, physical evidence and empathy. Furthermore, it must be further improved, in order to achieve the desired profit of the company.
References
Abdillah., W dan Jogiyanto. 2009. Partial Least Square (PLS) Alternatif SEM Dalam Penelitian Bisnis. Yogyakarta: Penerbit Andi.
Adhimah, Wasilatul. 2020. Strategi Pemasaran Dalam Meningkatkan Pendapatan Di BMT UGT Sidogiri Kantor Cabang Arosbaya Perspektif Maqashid. Surabaya: UINSA.
Anoraga, Panji dan Widiyanti N. 1997. Dinamika Koperasi. Jakarta: PT. Rineka Cipta.
Charles W. Lamb, Joseph F. Hair, Carl McDaniel. 2001. Pemasaran, Edisi pertama. Jakarta: Salemba Empat.
Creswell, Jhon W. 2016. Research Design Pendekatan Kualitatif, Kuantitatif, dan Mixed. Yogyakarta: Pustaka Pelajar.
Geladi, P. and Kowalski, B.P. 1986. Partial least-squares regression: A tutorial. Analytica Chimica Acta.
Kotler, Philip & Garry Armstrong. 2010. Prinsip-Prinsip Pemasaran, Jilid 1 dan 2 Edisi Kedua Belas. Jakarta: PT. Erlangga.
Kusnadi dkk. 2005. Pengantar Manajemen. Malang: Universitas Brawijaya. Kotler, Philip. 2002. Manajemen Pemasaran, Edisi Millenium, Jilid 2. Jakarta: PT. Prenhallindo.
Sernovitz, Andy. 2006. Word of Mouth Marketing: How Smart Companies Get People Talking. America: Kaplan Publishing.
Sugandi, Alan. 2013. Strategi Pemasaran Dan Kualitas Pelayanan Terhadap Profitabilitas Usaha Koperasi Produksi Susu Peternakan. Bogor: Sekolah Tinggi Penyuluhan Pertanian Bogor.
Sutisna. 2001. Perilaku Konsumen dan Komunikasi Pemasaran. Bandung: PT. Remaja Rosdakarya.
Sugiyono. 2014. Metode Penelitian Kombinasi (Mixed Methods). Bandung: Alfabeta.
Supono, Bambang. 2005. Akuntansi Manajemen. Yogyakarta: BPFE. Tjiptono, 2007. Pemasaran Jasa. Malang: Bayumedia Publishing.
Trisna Prambudi, Wahyu. 2019. Pengaruh Kualitas Pelayanan, Harga, Dan Word Of Mouth Terhadap Keputusan Pembelian Pada Digphotwork Jember. Jember: Universitas Jember.
Tjiptono, Fandy. 2006. Strategi Pemasaran. Yogyakarta: Andi Offset. Tjiptono, 2007. Pemasaran Jasa. Malang: Bayumedia Publishing.
Wardhani, Sujianita. 2005. Penerapan Strategi Pemasaran Dalam Upaya Meningkatkan Profit Di Badan Kredit Kecamatan Andong Kabupaten Boyolali. Surakarta: Universitas Sebelas Maret.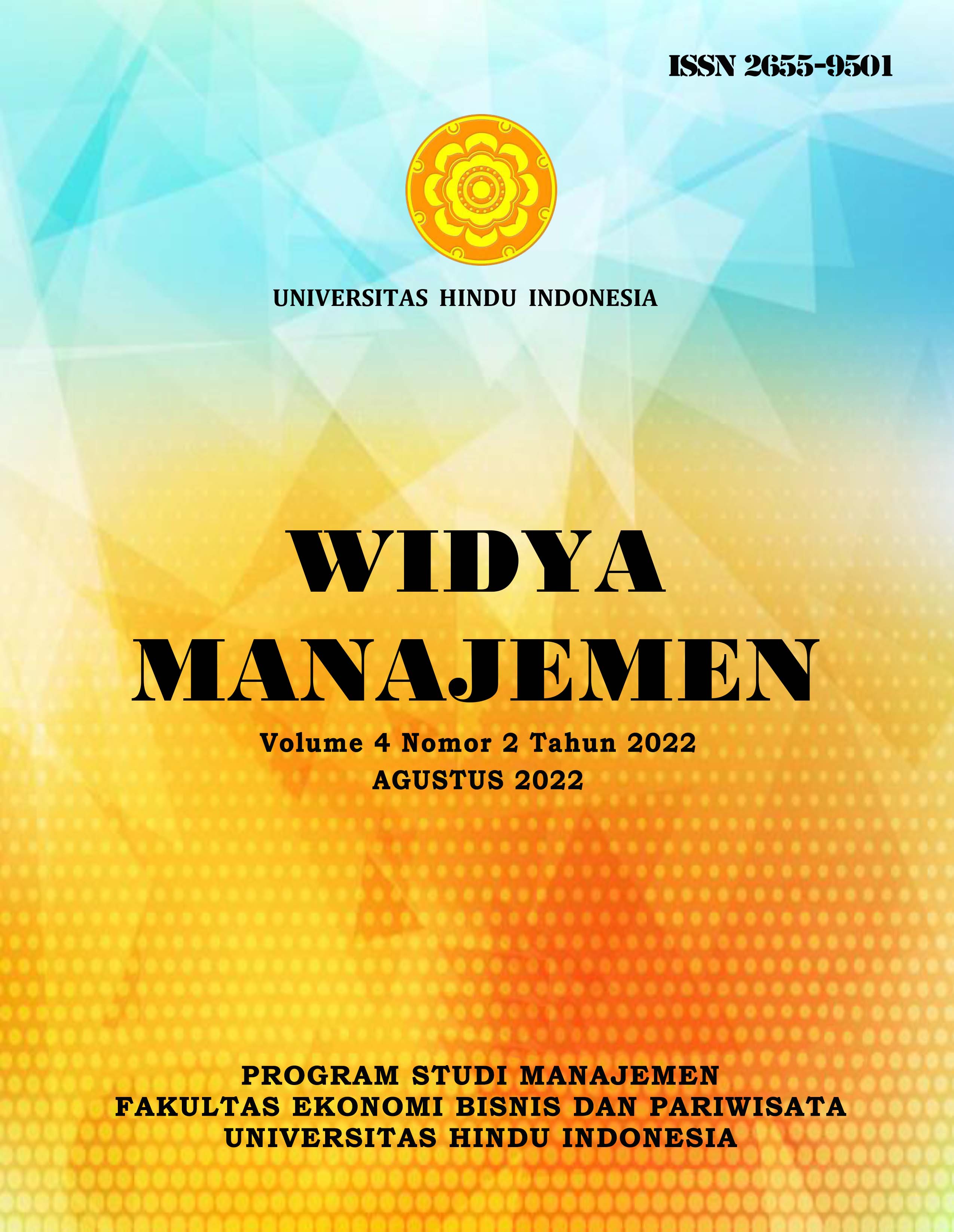 How to Cite
Damayanti, E., & Pudjoprastyono, H. (2022). Pengaruh Word Of Mouth dan Kualitas Pelayanan Kredit Terhadap Profit Koperasi Serba Usaha Mitra Rakyat Kantor Cabang Betro Juanda. Widya Manajemen, 4(2), 120-126. https://doi.org/10.32795/widyamanajemen.v4i2.2454
Reproduction Policy
Every author submitting articles to Widya Manajemen must make a statement that the manuscript is free from plagiarism and is not being considered and published in other journals.
Articles that have been published are copyrighted by the Program Studi Manajemen FEBP UNHI. For educational purposes, the contents of the article may be duplicated or reproduced as long as the source of the article is mentioned. Written requests must be submitted to the editor to obtain permission to republish the contents of the article for purposes other than educational purposes.
-----------------------------------------------------------------------------------------------------
Kebijakan Reproduksi
Setiap penulis yang menyerahkan artikel ke Widya Manajemen harus membuat surat pernyataan bahwa naskahnya bebas dari plagiarisme dan tidak sedang dipertimbangkan dan dimuat dalam jurnal lain.
Artikel yang telah dipublikasi menjadi hak cipta Program Studi Manajemen FEBP UNHI. Untuk tujuan edukatif, isi dari artikel dapat digandakan atau direpublikasi selama menyebutkan sumber dari artikel tersebut. Permintaan tertulis harus diajukan kepada editor untuk memperoleh ijin merepublikasi isi dari artikel untuk tujuan lainnya selain tujuan edukatif.