ANALISIS PENILAIAN KONSUMEN PADA EKUITAS MEREK PRODUK HERBAL AYURWEDA PADA KONSUMEN DI KOTA DENPASAR
Ni Luh Adisti Abiyoga Wulandari

Fakultas Ekonomi, Bisnis dan Pariwisata Universitas Hindu Indonesia, Bali

Ni Komang Sumadi

Fakultas Ekonomi, Bisnis dan Pariwisata Universitas Hindu Indonesia, Bali

Mirah Ayu Trarintya

Fakultas Ekonomi, Bisnis dan Pariwisata Universitas Hindu Indonesia, Bali
Keywords:
brand awareness;, brand perceived quality;, brand association;, brand loyalty;, Ayurveda;
Abstract
Ayurveda is one of the oldest holistic treatments in the world. Ayurveda herbal products have the potential to be developed as health products that have competitive advantages. Sustainable competitive advantage is done through strengthening brand equity, namely brand awareness, brand perceived quality, brand association, and brand loyalty. This research was conducted on consumers in the city of Denpasar, using 200 research respondents. Data collection is done by observation, interviews, questionnaires, and literature studies. The results showed that overall the respondents of the study both non-consumer respondents and consumer respondents had brand awareness, brand association, brand perceived quality, and good brand loyalty in Ayurveda herbal products. Where consumers' perceptions of brand awareness, brand association, brand perceived quality Ayurveda herbal products are higher than non-consumer respondents. In addition, the results of the analysis show that there are significant differences in brand association between consumers who have never consumed consumers who have consumed Ayurveda herbal products. While the perception of brand awareness and brand perceived quality did not show a significant difference in the two groups of respondents. Based on the results of these studies, developing brand equity of Ayurveda herbal products is very important to create competitive advantage. So that consumers are expected to prefer to use Ayurveda herbal products compared to other traditional medicines or modern / synthetic medical drugs that exist today.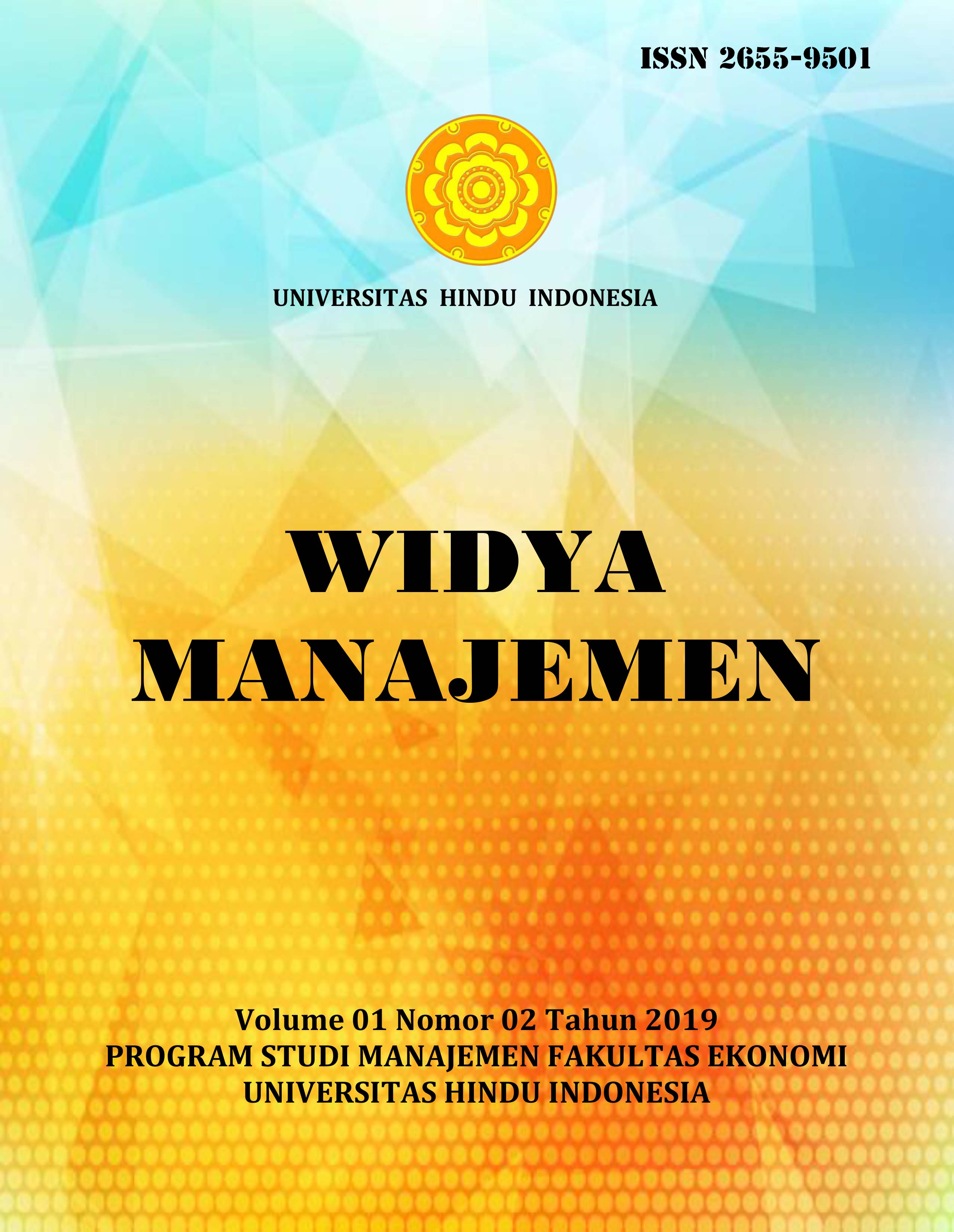 How to Cite
Wulandari, N. L. A. A., Sumadi, N. K., & Trarintya, M. A. (2019). ANALISIS PENILAIAN KONSUMEN PADA EKUITAS MEREK PRODUK HERBAL AYURWEDA PADA KONSUMEN DI KOTA DENPASAR. WIDYA MANAJEMEN, 1(2), 90-112. https://doi.org/10.32795/widyamanajemen.v1i2.358
Reproduction Policy
Every author submitting articles to Widya Manajemen must make a statement that the manuscript is free from plagiarism and is not being considered and published in other journals.
Articles that have been published are copyrighted by the Program Studi Manajemen FEBP UNHI. For educational purposes, the contents of the article may be duplicated or reproduced as long as the source of the article is mentioned. Written requests must be submitted to the editor to obtain permission to republish the contents of the article for purposes other than educational purposes.
-----------------------------------------------------------------------------------------------------
Kebijakan Reproduksi
Setiap penulis yang menyerahkan artikel ke Widya Manajemen harus membuat surat pernyataan bahwa naskahnya bebas dari plagiarisme dan tidak sedang dipertimbangkan dan dimuat dalam jurnal lain.
Artikel yang telah dipublikasi menjadi hak cipta Program Studi Manajemen FEBP UNHI. Untuk tujuan edukatif, isi dari artikel dapat digandakan atau direpublikasi selama menyebutkan sumber dari artikel tersebut. Permintaan tertulis harus diajukan kepada editor untuk memperoleh ijin merepublikasi isi dari artikel untuk tujuan lainnya selain tujuan edukatif.