Peran Perceived Value Dalam Memediasi Pengaruh Green Marketing Terhadap Loyalitas
(Studi Pada Pengguna Tumbler Starbucks Coffee di Kota Denpasar)
IA Cynthia Saisaria Mandasari

Fakultas Ekonomi dan Bisnis Universitas Warmadewa, Bali, Indonesia

Ade Ruly Sumartini

Fakultas Ekonomi dan Bisnis Universitas Warmadewa, Bali, Indonesia
Keywords:
green marketing, perceived value, customer loyalty
Abstract
Every component of society began to worry about environmental pollution that could cause environmental damage. Concern about this is demonstrated by starting to use environmentally friendly products and pay attention to business activities carried out by companies around them. Seeing the current public concern for the environment makes business people start doing green marketing. One company that applies green marketing is Starbucks Coffee through Tumbler products. This research contributes ideas for SMEs in the field of beverage culinary to do green marketing to care for the environment and increase customer loyalty. Data collection using a questionnaire distributed directly to the object of research. The population in this study was Starbucks Coffee Tumbler users in Denpasar with a sample of 75 respondents. Data analysis techniques using path analysis (path analysis) and Sobel test.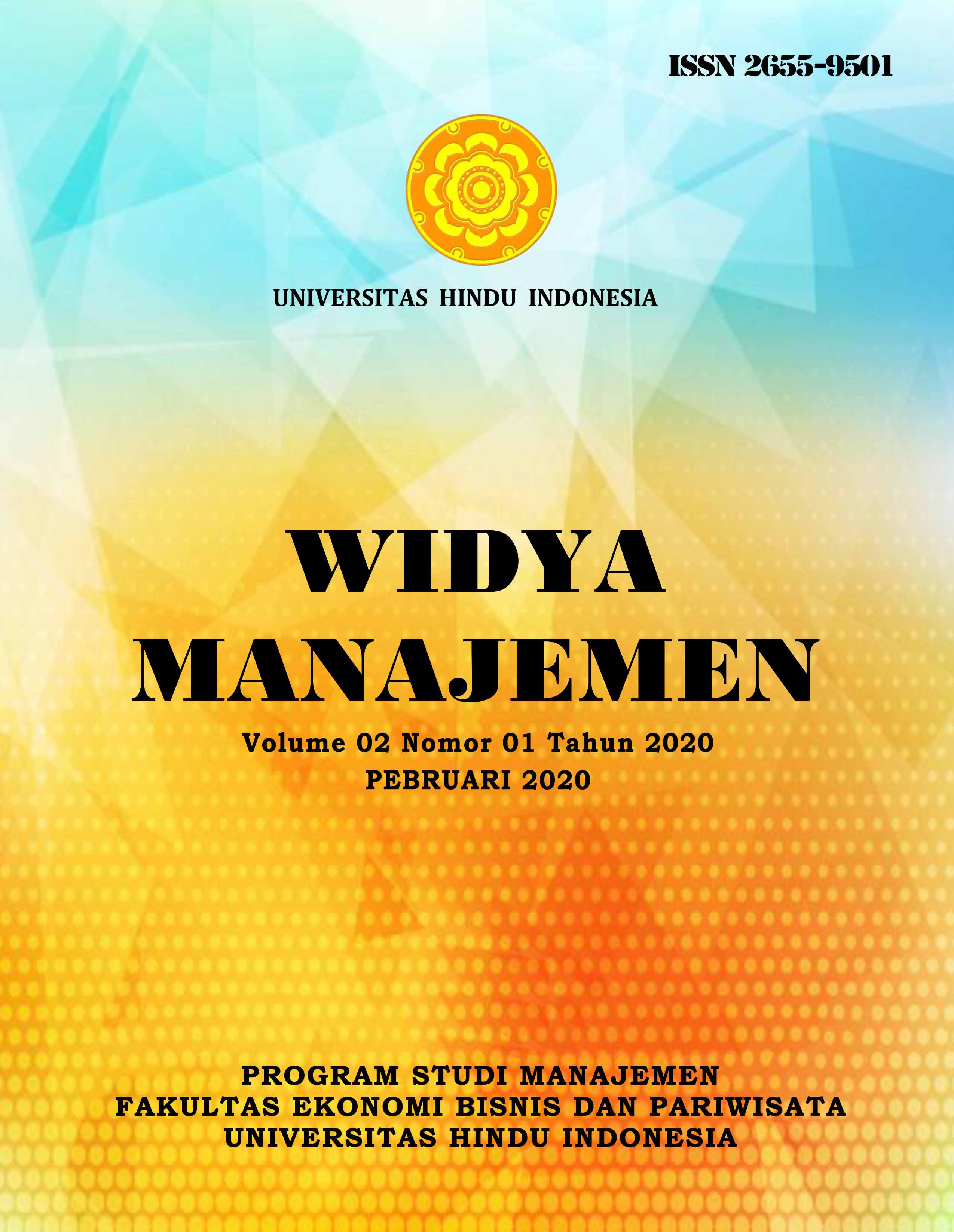 How to Cite
Mandasari, I. C. S., & Sumartini, A. R. (2020). Peran Perceived Value Dalam Memediasi Pengaruh Green Marketing Terhadap Loyalitas. Widya Manajemen, 2(1), 1-9. https://doi.org/10.32795/widyamanajemen.v2i1.545
Reproduction Policy
Every author submitting articles to Widya Manajemen must make a statement that the manuscript is free from plagiarism and is not being considered and published in other journals.
Articles that have been published are copyrighted by the Program Studi Manajemen FEBP UNHI. For educational purposes, the contents of the article may be duplicated or reproduced as long as the source of the article is mentioned. Written requests must be submitted to the editor to obtain permission to republish the contents of the article for purposes other than educational purposes.
-----------------------------------------------------------------------------------------------------
Kebijakan Reproduksi
Setiap penulis yang menyerahkan artikel ke Widya Manajemen harus membuat surat pernyataan bahwa naskahnya bebas dari plagiarisme dan tidak sedang dipertimbangkan dan dimuat dalam jurnal lain.
Artikel yang telah dipublikasi menjadi hak cipta Program Studi Manajemen FEBP UNHI. Untuk tujuan edukatif, isi dari artikel dapat digandakan atau direpublikasi selama menyebutkan sumber dari artikel tersebut. Permintaan tertulis harus diajukan kepada editor untuk memperoleh ijin merepublikasi isi dari artikel untuk tujuan lainnya selain tujuan edukatif.