Strategi Pemasaran Museum Buleleng Dalam Upaya Meningkatkan Jumlah Kunjungan Wisatawan
I Gede Putra Nugraha

Program Studi Perhotelan, Universitas Pendidikan Ganesha

Made Dian Putri Agustina

Program Studi Manajemen, Universitas Hindu Indonesia
Keywords:
Strategy, Marketing, Museum, Tourist
Abstract
This study aims to describe the decrease factor of tourist visits to the Museum Buleleng, marketing strategies used to increase the number of tourist visits to the Museum Buleleng. This study used a SWOT analysis to identify strengths, weaknesses, opportunities, and threats in Buleleng Museum, and discussed using qualitative descriptive analysis. This research subject is the manager of the Buleleng Museum. Then the object of this study is data on the number of tourists. Data on the number of tourist arrivals was obtained through interviews with related parties. Data were analyzed descriptively. These results indicate that factors causing the decline in the number of tourist visits to the Museum Buleleng namely internal factors and external factors do not Buleleng Museum marketing strategy, which is due to funding constraints. Results of the analysis of the data showed that important to know the potential, weaknesses that should be corrected, an opportunity that must be exploited to the maximum, and a threat to be faced so that it can be known from the marketing strategy to be followed.
References
Anantara News. Minggu, 9 September 2012. Museum Buleleng terancam bangkrut. From http://www.antaranews.com/berita/331955/museum-buleleng-terancam-bangkrut. 30 Sepetember 2014
Antara, I Komang Pasek. Jumat, 14 Maret 2014. Gerakan Nasional Cinta Museum. Pemerintah Kabupaten Karangasem. From http://www.karangasemkab.go.id/index.php?option=com_content&view=article&id=2187:gerakan-nasional-cinta-museum-oleh-i-komang-pasek-antara&catid=54:artikel&Itemid=81. 30 September 2014
Bayu, W. Sabtu, 04 Februari 2012. Research Of Bali Hotel And Tourism Development Memuat tema seputar kepariwisataan dan perhotelan yang berhubungan dengan lingkungan, sosial budaya, hukum dan manajemen. Pariwisata Bali dan Global (Bali and Global Tourism). Fromhttp://madebayu.blogspot.com/2012/02/pariwisata-budaya.html. 30 September 2014
Farida Robithoh W&JokoKumoro, 2012. StrategiPromosiWisataPadaDinasKebudayaan, Pariwisata, Pemuda dan Olah Raga KabupatenTemanggung E-Journal Universitas Negeri Yogyakarta. From journal.student.uny.ac.id/jurnal/artikel/3752/21/409. 30 September 2014 From http://afandi-unmuhgres.blogspot.com/2013/10/konsep-pengertian-mareketing-mix-4p.html. 12 November 2014
From http://id.wikipedia.org/wiki/Strategi. 30 September 2014
From http://kekayaanindonesiaku.blogspot.com/p/wisata-budaya.html. 30 September 2014
From http://library.binus.ac.id/eColls/eThesisdoc/Bab2/2011-2-00956-DI%20Bab2001.pdf. 30 September 2014
From http://skripsi-manajemen.blogspot.com/2011/02/pengertian-definisi-pemasaran.html. 30 September 2014
From http://tourismeconomic.wordpress.com/2012/10/29/wisata-pariwisata-wisatawan-kepariwisataan-unsur-unsur-pariwisata/. 12 November 2014
From http://www.pengertianahli.com/2013/12/pengertian-strategi-menurut-para-ahli.html. 30 September 2014
Karta, Ni LuhPutuAgustini, 1 Februari 2014. Strategi Komunikasi Pemasaran Ekowisata Pada Destinasi Wisata Dolphin HuntingLovina. Jurnal Manajemen Strategi Bisnis dan Kewirausahaan Vol. 8 No. 1. From ojs.unud.ac.id/index.php/jmbk/article/download/8076/6090. 30 September 2014
Saktiawan, F.Yhani, SP.,M.Si. 12 November 2010. Pentingnya Membangun Partisipasi Masyarakat Dalam Pengembangan Desa Wisata. buletin betung kerihun. From http://buletinbetungkerihun.wordpress.com/. 30 September 2014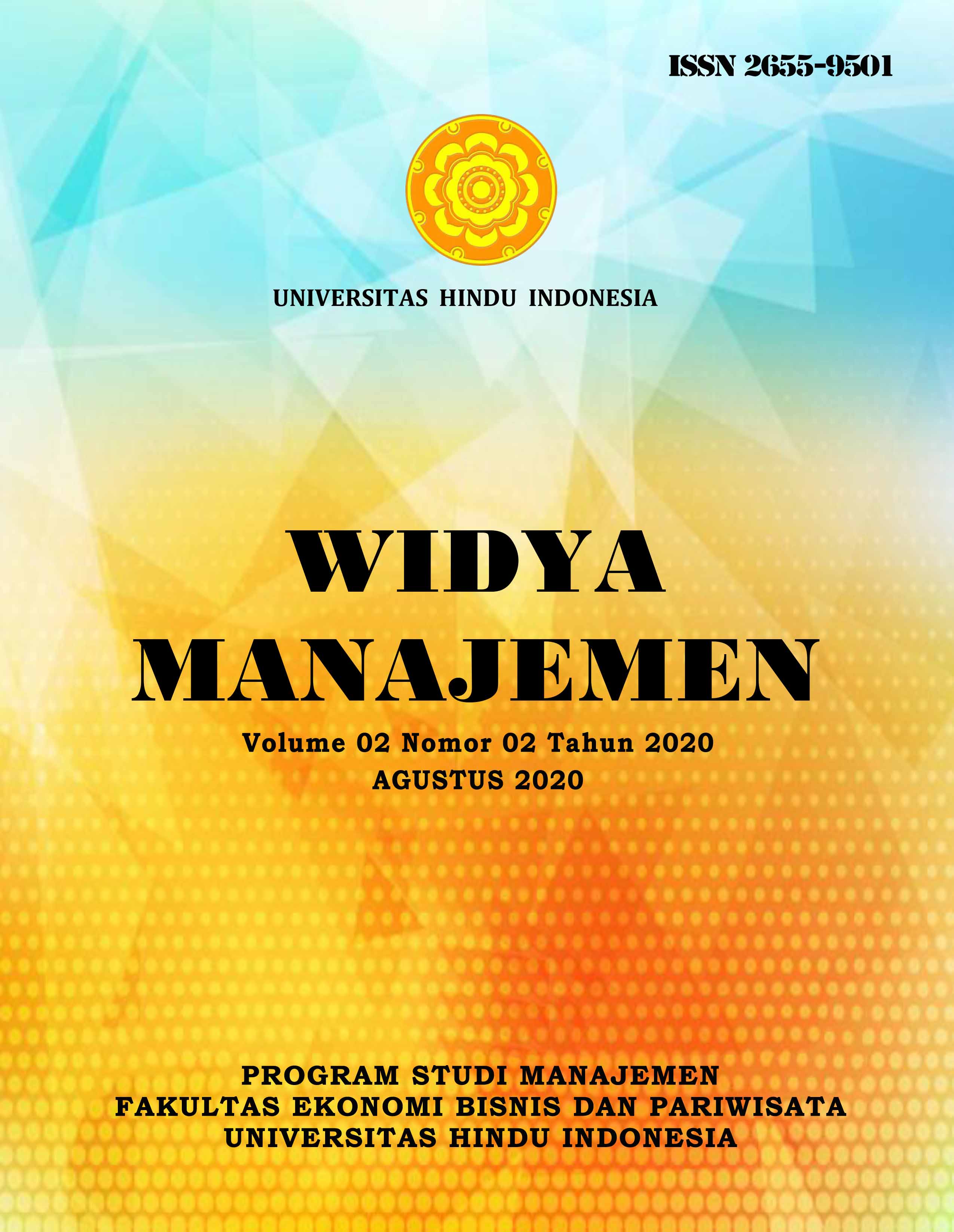 How to Cite
Nugraha, I. G. P., & Agustina, M. D. P. (2020). Strategi Pemasaran Museum Buleleng Dalam Upaya Meningkatkan Jumlah Kunjungan Wisatawan. WIDYA MANAJEMEN, 2(2), 1-8. https://doi.org/10.32795/widyamanajemen.v2i2.868
Reproduction Policy
Every author submitting articles to Widya Manajemen must make a statement that the manuscript is free from plagiarism and is not being considered and published in other journals.
Articles that have been published are copyrighted by the Program Studi Manajemen FEBP UNHI. For educational purposes, the contents of the article may be duplicated or reproduced as long as the source of the article is mentioned. Written requests must be submitted to the editor to obtain permission to republish the contents of the article for purposes other than educational purposes.
-----------------------------------------------------------------------------------------------------
Kebijakan Reproduksi
Setiap penulis yang menyerahkan artikel ke Widya Manajemen harus membuat surat pernyataan bahwa naskahnya bebas dari plagiarisme dan tidak sedang dipertimbangkan dan dimuat dalam jurnal lain.
Artikel yang telah dipublikasi menjadi hak cipta Program Studi Manajemen FEBP UNHI. Untuk tujuan edukatif, isi dari artikel dapat digandakan atau direpublikasi selama menyebutkan sumber dari artikel tersebut. Permintaan tertulis harus diajukan kepada editor untuk memperoleh ijin merepublikasi isi dari artikel untuk tujuan lainnya selain tujuan edukatif.