Ulun Danu Beratan Temple as an Economic Contest Arena in a Multicultural Society
Gede Mahardika

STAHN Mpu Kuturan Singaraja

Ketut Suda

UNHI University

I Wayan Winaja

UNHI University
Keywords:
Ulun danu Beratan Temple, Contest Arena, Multicultural Society
Abstract
Ulun Danu Beratan Temple as a Tourist Destination Area (DTA) located in Candikuning Village. The natural beauty of the surrounding causes tourist visits to increase every year. As a DTA, the area outside the Ulun Danu Beratan Temple is used as an arena for economic contestation for a multicultural community. There are several things that make the Ulun Danu Beratan Temple as an arena of economic contestation for a multicultural society such as natural beauty, "identity politics", anthropocentrism modernism, Tri Hita Karana ideology and economics, with an economic contestation process caused by several things such as the development of tourism in Candikuning Village, domestic tourist visits, religious identity, tolerance of the Balinese Hindu community and the entry of non-Hindu communities into Candikuning Village. The contestation has implications for religious life, the sanctity of temples, the social life of the community, such as the value of gotong royong, the ngejot tradition which has begun to fade, as well as the ketog semprong tradition. It also has implications for politics, such as the strengthening of identity politics. In addition, it has implications for the economy such as the creation of employment opportunities and its side effects such as lake pollution. This study uses a multidisciplinary approach to religion and culture and uses interpretive critical qualitative analysis. The theory used analyzes the theory of hegemony, tourism destination development, community change, and sociocultural systems.
Downloads
Download data is not yet available.
References
Ardika, I Wayan. 2007. Pustaka Budaya dan Pariwisata. Denpasar : Pustaka Larasan
Atmadja, Nengah Bawa. 2010. Ajeg Bali Gerakan, Identitas Kultural, dan Globalisasi. Yogyakarta : LkiS.
Ayuningsih, NI Made, Dkk. Politik Identitas Dalam Pemilihan Umum 2019 (Terpilihnya Haji Bambang Santoso Sebagai DPD RI Dapil Bali. Jurnal Ilmiah Nawala Politika. Volume 1 Nomor 1 Tahun 2022
Creswell, John W. 2019. Research Design, Pendekatan Metode Kualitatif, Kuantitatif, dan Campuran. Edisi Keempat. Yogyakarta : Pustaka pelajar.
Latif, Yudi.2009. Dalam Politik Identitas, Agama, Etnis. Salatiga: Percik.
Napsiah. 2019. Modal Sosial Sebagai Penguatan Identitas Sosial Masyarakat Muslim Di Bali. Jurnal SMaRt Volume 05 Nomor 01 Juni 2019.
Nugroho, Saptono, dkk. 2017. Alam sebagai Stakeholder : Cara Pandang Baru dalam Praktik Pariwisata Lestari. Denpasar : Pustaka Larasan
Santori, Djam'an dan Komariah, Aan. 2010. Metode Penelitian Kualitatif. Bandung : Alfabeta
Seregina, A., Koivisto, E., dan Mattila, P. 2011. Fanaticism-Its Developmentand Meanings in Consumers Lives. Journal of Aalto University School of Economics.
Sugiyono. 2010. Metode Penelitian Pendidikan Pendekatan Kuantitatif, kualitatif, dan R&D. Bandung: Alfabeta.
Widyawati. 2021. Menguatnya Politik Identitas di Indonesia baik karena faktor Agama, Sosial, dan Etnis. Jurnal Pendidikan Pancasila dan Kewarganegaraan Volume II Nomor 2 Oktober 2021.
Wirawan, I Gusti Made Arya Suta dan Kurniawan, Putu Sukma. 2017. Dinamika Strategi Penguatan Identitas Sosial Keagamaan Mahasiswa Muslim di Kota Singaraja. Seminar nasional Riset Inovatif.
Yoeti, H. Oka A. 2016. Pariwisata Budaya Masalah dan Solusinya. Jakarta Timur : PT Balai Pustaka.
https://disparda.baliprov.go.id/buku-statistik-pariwisata-bali-tahun-2019/
https://www.merdeka.com/peristiwa/disapu-banjir-bandang-objek-wisata-kebun-raya-bedugul-bali-ditutup.html.
https://repository.uksw.edu/bitstream).https://repository.uksw.edu/bitstream).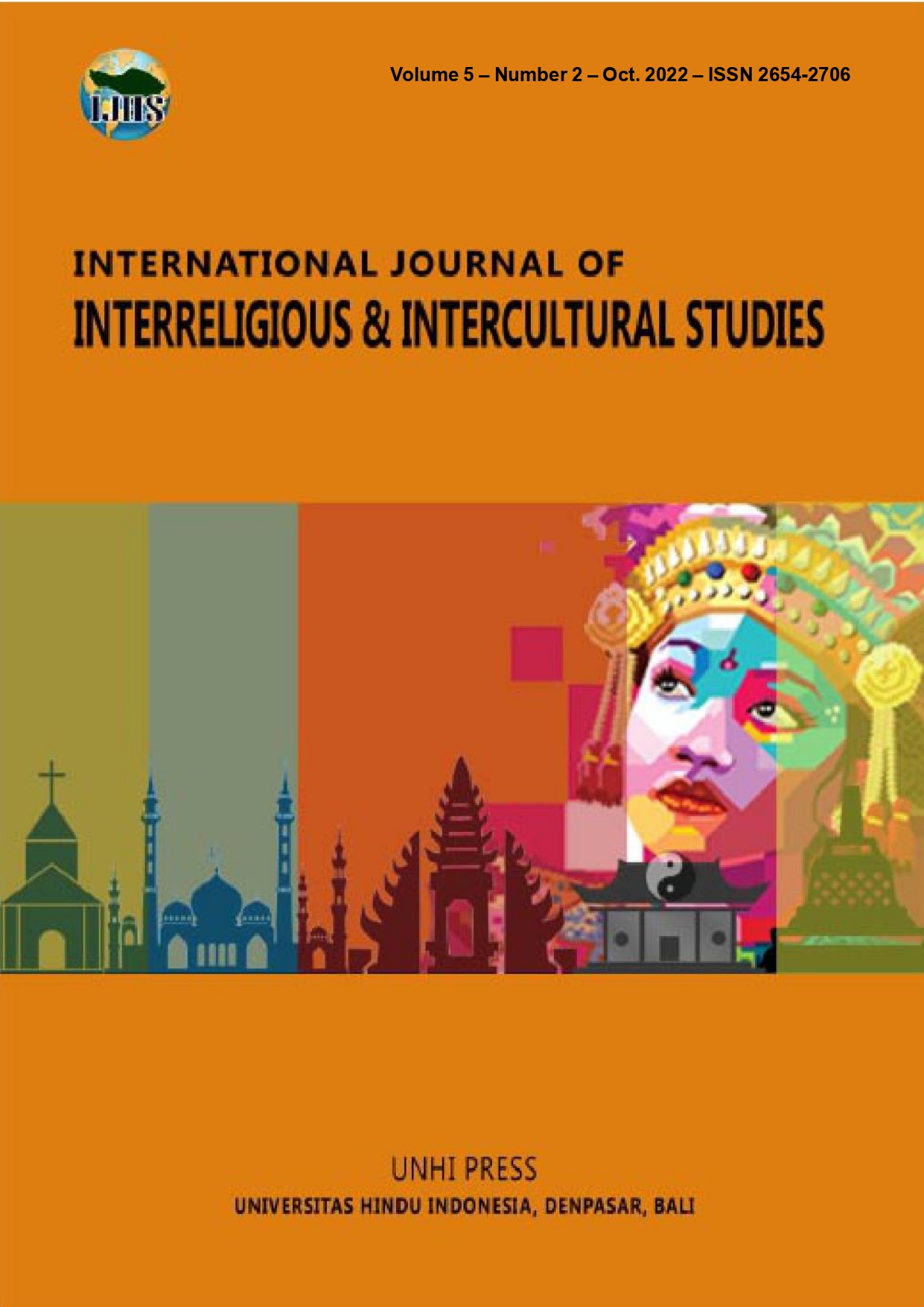 How to Cite
Mahardika, G., Suda, K., & Winaja, I. W. (2022). Ulun Danu Beratan Temple as an Economic Contest Arena in a Multicultural Society. International Journal of Interreligious and Intercultural Studies, 5(2), 16-26. https://doi.org/10.32795/ijiis.vol5.iss2.2022.3008