IDENTITAS KAWASAN PERKOTAAN DALAM PERSPEKTIF ATMOSFER KOTA
(Studi Kasus Kawasan Perkotaan Klungkung, Bali, Indonesia)
I Made Agus Mahendra

Universitas Mahendradatta
Keywords:
urban atmosphere, urban area, urban identity
Abstract
The urban atmosphere provides a different atmosphere and taste in different places. There are several aspects that can affect the urban atmosphere. Where in each urban area has different characteristics. The urban area of ​​Klungkung is basically strongly influenced by the strong character of the past culture. Urban atmosphere has a very important role in shaping the identity of urban areas. Cities on the island of Bali have their own uniqueness that makes the city atmosphere different. Moreover, Bali in the national and international scope already has an attraction that cannot be separated from the atmosphere of the island of Bali. The atmosphere of the city space provides a different atmosphere both in the identity and character of the urban area of ​​Klungkung, Bali. In an urban environment there is an atmosphere of space as an indicator and reference for development. identity of the urban area of ​​the city of Klungkung, Bali This research is motivated by the lack of understanding of the community, agencies and local government towards the urban atmosphere as one of the identities of urban areas. This research uses qualitative methods by applying descriptive studies, and literature studies. This study aims to determine the atmosphere of urban space in the Klungkung area and the relationship between the urban atmosphere and the identity of the urban area of ​​the city of Klungkung Bali.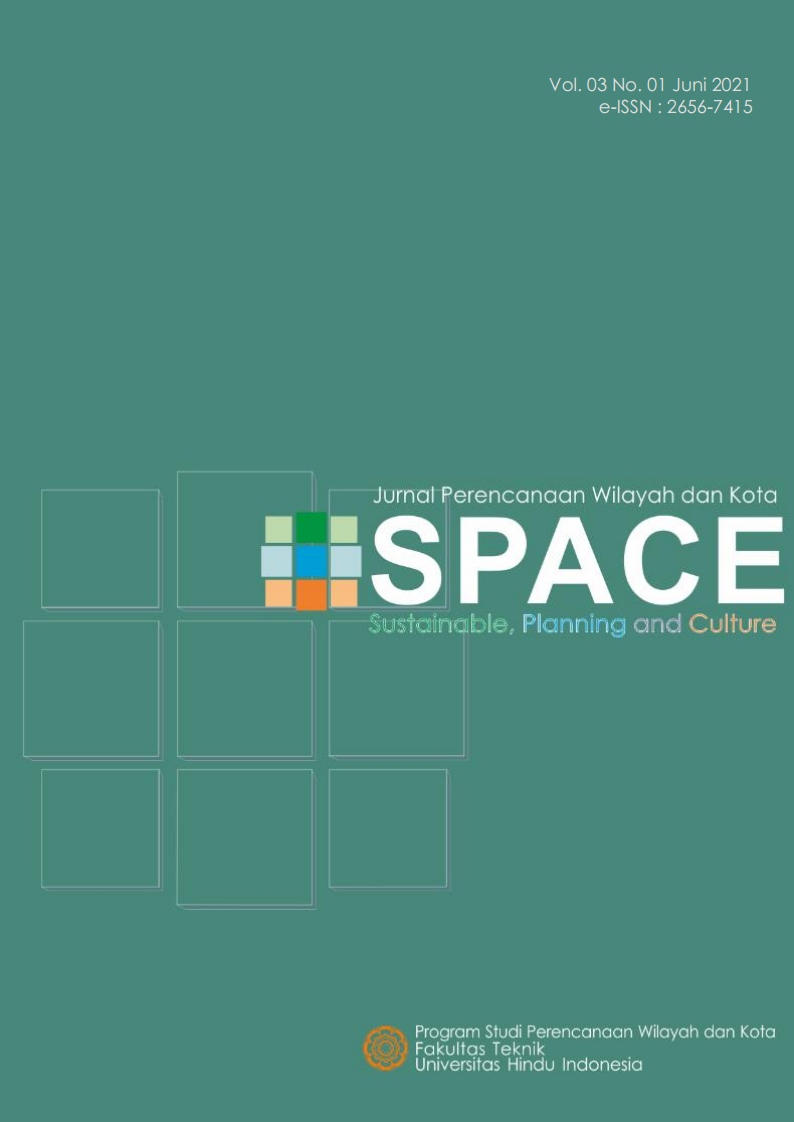 Copyright (c) 2021 Sustainable, Planning and Culture (SPACE) : Jurnal Perencanaan Wilayah dan Kota
This work is licensed under a Creative Commons Attribution-NonCommercial-ShareAlike 4.0 International License.