PENATAAN KAWASAN SUMBER JENON, DESA GUNUNGRONGGO KECAMATAN TAJINAN, KABUPATEN MALANG
Mohammad Reza

Program Studi Perencanaan Wilayah dan Kota Institut Teknologi Nasional Malang

Agung Witjaksono

Program Studi Perencanaan Wilayah dan Kota Institut Teknologi Nasional Malang

Fardiah Qonita Ummi Naila

Program Studi Perencanaan Wilayah dan Kota Institut Teknologi Nasional Malang

Joana Angelia Putri Agustinus Teweng

Program Studi Perencanaan Wilayah dan Kota Institut Teknologi Nasional Malang

I Gede Krisna Borneo Putra Pratama

Program Studi Perencanaan Wilayah dan Kota Institut Teknologi Nasional Malang

Mierta Ramadea

Program Studi Perencanaan Wilayah dan Kota Institut Teknologi Nasional Malang

Iqbal Rahmadi

Program Studi Perencanaan Wilayah dan Kota Institut Teknologi Nasional Malang

Randy Elfranda Natanael

Program Studi Perencanaan Wilayah dan Kota Institut Teknologi Nasional Malang
Keywords:
Water Source, Improve Economy, Tourism Development Area
Abstract
The area of Jenon Water Source has been determined as tourism development area. This research is aimed to arrange the spatial development brief of Jenon Water Source. The method used in this research is descriptive qualitative method. The research result show that regional arranfement is needed. Where in the area arrangement in Sumber Jenon carried out in this project has a positive effect in Gunungronggo Village, which can improve the economy of the Gunungronggo Village community and improve the quality of Human Resources in Gunungronggo Village by adding a central souvenir in Sumber Jenon.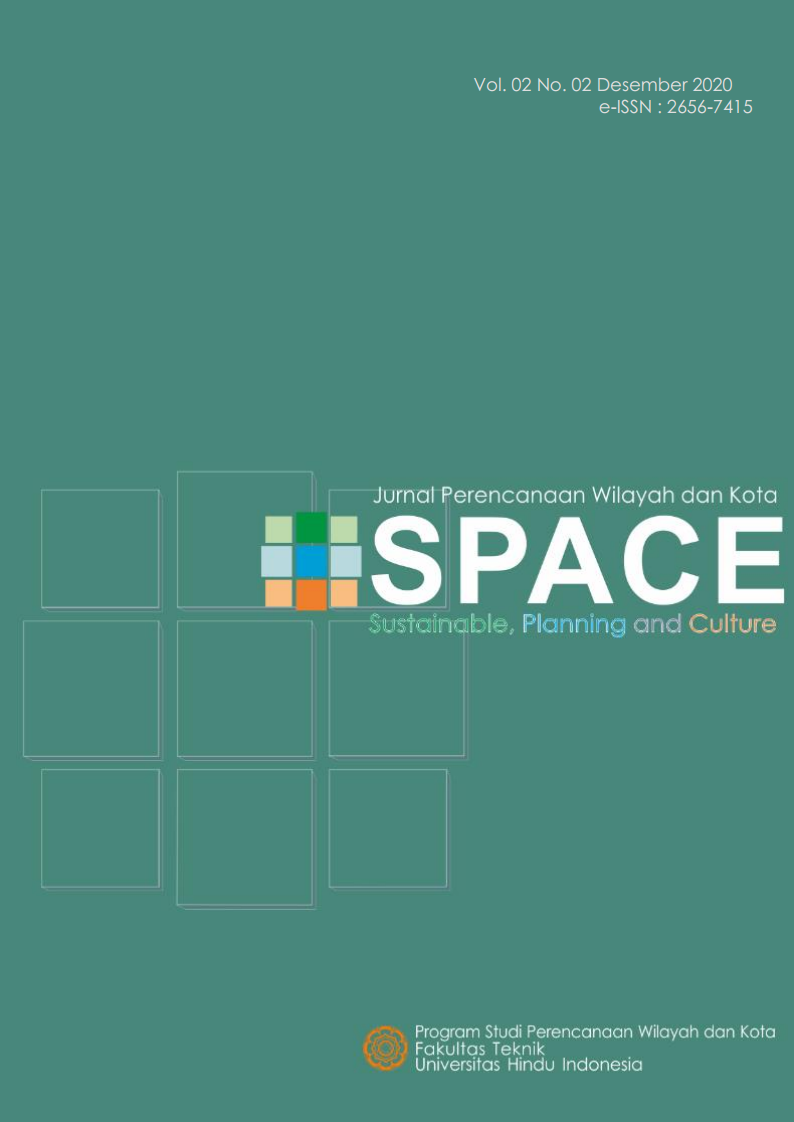 Copyright (c) 2020 Sustainable, Planning and Culture (SPACE) : Jurnal Perencanaan Wilayah dan Kota
This work is licensed under a Creative Commons Attribution-NonCommercial-ShareAlike 4.0 International License.