Shaping of Cities' Identities with Cultural Uniqueness: Handcraft Shops and Night Bazaar in Chiang Mai, Thailand, and Hanoi Old Quarter in Vietnam
Keywords:
cultural uniqueness, Chiang Mai night bazaar, Hanoi Old Quarter, city identity
Abstract
A city usually has its own identity and cultural uniqueness with the markers of identity perhaps varying among museums, monuments, temples, theatre buildings, handcraft and traditional shops/markets and night bazaars and historical heritage sites, to mention a few. It is very common for cities in mainland Southeast Asia, like Bangkok, Chiang Mai, Phnom Penh, Luang Prabang and Hanoi to have handcraft markets/shops as well as night bazaars selling various handcrafts attributed to one ethnic group or another. Those handcraft shops/markets and night bazaars are often at least partly related to the promotion of tourism. However, they do not only exist for the sake of tourism, since the promotion of cultural uniqueness as the identity of a city is related to the feeling of pride and the very soul of the city. This paper will discuss the existing handcraft markets/shops and night bazaar in Chiang Mai (Thailand) as important elements of the city' s icons and the Hanoi Old Quarter, a historical heritage area in Hanoi, where handcraft shops, night market, cafés and many more venues are integral to the identity of Hanoi. The fieldwork was conducted in Chiang Mai in 2004, 2005, 2009 and 2016 for a few days and in Hanoi in 2006, 2017, 2018 for a few days, especially using qualitative research. The discussion is divided into three parts: the First, giving a brief review of the identity of a city; the Second, touching on the issue of how the handcraft shops and the Night Bazaar in Chiang Mai are seen as the city icons; and Finally, the shaping of the Hanoi Old Quarter as Hanoi's cultural icon/identity.
Downloads
Download data is not yet available.
References
[1] Hall, Stuart. 1992. The Question of Cultural Identity. In Stuart Hall, David Held, and Tony McGrew (eds.), Modernity and Its Future. Cambridge: Polity Press in association with Open University.
[2] Eriksen, Thomas Hylland. 1993. Ethnicity & Nationalism: Anthropological Perspectives. London and Boulder, Colorado: Pluto Press
[3] Kahn, Joel S. 1995. Culture, Multiculture, Postculture. London, Thousand Oaks and New Delhi: SAGE Publications
[4] Picard, Michel. 1997. Cultural Tourism, Nation-Building, and Regional Culture: The Making of a Balinese Identity. In Michel Picard & Robert E. Wood (eds.), Tourism, Ethnicity, and the State in Asian and Pacific Societies. Honolulu: University of Hawai'i Press.
[5] Wood, Robert E. 1998. Touristic ethnicity: a brief itinerary. Ethnic and Racial Studies. March, 21 (2): 218-241.
[6] Wen, Xiaojing and White, Paul. 2020. "The Role of Landscape Art in Cultural and National Identity: Chinese and European Comparisons". Sustainability 2020, 12, 5472, doi:10.3390/su12135472. www.mdpi.com/journal/sustainability. p.1-19
[7] Donboli, Sara, Safari, Aref Agha and Abad, Hossein Kalantari Khalil. 2017. "Components of City Identity: A Review of in Iranian Cities". Current World Environmental. Vol 12, No 2.: 237-249. Journal website: www.cwejounal.org.
[8] Kipp, Rita Smith. 1993. Dissociated Identities: Ethnicity, Religion, and Class in an Indonesian Society. The United States of America: The University of Michigan Press.
[9] Gerke, Solvay. 1997. Ethnic Relations and Cultural Dynamics in East Kalimantan: The Case of the Dayak Lady. Indonesia and the Malay World, (72): 176-187
[10] Maunati, Yekti. 2000. Contesting Dayak Identity: Commodification and the Cultural Politics of Identity in East Kalimantan. Dissertation at La Trobe University. Melbourne: La Trobe University, August 2000.
[11] Wojnarowska, Anna. 2011. "Revitalization of Potsdam's Central Area: Regaining the Identity of the City". European Research and Policy. Vol 18, No 1. Review Articles and Reports. P.89-100.
[12] Kahn, Joel S. 1997. Culturalizing Malaysia: Globalism, Tourism, Heritage, and the City in Georgetown. In Michel Picard & Robert E. Wood (eds.), Tourism, Ethnicity, and the State in Asian and Pacific Societies. Honolulu: University of Hawai'i Press.
[13] Hmod, Kabila Faris. 2017. "Traditional Market in Islamic Architecture: Successful for Past Experience". Structural Studies, Repairs and Maintenance of Heritage Architecture XV:263-273. WTI Transaction of the Built Environment Vol 171. 2017. WIT Press. www.witpress.com. ISSN 1746-4498 (on-line), accessed 15 September 2020.
[15] Lee, Jess. 2020. 12 Top-rated Tourist Attractions in Hanoi. https://www.planetware.com/vietnam/hanoi-vie-1-9.htm, May 4, 2020. Accessed 18 sept 2020)
[16] Maunati. Yekti. 2004. "Cultural and Ethnic Tourism in Thailand". Tourism in Thailand: Its Challenges and Opportunities. Jakarta: Research Center for Regional Resources, the Indonesian Institute of Sciences (PSDR-LIPI).
[17] Turner, Sarah. 2009. "Hanoi's Ancient Quarter Traders: Resilient Livelihoods in a Rapidly Transforming City ". Urban Studies. Vol. 46, No. 5/6, Special Issue: Trajectories of the New Economy: Regeneration and Dislocation in the Inner City (MAY 2009), pp. 1203-1221 (19 pages). Published By: Sage Publications, Ltd. https://www.jstor.org/stable/43198021
[18] Waibel, Michael. 2004. "The Ancient Quarter of Hanoi – A Reflection of Urban Transition Processes. ASIEN. Vol 92, S: 30-48. July 2004.
[19] Forbes, Dean. 1996. Asian Metropolis – Urbaninism and the Southeast Asian City. Melbourne.
[20] Chiang Mai Night Bazaar. 2020. File: Chiang Mai Night Bazaar.jpg|thumb|Chiang Mai Night Bazaar. https://en.wikipedia.org/wiki/Chiang_Mai_Night_Bazaar. Accessed 13 August 2020
[21] (https://theculturetrip.com/asia/vietnam/articles/20-must-visit-attractions-in-hanoi/accessed 16 sept 2020)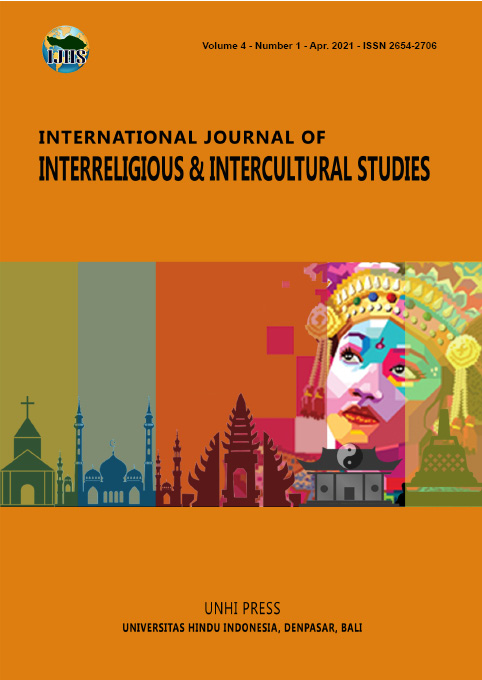 How to Cite
Maunati, Y. (2021). Shaping of Cities' Identities with Cultural Uniqueness: Handcraft Shops and Night Bazaar in Chiang Mai, Thailand, and Hanoi Old Quarter in Vietnam. International Journal of Interreligious and Intercultural Studies, 4(1), 19-31. https://doi.org/10.32795/ijiis.vol4.iss1.2021.1710