Cultural Poverty Within the Life of Hindu Poor People in Karangasem Regency
Ida Made Pidada Manuaba

Universitas Hindu Indonesia

Ida Bagus Gede Yudha Triguna

Universitas Hindu Indonesia

I Gusti Bagus Wirawan

Universitas Hindu Indonesia
Keywords:
cultural poverty, poor people, Hindu names
Abstract
This study examines cultural poverty in the lives of economically poor Hindus in Karangasem Regency. Poverty is a serious problem in Karangasem Regency, such that until the present time Karangasem Regency occupies the top position as the region with the highest number of poor people in Bali Province. Various efforts have been made to alleviate poverty but the difficulty of poverty reduction in Karangasem Regency is inseparable from the occurrence of cultural poverty, such as the values, attitudes, and behavior of the poor who are, in this case, predominantly Hindus. This article discusses some of the reasons for the occurrence, forms and implications of cultural poverty.
Downloads
Download data is not yet available.
References
Arikunto, Suharsimi. 2002. Prosedur Penelitian Suatu Pendekatan Praktek. Jakarta: PT. Rineka Cipta.
Aziz, Abdul. 2006. Esai-esai Sosiologi Agama. Jakarta: Diva Pustaka.
Bagus, Lorenz. 2002. Kamus Filsafat. Jakarta: Gramedia Pustaka Utama.
Barker, Chris. 2005. Culture Studies Teori dan Praktik. Yogyakarta: PT Bentang Pustaka.
Black. James A. dan Dean J. Champion. 2001. Metode Dan Masalah Penelitian Sosial. Bandung: Pt Refika Aditama.
Hadiwigeno, Sutanto dan Agus Pakpahan. 1993. Identifikasi wilayah miskin di Indonesia. Jakarta: LP3ES.
Harianto, Sugeng. 2014. "Strukturisasi Kemiskinan Masyarakat Pedesaan: Studi di Desa Mulyodadi, Kecamatan Wonoayu, Kabupaten Sidoarjo, Jawa Timurâ€. Disertasi. Malang: Program Pascasarjana Fakultas Pertanian Universitas Brawijaya.
Harington, Michael. 1962. The Other America: Poverty in the United States. USA; Macmillan.
Kleiden, Ignas. 1987 "Masalah Kemiskinan Sosial-Budaya di Indonesiaâ€. Prisma 16 no 8 (1987): 15-28 .
Koentjaraningrat. 2002. Kebudayaan, Mentalitas, dan Pembangunan. Jakarta: Gramedia Pustaka Utama.
Lalintihan Babad Karangasem, milik Almarhum I Gusti Agung Jelantik, Puri Agung Jelantik Kelodan Pesagi Karangasem.
Lewis, Oscar. 1988. Kisah Lima Keluarga: Telaah-telaah Kasus Orang Meksiko dalam Kebudayaan Kemiskinan. Yayasan Obor Indonesia: Jakarta.
Lewis, Oscar. 1996. The Culture of Poverty, dalam G. Gmelch dan W. Zenner, eds. Urban Life. Waveland Press.
Made Kertha Adhi, I Ketut Ardhana, dan I Made Maduriana. 2016. "Faktor-faktor Penyebab Kemiskinan Kultural dan Model Pengentasannya Berbasis Kearifan Lokal: Studi Pada Masyarakat Miskin di Pegunungan Kintamani, Bangliâ€. Dalam Jurnal Kajian Bali Vol. 06, No. 02, Oktober 2016.
Philip, Hauser M & Le Gater, Richard. 1981. Displacement: How to Fight it, The Study of Urbanization. Newyork: Wiley.
Sudiarta, I Nyoman dan I Wayan Suardana. 2016. "Dampak Pariwisata Terhadap Kemiskinan di Kawasan Pariwisata di Bali†dalam Jurnal Kajian Bali Vol. 06, No. 02, Oktober 2016.
Sudibia, I Ketut dan A.A. Istri Ngurah Marheni. 2012. "Beberapa Strategi Pengentasan Kemiskinan di Kabupaten Karangasem, Provinsi Bali†dalam Jurnal Piramida Vol. IX. No.1: 1-14.
Sugiyono, 2010. Metode Penelitian Pendidikan (Pendekatan Kuantitatif, Kualitatif dan R&D). Bandung : Alfabeta.
Sura, I Gde. dkk. 2002. Kamus Agama Hindu. Denpasar: Pemerintah Provinsi Bali.
Tim Penyusun. 2013. Meminimalisasi Kemiskinan Kultural di Kabupaten Karangasem. Amlapura : Bagian Kesra Setda Kabupaten Karangasem.
Triguna, Ida Bagus Gde Yudha. 1997. "Pengaruh Mobilitas Kelas dan Konflik Terhadap Penafsiran Kembali Simbolisme Masyarakat Hindu di Baliâ€. Disertasi – tidak dipublikasikan. Bandung: Universitas Padjajaran.
Triguna, Ida Bagus Gde Yudha. 2008. Kebudayaan dan Modal Budaya Bali dalam Tropong Lokal, Nasional, Global. Denpasar: Widya Dharma.
Triguna, Ida Bagus Gde Yudha. 2011. Mengapa Bali Unik. Jakarta: Pustaka Jurnal keluarga.
Usman, Sunyoto. 2004. Pembangunan dan Pemberdayaan Masyarakat. Yogyakarta: Pustaka Pelajar.
Utama, I Wayan Budi.2013. Agama dalam Praksis Budaya. Denpasar : Program Pascasarjana Universitas Hindu Indonesia.
Warna, I Wayan (at al). 1986. Babad Dalem: Teks dan Terjemahan (A-B: Periode Samprangan s/d Gelgel. - Babad C: periode Klungkung). Denpasar: Dinas Pendidikan dan Kebudayaan Propinsi Daerah Tk. I Bali.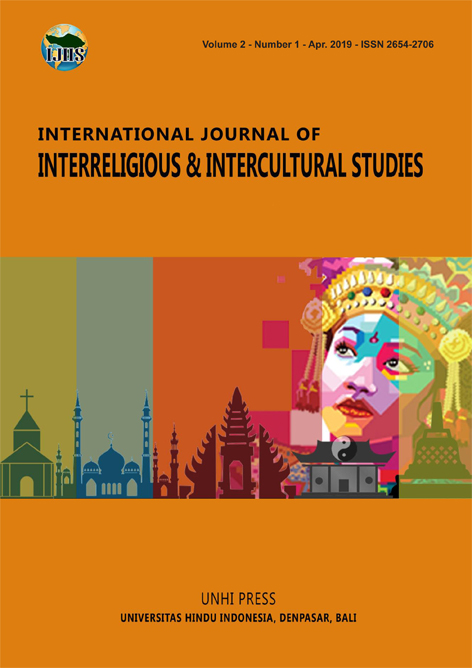 How to Cite
Manuaba, I. M., Triguna, I. B. G., & Wirawan, I. G. B. (2019). Cultural Poverty Within the Life of Hindu Poor People in Karangasem Regency. International Journal of Interreligious and Intercultural Studies, 2(1), 92-102. https://doi.org/10.32795/ijiis.vol2.iss1.2019.305