Asian Religions as Resources for Changing Mindsets
Goh Beng Lan

Department of Area Studies, Faculty of Humanities, Universitas Indonesia
Abstract
This paper argues that Asian religious traditions provide us with resources for alternative ethics and methodologies of resisting capitalist excesses and social-cultural intolerances towards more convivial and viable human futures. It draws inspiration from two major developments. First, the works of Prasenjit Duara (2015) and Joel S. Kahn (2015) that posit Asian religious traditions as resources for generating alternative ethics as well as contemplative and embodied ways of knowing that direct self and collective capacities to overcome environmental sustainability and social-cultural incompatibilities. Second, everyday politics of resisting religious bigotries in contemporary Malaysia that turn to spiritual traditions for mindful ways of minimizing, bridging or transcending irreducible ethno-religious differences.
Downloads
Download data is not yet available.
References
Ahmad Fauzi Abdul Hamid (1999) New Trends of Islamic Resurgence in Contemporary Malaysia: Sufi-Revivalism, Messianism and Economic Activism. Studia Islamika: Indonesian Journal for Islamic Studies 6 (3): 1-74.
Duara, Prasenjit (2015) The Crisis of Global Modernity: Asian Traditions and a Sustainable Future. United Kingdom: Cambridge University Press.
Eisenstadt S.N. (1999) Multiple Modernities in an Age of Globalization. Canadian Journal of Sociology 24(2): 283-95.
Goh Beng-Lan (2012) Spirit Cults and Construction Sites: Trans-ethnic Popular Religion and Keramat Symbolism in Contemporary Malaysia. In: Kirsten W. Endres and Andrea Lauser (eds) Spirited Modernities. Oxford: Berghahn Books, pp. 144-162.
___________ (2013) Heritage as Knowledge: Time, Space, and Culture in Penang. In: Francis E. Hitchinson and Johan Saravanamuttu (eds) Catching the Wind: Penang in a Rising Asia. Penang Institute and ISEAS: Singapore, Pp. 42-54.
Harper, Tim and Amrith, Sunil S (2012) Sites of Asian Interaction: An introduction, Modern Asian Studies 46, 2: 249–257.
Hu Yew Seah (1966) Hu Yew Seah 50th Anniversary Magazine 1914-1964. Penang: Cathay Printers Ltd.
Kahn, Joel S (2015) Asia, Modernity and the Pursuit of the Sacred: Gnostics, Scholars, Mystics and Reformers. New York: PalgraveMacmillan.
__________ (2006) Other Malays: Nationalism and Cosmopolitanism in the Modern Malay World. Singapore: Asian Studies Association of Australia in association with Singapore University Press and NIAS Press (Copenhagen). (Published in the United States by University of Hawaii Press).
Shiraishi, Takashi (1990) An Age in Motion: Popular Radicalism in Java, 1912-1926. Ithaca: Cornell University Press.
Siegel, James T (1997) Fetish, Recognition, Revolution. Princeton: New Jersey: Princeton University Press.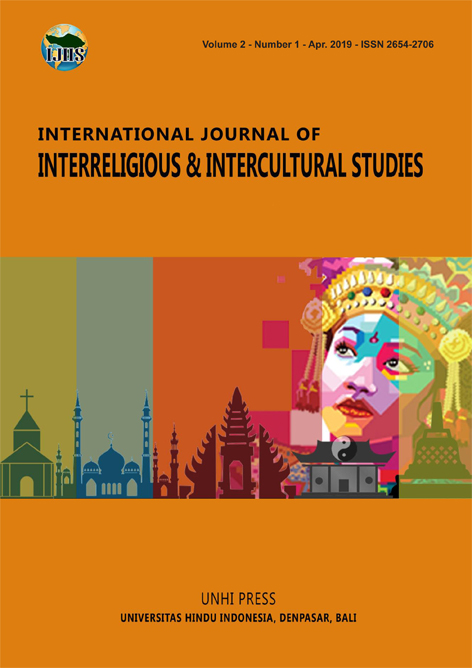 How to Cite
Beng Lan, G. (2019). Asian Religions as Resources for Changing Mindsets. International Journal of Interreligious and Intercultural Studies, 2(1), 59-67. https://doi.org/10.32795/ijiis.vol2.iss1.2019.313