Experiences of Religious Pluralism in Thailand: Lessons for Southeast Asian Countries
Montri Kunphoommarl

Department of History, Faculty of Social Sciences, Naresuan University, Thailand
Abstract
This paper used the historical approach to overview the patterns and practices of religious pluralism in Thai context. The past research work on religious pluralism will be examined in order to find out what concepts and approaches have been used and how they could implement in reality. Most Thai people practice in Buddhism, and they do not have any conflicts with other Thai Muslims or Christian. They live peacefully and harmoniously in co-existence among different religious adherents. The case of Thai Buddhist and Thai Muslim live together happily in the Southern communities will be employed and discussed using social and cultural capital analytical approach. The factors and conditions concerning with religious pluralism are analyzed more in details. The applications of religious pluralism in the study to other Southeast Asian countries will also recommend.
Downloads
Download data is not yet available.
References
Flora, Cornelia Butler and Jan. L. Flora. 2008. Rural Communities: Legacy and Change. 3rd ed., Boulder, CO, Westview Press.
Heywood, Andrew. 2017. Political Ideologies: An Introduction. 6th ed., UK, MacMillan Education.
Sarit Pha-art and Montri Kunphoommarl. 2016. "The Dynamics of Social Capital in Muli-religious Societies: A Case Study of the Tambon Sai Khao Community Amphor Kokpoe, Pattani Province†Journal of Social Development Vol. 18, No. 1, p. 62-84
Sarit Pha-art. 2016. "The Dynamics of Social Capital Management in Multi-religious Societies: A Case Study of the Tambon Sai Khao Community in Amphor Kokpoe, Pattani Province, Thailand. (Unpublished Dissertation) Department of Sociology and Anthropology, Naresuan University. (in Thai)
Suraiya Wani and Maroning Salaming. 2013 "Living Together as a Community in Multicultural Society: A Case Study on Sai Khao Subdistrict, Khokpho in Pattani Province†Journal of Politics and Governance Vol. 4, No. 1, p. 205-219
Suraiya Wani. 2013. "The Co-existence of Communities in Multicultural Society: A Case Study of Sai Khao Subdistrict, Khok Pho District, Pattani Province†(Unpublished Master Thesis) Institute for Peace Studies, Prince of Songkla University. (in Thai)
Wilaiwan Jongwilaikasaem. 2011. "Peace Site in Violent Context: The Case of Tambon Sai Khao, Khok-Pho District, Pattani Province†(Unpublished Ph.D Dissertation) College of Interdisciplinary Studies, Thammasat University. (in Thai)
Wilaiwan Jongwilaikasaem. 2008. Public Consciousness: The Power of the Sai Khao Narrative. Dhurakitbundit University. (in Thai)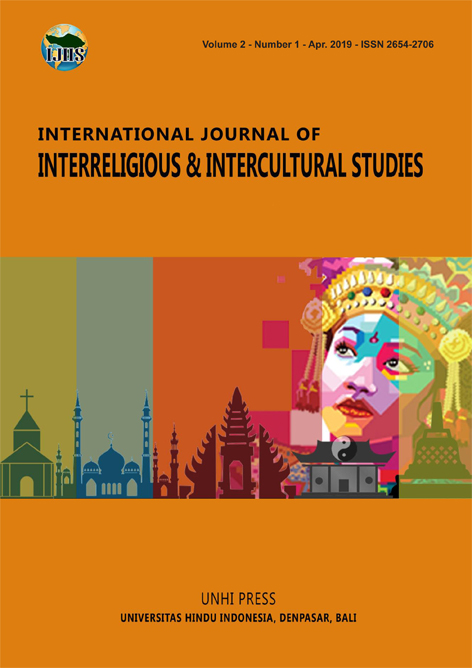 How to Cite
Kunphoommarl, M. (2019). Experiences of Religious Pluralism in Thailand: Lessons for Southeast Asian Countries. International Journal of Interreligious and Intercultural Studies, 2(1), 68-77. https://doi.org/10.32795/ijiis.vol2.iss1.2019.314