CULTIVATING THE RELIGIOUS BEHAVIOR OF GRHASTHA ASHRAMA IN SUKAWATI VILLAGE BASED ON TRI HITA KARANA
I Gusti Ayu Suasthi

Faculty of Religious Science and Culture Universitas Hindu Indonesia Denpasar

I Gusti Ayu Ngurah

Faculty of Religious Science and Culture Universitas Hindu Indonesia Denpasar

Desak Nyoman Seniati

Faculty of Religious Science and Culture Universitas Hindu Indonesia Denpasar
Keywords:
religious behavior, grhastha ashrama, Tri Hita Karana
Abstract
Abstract

This study examines the importance of cultivating the religious behavior of grhastha ashrama in Sukawati Village based on Tri Hita Karana, founded on the local wisdom inherited from the ancestors. In today's era of everything instant and pragmatic, certain people's behaviors deviate from the religious teachings because of the weakening of sradha, or understanding and belief in the teachings of their religion. Thus, it is feared that social anxiety and conflicts will occur in various aspects of life. Tri Hita Karana is one of the local wisdoms of Balinese people which acts as a policy, knowledge and local intelligence that can be used as a reference to cultivate the religious behavior of grhastha ashrama. Grhastha ashrama are defined as krama desa elders, who serves as role models for the community and the younger generation. Tri Hita Karana values must be observed by maintaining harmony with others and with the natural environment. The purpose of this study is to provide scientific description and explanation of the importance of Tri Hita Karana ideology in cultivating the religious behavior of grhastha ashrama, as a catalyst for development of the village community, by preserving the culture to conserve the agricultural environment, because Balinese culture cannot be separated from agricultural life. This study was conducted with case study approach as one variant of the qualitative approach. Data collection was conducted by the techniques of interview, observation, literature, and documentation study. The findings of this study state that the grhastha ashrama tend to display hard working attitude to make ends meet and follow the latest trends. Likewise, krama feel the increasing burden to make ends meet, especially the cost of preserving art and culture that are very expensive. This seems to influence the habits of the Sukawati people who are famed for their enthusiasm in performing art and culture and tend to ignore the religious behavior based on the ideology of Tri Hita Karana.
Downloads
Download data is not yet available.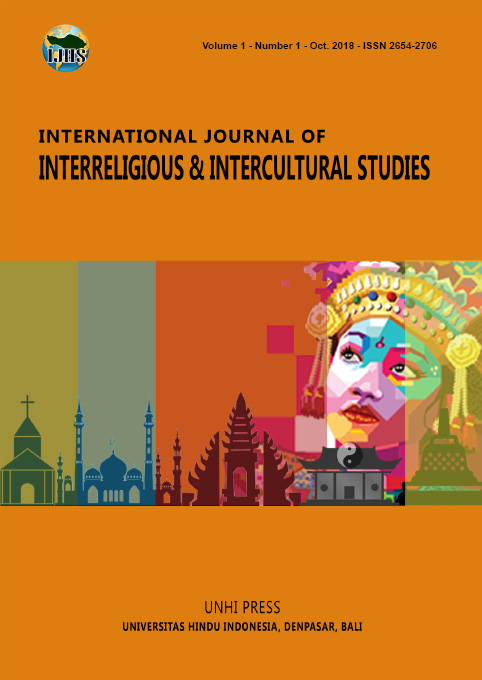 How to Cite
Suasthi, I. G. A., Ngurah, I. G. A., & Seniati, D. N. (2018). CULTIVATING THE RELIGIOUS BEHAVIOR OF GRHASTHA ASHRAMA IN SUKAWATI VILLAGE BASED ON TRI HITA KARANA. International Journal of Interreligious and Intercultural Studies, 1(1), 95-103. https://doi.org/10.32795/ijiis.vol1.iss1.2018.34