DHARMA AND ADHARMA DIALOGUE BETWEEN THE PANDAWA AND WIRATA FIGURES IN THE KICAKA GEGURITAN TEXT
I Made Suastika

Faculty of Cultural Science Universitas Udayana Denpasar

Luh Putu Puspawati

Faculty of Cultural Science Universitas Udayana Denpasar
Keywords:
dharma, adharma, Kicaka Geguritan
Abstract
The epic tale of Mahabharata in the Old Javanese language contains various values, several of which are conveyed through its figures especially Pandawa and Korawa. The value of dharma is addressed through Pandawa who always has a quality of being good, honest, and courageous, with courteous behavior in speaking and actions. The Korawa figure more dominantly expresses adharma such as being less praiseworthy, coarse, with an evil disposition, wanting to dominate and get rid of his brothers on the Pandawa side, moreover even not hesitating to wish to kill them. The Kicaka Geguritan text in the Balinese language, from the Wirataparwa section of the Mahabharata, often reveals the value of dharma and adharma through the figures of Pandawa and from the Wirata kingdom. The author of the Kicaka Geguritan has a dialogue about these values when the figure of Pandawa is in a condition of suffering and alienates himself from the Wirata kingdom. In that episode, Pandawa receives less praiseworthy treatment and is hegemonized by the figures from the kingdom. Through the figure of Yudistira and others the teachings of dharma, also known as darma sadu, are expressed in their thought, speech, and action when dealing with other figures. Therefore, this paper will present the qualities of dharma and adharma as manifested by the figures in the Kicaka Geguritan while also showing that sasuluh awareness of dharma is conveyed through reading geguritan texts in Bali.
Downloads
Download data is not yet available.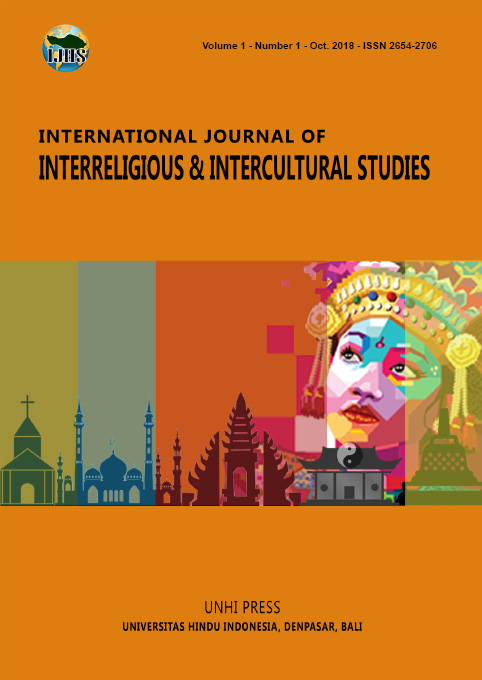 How to Cite
Suastika, I. M., & Puspawati, L. P. (2018). DHARMA AND ADHARMA DIALOGUE BETWEEN THE PANDAWA AND WIRATA FIGURES IN THE KICAKA GEGURITAN TEXT. International Journal of Interreligious and Intercultural Studies, 1(1), 35-41. https://doi.org/10.32795/ijiis.vol1.iss1.2018.35