FEMALE DEITIES IN BALINESE SOCIETY: LOCAL GENIOUS, INDIAN INFLUENCES, AND THEIR WORSHIP
I Ketut Ardhana

Faculty of Cultural Science, Universitas Udayana
Keywords:
local genious, women and feminism deities, Hinduism, Balinese culture
Abstract
One of the main issues that has been discussed in Indonesia regarding the democracy process in a modern world is about the feminism and gender issues. On the one hand, women are considered to play limited roles, whilst on the other hand, the men have always been considered to play a significant role. This can be traced back in the long process of the Balinese history not only in terms of political aspect, but also in the context of socio cultural aspects. It is important to look at what has happened in the Balinese societies, since Bali is known as a Hindu mozaic in Southeast Asia. The Balinese society has its own culture based on local culture that is strongly influenced by the Indian or Indic culture. The Balinese society is a patrilineal system, in which a man has a higher position, but in fact it was even Bali had a woman princess, who was of mixed Javanese and Balinese heritage, a wife of King Udayana of Bali between the 10th and 11th century. Both of them were considered as the Balinese kings at the same time. In the era of these two kings they were successful in integrating between Hinduism and Buddhism. Until now, the Balinese believe the soul of Mahendradatta as Durga. The main questions that will be addressed in this paper are firstly: how do the Balinese interpret the female deities? Secondly, how do they worship them? Thirdly, what is the meaning of this worship in terms of religious and cultural aspects in the modern and postmodern time? By discussing these issues, it is expected that we will have a better understanding on how the Balinese worship the female deities in the prehistoric, classical, and modern times in the context of a global or universal culture
Downloads
Download data is not yet available.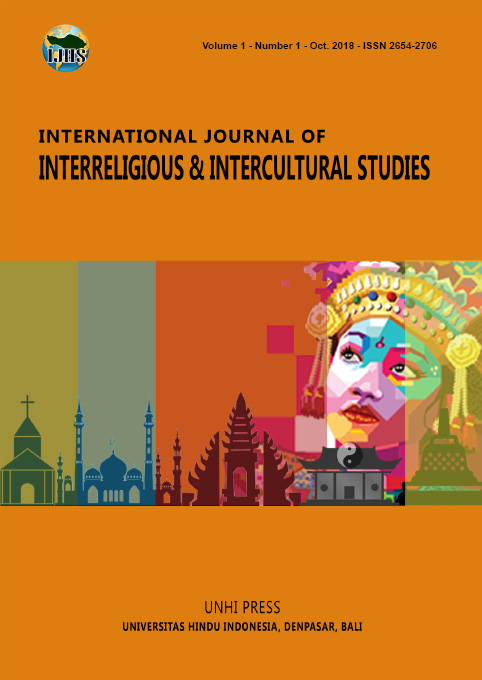 How to Cite
Ardhana, I. K. (2018). FEMALE DEITIES IN BALINESE SOCIETY: LOCAL GENIOUS, INDIAN INFLUENCES, AND THEIR WORSHIP. International Journal of Interreligious and Intercultural Studies, 1(1), 42-61. https://doi.org/10.32795/ijiis.vol1.iss1.2018.36