BUILDING CHILDREN'S CHARACTER THROUGH TRADITIONAL BALINESE GAME: MEGALA-GALAAN REVISITED
Ida Ayu Gde Yadnyawati

Faculty of Hindu Education and Arts Universitas Hindu Indonesia
Keywords:
character, games, traditional Bali
Abstract
Character is the values of human behavior associated with God Almighty, self, fellow human, environment, and nationality embodied in thoughts, attitudes, feelings, words, and deeds based on religious norms, law, etiquette, culture, and customs. Character education, according to Thomas Lickona (1991), is the education to shape the personality of a person through character education, whose results that can be seen in the actual actions of a person that are considered good, honest, responsible, respectful of the rights of others, hard work, and others. Building the character of children can be done through a traditional Balinese game called megala-galaan. This game is often played with accompaniment of singing Goak Maling Taluh. The poem Goak Maling Taluh sound simple with rhythm or easy rhythm, and the author was still anonymous until now. Behind the simplicity of his poetry hides a deep philosophical meaning about the nature of karma phala. The megala-galaan game with the singing Goak Maling Taluh implementation of fun learning concepts, a traditional Balinese educational concept that emphasizes aspects of learning while playing, and playing while learning.
Downloads
Download data is not yet available.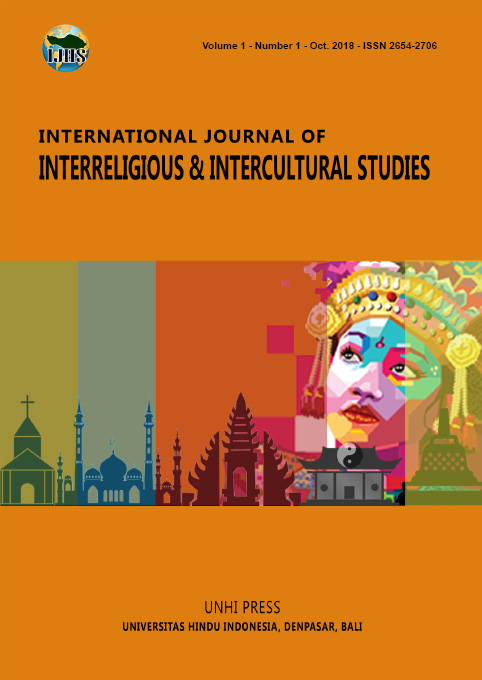 How to Cite
Yadnyawati, I. A. G. (2018). BUILDING CHILDREN'S CHARACTER THROUGH TRADITIONAL BALINESE GAME: MEGALA-GALAAN REVISITED. International Journal of Interreligious and Intercultural Studies, 1(1), 62-70. https://doi.org/10.32795/ijiis.vol1.iss1.2018.37