Rational Choice Theory and Social Solidarity
A Case Study on The Collapse of Suharto's Era and Popular Uprising in Indonesia
Ni Wayan Radita Novi Puspitasari

Ural Federal University
Keywords:
Rational Choice Theory, Social Solidarity, Suharto, and Popular Uprising
Abstract
The collapse of New Order regime was caused by the Asian financial crisis with the crisis of confidence by Suharto and his political cronies. The origin of the Indonesian crisis situated in the effort to maintain foreign financial capital could not restore the deficit of the national market, while they also tried to keep the stability of fixed exchange rate. Under Suharto, Indonesia was ruled by the military dual-function system and authoritarianism. Popular uprising, pillages, and demonstrations arose in the breakdown of New Order. The aim of this paper is to analyze the rational choice theory of New Order regime and the social solidarity of the popular uprising in the Indonesian people. By the attempt to scrutinize the New Order regime, there are some questions need to be asked. Firstly, how was the emergence and his political scheme in the history of Indonesia? Secondly, why the Asian Financial Crisis brought Suharto and New Order regime into its downfall? and thirdly, what was the effect of mob violence that appeared in 1998? Through these questions, rational choice institutionalism and social solidarity will be the approaches to delve the analysis of New Order regime by differentiate the governmental, national and international scale of the study.
Downloads
Download data is not yet available.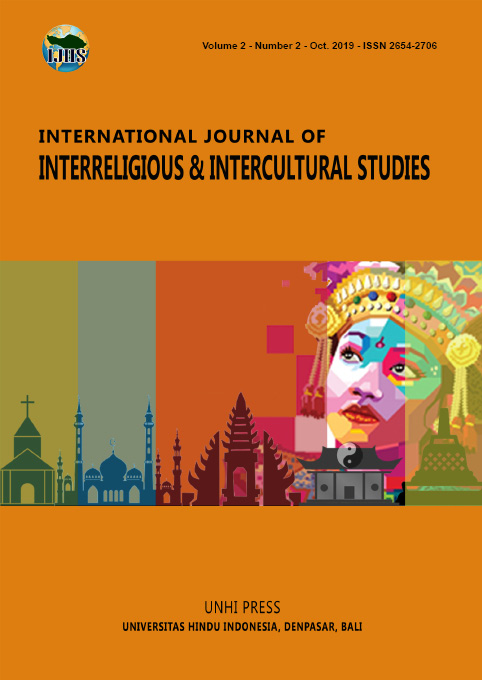 How to Cite
Puspitasari, N. W. R. N. (2019). Rational Choice Theory and Social Solidarity. International Journal of Interreligious and Intercultural Studies, 2(2), 75-85. https://doi.org/10.32795/ijiis.vol2.iss2.2019.394