Youth Expressions of Religiosity through Dialogue in Indonesia
Fatimah Husein

State Islamic University Sunan Kalijaga Yogyakarta
Keywords:
youth, inter-religious dialogue, interpretation, building interfaith, peace network
Abstract
This paper observes youth expressions of religiosity through inter-religious dialogue in Indonesia. It focuses on how Indonesian youth examine their interpretations of their own religions and their efforts at building interfaith and peace networks through various programs. It then explores these initiatives using the theory of the seven moments of dialogue proposed by the Indonesian theologian J.B. Banawiratma. By examining these initiatives, the paper offers some grounded observations on the positive contributions that Indonesian youth has made amidst the changing religious proclivities of their peers toward a more conservative turn.
Downloads
Download data is not yet available.
References
Ali, Mukti. "Dialogue between Muslims and Christians in Indonesia and Its Problems," paper presented at World Council of Churches, Lebanon, 1970.
Banawiratma, J.B., Zainal Abidin Bagir, et.al. Dialog antarumat Beragama: Gagasan dan Praktik di Indonesia. Bandung: Mizan, 2010.
Boland, B.J. The Struggle of Islam in Modern Indonesia. The Hague: Martinus Nijhoff, 1982.
Hammer, Stefan and Fatimah Husein, eds. Religious Pluralism and Religious Freedom: Religions, Society and the State in Dialogue. CRCS UGM and the Department of Legal Philosophy, Law of Religions and Culture of the University of Vienna, Austria, 2013.
Hasan, Noorhaidi. "Violent Activism, Islamist Ideology, and the Conquest of Public Space among Youth in Indonesia." In Kathryn Robinson, ed. Youth Identities and Social Transformations in Modern Indonesia. Leiden: Brill, 2016.
Hiariej, Eric. "Aksi dan Identitas Kolektif Gerakan Islam Radikal di Indonesia." In Jurnal Ilmu Sosial dan Ilmu Politik, Vol. 14, No. 2 (2010): 131-168.
Khanis, Suvianita. "Human Rights and the LGBTI Movement in Indonesia." Asian Journal of Women's Studies, 19: 1 (2013): 127-138.
Ridwan, Rinaldi and Joyce Wu. "Being Young and LGBT, What could be Worse? Analysis of Youth LGBT Activism in Indonesia: Challenges and Ways Forward." Gender and Development, 26: 1 (2018): 121-138.
Sumartana,Th. "Sejarah Singkat, Visi dan Misi Institut DIAN/Interfidei. Interfidei Newsletter, Special Edition 2001.
Sunardi, St. "The Dead End of Religious Dialogue in Indonesia." Interface, No.4 (May 2001): 55-67.
www.anglican-communion.org and www.lambethconference.org
www.wmc.org.sa and themwl.org
http://www.religionsforpeace.org/vision-history/history
http://wcc-coe.org/wcc/what/interreligious/cd48-10.html
https://yifos.wordpress.com/
www.worldinterfaithharmonyweek.com
www.un.org/en/events/interfaithharmonyweek
http://ugm.ac.id/en/news/6058-interfaith.joint.humanitarian.activities.should.be.encouraged
http://ugm.ac.id/en/news/6182-interfaith.students.in.yogyakarta.open.religious.and.disaster.dialogue
http://ugm.ac.id/en/news/6228-crcs.holds.concert.of.harmony.youth.religion.and.peace
http://www.theharmonyintl.com/44-uncategorised/85-world-interfaith-harmony-week-events.html
http://crcs.ugm.ac.id/pluralism/profile
http://crcs.ugm.ac.id/pluralism/pluralism-advocacy/information/5/ESSAYS-REFLECTING-ON-ADVOCACY.html
http://younginterfaithpeacemaker.org/
http://worldinterfaithharmonyweek.com/event-report-2/?report=972
http://icrs.ugm.ac.id/video-gallery/detail/21/interfaith-youth-pilgrimage.html
lifestyle.kompasiana.com/catatan/2013/11/14/catatan-perjalanan-interfaith-youth-pilgrimage-1-609349.html
https://www.youtube.com/watch?v=lUVGNkKGi6M
https://www.facebook.com/youthpilgrimagesupporting their activities
http://www.univie.ac.at/vicisu/history/the-1st-vienna-international-christian-islamic-summer-university-vicisu-2008/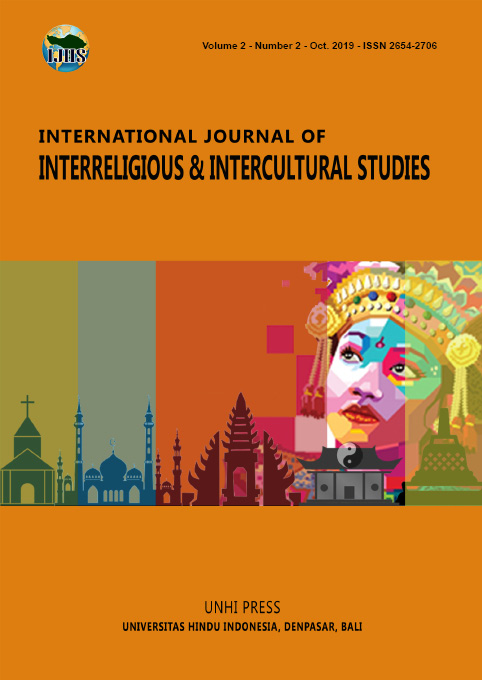 How to Cite
Husein, F. (2019). Youth Expressions of Religiosity through Dialogue in Indonesia. International Journal of Interreligious and Intercultural Studies, 2(2), 1-17. https://doi.org/10.32795/ijiis.vol2.iss2.2019.447