The Interface between Religion and Politics in The Philippines Based on Data from Recent Philippine Elections
Nestor T Castro

University of the Philippines Diliman, Philippines
Keywords:
Elections, Politics, Religion
Abstract
The Philippines held its national elections last May 2019. During the election campaign, several religious groups organized electoral slates or supported particular political candidates. Among these groups were the Iglesia ni Cristo (INC) with its Alagad Party, the Jesus is Lord (JIL) Movement with its CIBAC Party, the El Shaddai with its Buhay Party, and the Kingdom of Jesus Christ which supported all of the candidates backed by the Duterte government. On the other hand, the dominant Roman Catholic Church did not support any political party or candidate as a bloc but emphasized the need for the electorate to use their conscience and vote wisely. Some Roman Catholic priests, however, openly supported the opposition Otso Diretso slate for the Senate.
This paper looks at the interesting link between religion and politics in the Philippines, especially in its recent political history, i.e. from 1986 up to the present. In particular, this paper will attempt to answer the following questions: What role do the various religious groups in the Philippines play in the field of the political arena? Do Filipinos vote based on their religious affiliation?
Downloads
Download data is not yet available.
References
Castro, N. (1990). "Paglilitis, Pamamagitan, Paghatol: Indigenous Concepts of Land Dispute Processing in Silang, Cavite," PSSC Social Science Information 18(3): 27-36.
Castro, N. (2005). "Kapangyarihan, Awtoridad at Moralidad sa Imnajbu," in Consuelo Joaquin-Paz, Gabay sa Fildwurk. Quezon City: University of the Philippines.
Commission on Elections (2019). Election Results. Accessed at www.comelec.gov.ph
Hollnsteiner, M.R. (1973). "Reciprocity in the Lowland Philippines," in Frank Lynch and Alfonso de Guzman, Four Readings on Philippine Values. Quezon City: Institute of Philippine Culture.
Morga, A. 1990 [orig. 1609] Sucesos de las Islas Filipinas. Manila: National Historical Institute.
National Statistical Coordination Board (2000). 2000 Census of Population and Housing. Makati: NSCB.
National Statistical Coordination Board (2010). 2010 Census of Population and Housing. Makati: NSCB.
Pertierra, R. (1988). Religion, Politics, and Rationality in a Philippine Community. Quezon City: Ateneo de Manila University Press.
Summer Institute of Linguistics (2018). Ethnologue. Accessed at www.ethnologue.com
Republic of the Philippines (1987). Constitution of the Republic of the Philippines. Quezon City: National Book Store.
Tylor, E. B. (1979) [orig. 1873]. "Animism," in W.A. Lessa (ed.), Reader in Comparative Religion: An Anthropological Approach, 9-19. New York: Harper Collins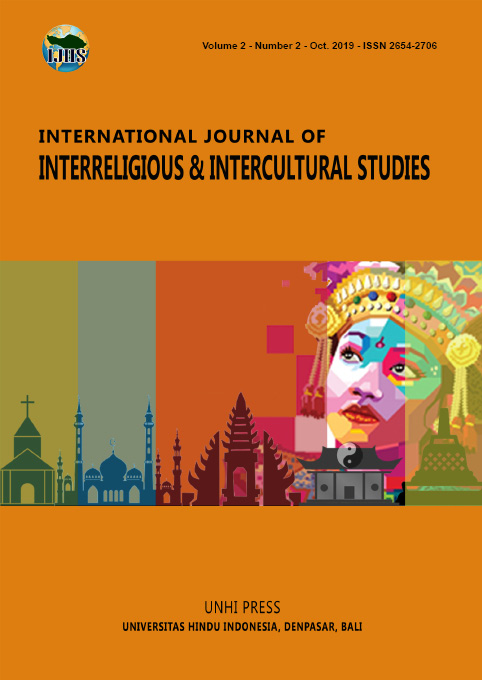 How to Cite
Castro, N. (2019). The Interface between Religion and Politics in The Philippines Based on Data from Recent Philippine Elections. International Journal of Interreligious and Intercultural Studies, 2(2), 100-107. https://doi.org/10.32795/ijiis.vol2.iss2.2019.454