Interfaith Dialogue and Humanization of the Religious Other: Discourse and Action
Jenn Lindsay

John Cabot University
Keywords:
interfaith dialogue, sacred values, humanization
Abstract
Humanization is a frequently invoked goal of interfaith dialogue—but what does it mean to dialoguers to be "human," let alone to make each person more human? This article takes a close look at the common discourses of interfaith dialoguers, and how those discourses are translated into action. Drawing on observed vignettes and reflections from ethnographic interviews across geopolitical contexts, the article conceptualizes humanization as a discursive object of the interfaith society that dialoguers invoke to enhance group solidarity and express collective identity in the form of their sacred values. By frequently invoking the concept of humanization, interfaith dialogues signal to each other that they are uniting around a common goal. Specifically, the article investigates normative discourses regarding "humanization" of the religious other and how the practice of exchanging narratives facilitates humanization and the cultivation of empathy. Through this data we can see that "humanization" is a common discursive goal of dialoguers. In Italy, humanization is a matter of disconfirming stereotypes and alleviating ignorance across social divides, whereas in the Middle East humanization intensifies into a commitment to not physically harm the other, who is recognized through the course of intergroup engagement as sharing a common ground of experience and complexity with the other. Dialoguers say humanization can be achieved through non-discursive relational practices such as artistic collaboration, shared silence, humor or cognitive re-framing, but most often through narrative storytelling.
Downloads
Download data is not yet available.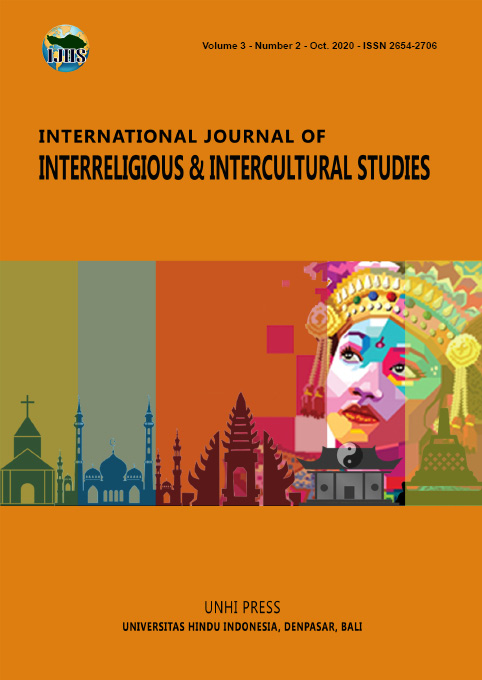 How to Cite
Lindsay, J. (2020). Interfaith Dialogue and Humanization of the Religious Other: Discourse and Action. International Journal of Interreligious and Intercultural Studies, 3(2), 1-24. https://doi.org/10.32795/ijiis.vol3.iss2.2020.691