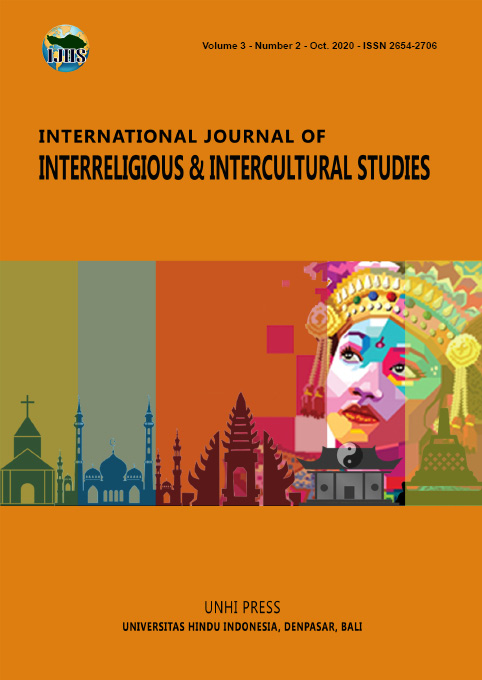 The fifth edition of this journal comes at a time when the Covid-19 pandemic is showing signs of relentlessness, both in Indonesia and elsewhere around the world. The current data reveals that around 1.5 million people in 220 countries have fallen victim of Covid-19 and that 62 million more are suffering from it. To a certain extent, this has forced us to rethink about the efficacy of our strategy to fight against this deadly novel coronavirus. Or, whether we should just make peace with Covid-19, and find ways and means to coexist with it. What is clear is that until and unless the vaccine is developed, the world would remain on hold, while people will continue to suffer due to the social restrictions imposed by governments.
This edition contains nine articles from a number of scholars from Bali, Indonesia and other countries. The first article is from Jenn Lindsay, an American scholar based in Rome, Italy, who examined interfaith dialog and humanization of the religious other as both discourse and action. Here, Lindsay "conceptualizes humanization as a discursive object of the interfaith society that dialoguers invoke to enhance group solidarity and express collective identity in the form of their sacred values". She argues that by invoking the concept of humanization, interfaith dialogues are able to unite around a common goal.
In his article, Michael D. Crane looks at the vital role of faith communities in the lives of urban refugees in Kuala Lumpur, Malaysia. Crane argues, "Urban refugees lack the institutional support of official refugee camps and often have minimal legal covering in their host cities." The article therefore examines ways in which Christian churches—often through the Biblical command to "welcome the stranger"—have assisted refugees in overcoming their challenges.
Preet Oza's article presents the history of protest literature in India from the Bhakti literature. Oza examines how "the Bhakti movement in India has been a path-breaking phenomenon that provided a solid shape and an identifiable face to the abstractions with the help of vernacular language," which emphasizes "a strong personal and emotional bond between devotees and a personal God".
In this edition, three articles on Bali are presented. I Putu Gede Suyoga, Made Adi Widyatmika and Ni Ketut Ayu Juliasih focus their attention on the Bali traditional architecture and how it has been sustained by capital. Using Bourdieu's concept, the authors maintain that spatial layout and traditional residential buildings are strongly influenced by capital ownership. Meanwhile, I Putu Sarjana, I Putu Gelgel and I Wayan Budi Utama studied the dynamic nature of the Tri Hita Karana local wisdom and how it has been implemented in South Denpasar. The authors argue that to enforce the Tri Hita Karana, the misuse of spatial planning needs to be anticipated and mitigated. I Wayan Rai S., I Gusti Made Sunartha, Ida Ayu Made Purnamaningsih, Ni Made Ruastiti and Yunus Wafom surveys the genealogy of Pura Agung Surya Bhuvana in Jayapura, Papua. They discuss the establishment of Pura Agung Surya Bhuvana in 1962 from its humble beginning to its development into a center of Balinese Hindus' sociocultural-religious activities.
Dundin Zaenuddin's article focuses on religion and social capital of citizenship in Bogor. Zaenuddin problematizes citizenship in the context of a democratizing city of Bogor in West Java while essentially employing Bourdieu's theory of "habitus", Gellner's "typology of social organization" and Kymlicka's "multicultural citizenship". Indria Hartika Rukmana's article examines the ecological crisis and the responses of Indonesian Muslim organizations, namely Muhammadiyah and Nahdlatul Ulama. Here, Rukmana explores the various attempts, commitments, statements and declarations as well as the environmental protection initiatives undertaken by these organizations. Lastly, Almunawar Bin Rusli and Nasruddin Yusuf and studied the puritan Hindus in Bolaang Mongondow in North Sulawesi, and analyzed it from three related aspects i.e. faith, trade and politics. The authors argue that the Hindu Balinese expression of faith has shaped their intersubjective relations.
As usual, I would like to thank everyone in the editorial team at UNHI, LIPI and ICRS for making this fifth edition possible. I sincerely hope that the articles in this edition would increase the awareness and interest in interreligious and intercultural studies. Enjoy!
Dicky Sofjan
Editor in Chief