Religion, Culture and the Process of Marginalization
Preeti Oza

Faculty, St. Andrew's College, university of Mumbai
Keywords:
Religion, Identity politics, culture, marginalization, Dalits in India,
Abstract
Abstract:
 Religion is a force under which we understand the framework of social exclusion or integration across the world. The growing impact of religion on peoples' lives globally has seen a massive resurgence of newly imposed guidelines, rules, and regulations in societies. It has been a great impact on social conditioning, both demographically and psychographically. For an increasing majority of the global population, religion has powerfully anchored forms of identity, meaning, community, and purpose. And the same religion, through cultural roots, has created newer forms of marginalization across the societies and nations. All over the world nowadays people are discussing the problems of marginalized groups -their social, ethnic, economic, and cultural problems. Marginality with all aspects is indeed a major problem to be reckoned with in the world. By and large, most of the marginalized groups constitute minorities religious, ethnic, linguistic, or otherwise- in different countries. There are sub-cultures in mainstream cultures or religions. Invariably they are impoverished people constituting o minority groups. They suffer from economic, social, or political impoverishment and find themselves estranged from this mainstream. Their marginality may vary in degree, extent, or intensity. Most countries and cultures have empowered groups at one pole and impoverished groups at the other and between the two, there are graded levels of power and poverty. This paper discusses the correlation between religion, culture, and the process of marginalization.
Downloads
Download data is not yet available.
References
Wessler, Heinz. "From marginalisation to rediscovery of identity: Dalit and Adivasi voices in Hindi literature.†Studia Neophilologica 92, no. 2 (2020): 159-174.
Joseph, Sarah. "Interrogating Culture Critical Perspectives on Contemporary Social Theory.†(1998).
Kumar, R. Suresh. "The Role Of Pandit Iyothee Thass To The Elevation Of Depressed Class In Tamil Nadu.†(1902).
Oza, Preeti. "Aesthetics of Sublime V/S Subliminal: Comparison and Contrast in Dalit Writings.†Dr. Vivekanand Jha 3, no. 1 (2018): 132..
Gorringe, Hugo. "You build your house, we'll build ours': The Attractions and Pitfalls of Dalit Identity Politics.†Social Identities 11, no. 6 (2005): 653-672.
Pingle, Vibha, and Ashutosh Varshney. "India's Identity Politics: Then and Now.†Managing Globalisation: Lessons from China and India, Singapore: World Scientific Book Corporation (2006): 353-386.
Subramanian, Narendra. "Political Formation of Cultures: The South Asian Experience.†Economic and Political Weekly (2005): 3821-3827.
Upreti, B. C. "Nationalism in South Asia: trends and interpretations.†The Indian journal of Political science (2006): 535-544.
https://roundtableindia.co.in/index.php?id=5292%3Aidentity-politics-and-the&option=com_content&view=article
Pannikar K.N. "Identity and Politicsâ€; Frontline ( 2011)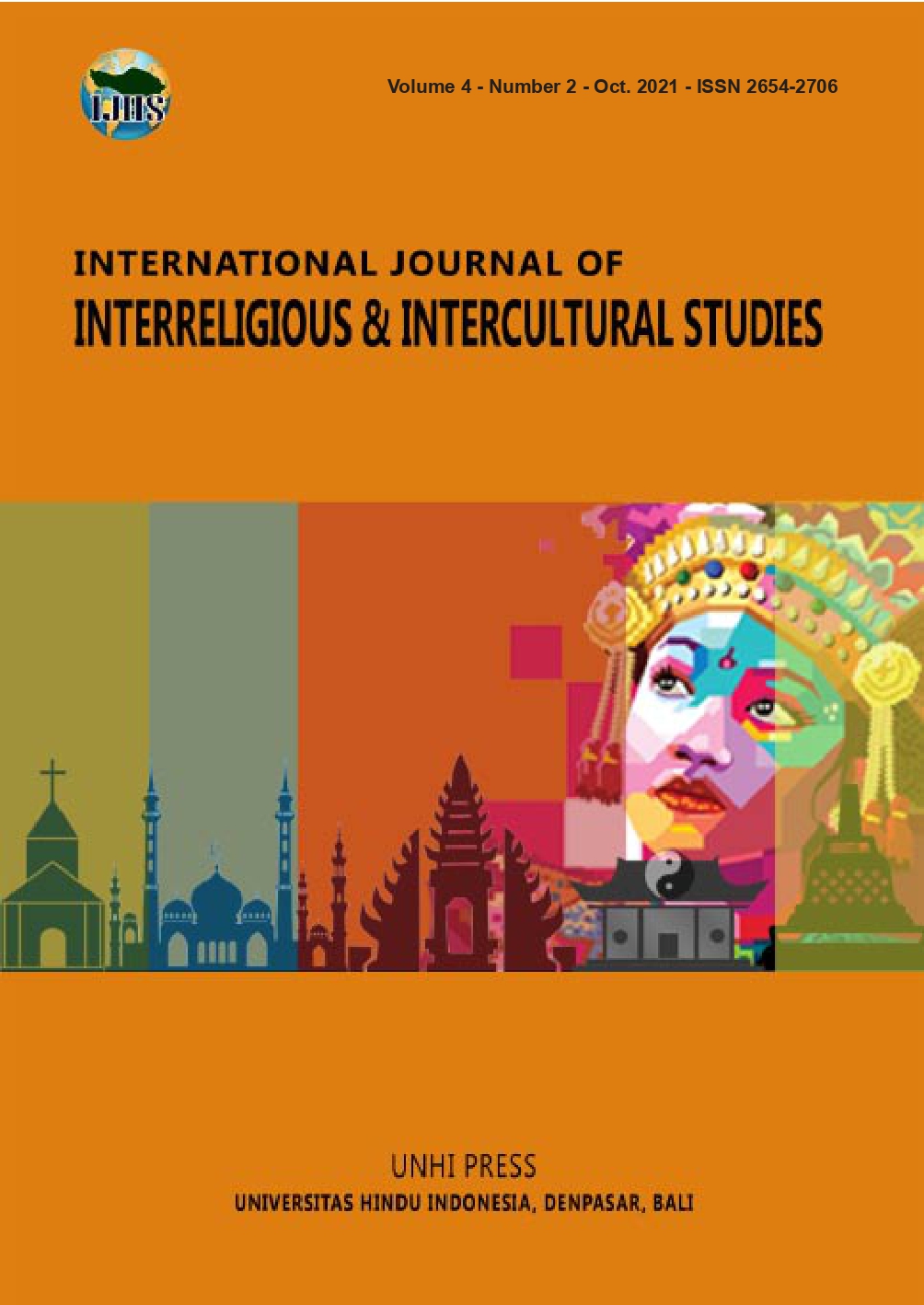 How to Cite
Oza, P. (2021). Religion, Culture and the Process of Marginalization. International Journal of Interreligious and Intercultural Studies, 4(2), 38-47. https://doi.org/10.32795/ijiis.vol4.iss2.2021.710