Pada Gelahang Marriage: A Legal Pluralism Perspective
I Putu Sastra Wibawa

Universitas Hindu Indonesia

I Putu Gelgel

Universitas Hindu Indonesia

I Putu Sarjana

Universitas Hindu Indonesia
Keywords:
Pada gelahang, Marriage, Legal Pluralism
Abstract
Presently, pada gelahang marriages are still controversial within Balinese society in terms of their implementation and the implications. A certain percentage of Balinese approve of pada gelahang marriages, while a certain percentage of people disagree for various reasons. These pros and cons are not tolerated. In fact, the phenomenon of pada gelahang marriages is often confounding to the Hindu community in Bali. Hence, solutions are required. While pada gelahang marriages can be found in many districts and regions in Bali, however, many doubts and problems still arise in their philosophical and juridical foundations. Therefore, research on pada gelahang marriages from the perspective of legal pluralism needs to be done. This research is a qualitative research with a legal sociology approach. Primary data is derived from field data from observations and from the results of interviews of related parties, while secondary data is obtained from literature books using the theory of legal pluralism as a guiding theory in the discussion of research. The results of the study indicate that the pada gelahang marriage has a philosophical foundation, juridical foundation and sociological basis for the creation of values of justice, legal certainty and the benefit of law in the framework of legal pluralism that provides a way to meet Hindu religious law, traditional village customary law and state law to set pada gelahang marriages
Downloads
Download data is not yet available.
References
Arta Dipa, Kontroversi Perkawinan Pada Gelahang Pada Masyarakat Hindu Bali di Karangasem, 2018.
Astara, Wesna Pertarungan Politik Hukum negara dan Politik Kebudayaan, Otonomisasi Desa Adat di Bali, Denpasar: Udayana University Press, 2010, pp.4.
Sudantra. Tri Semaya Hukum Adat Bali: Potret Perkembangan, 2011
Sukirno, Rekonstruksi Politik Hukum pengakuan Negara terhadap Hak Ulayat (Studi Pengakuan dan Perlindungan Eksistensi Hak Ulayat Masyarakat Hukum Adat Baduy dari Hegemoni Negara, Disertasi, Semarang: Program Doktor Ilmu Hukum, UNDIP Semarang, pp. 378, 2014.
Windia, Hukum Adat Bali dalam Tanya Jawab, Denpasar: Bali Santhi, 2013
Windia, Perkawinan Pada Gelahang di Bali, Denpasar: Bali Santhi, 2014, pp.7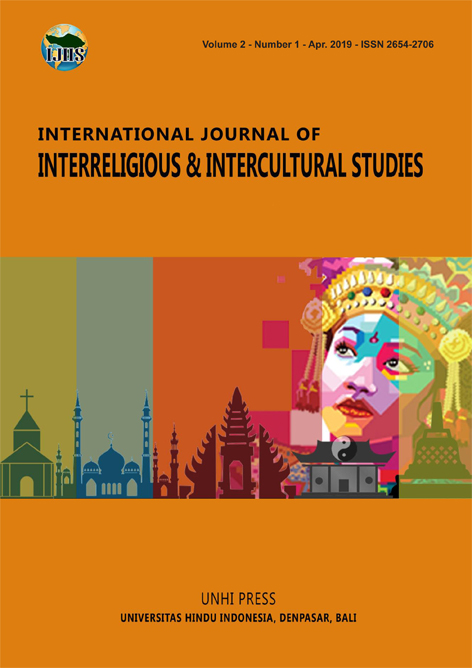 How to Cite
Wibawa, I. P., Gelgel, I. P., & Sarjana, I. P. (2019). Pada Gelahang Marriage: A Legal Pluralism Perspective. International Journal of Interreligious and Intercultural Studies, 2(1), 47-58. https://doi.org/10.32795/ijiis.vol2.iss1.2019.312